Nicolette Pasquarella gets chills every time she thinks about Manchester.
Who wouldn't? Right??
Well? Ok. Possibly no-one aside from those that live in the fairly dull, almost always wet, City in the North West of England.
Add the words City, United, and Football Club to that opening caveat, however, and such a sentiment becomes a lot more interesting.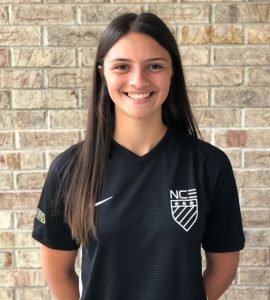 Nicolette has no doubt. This goalkeeping prospect from Ronkonkoma, Long Island shudders every time she thinks about Manchester, following opportunities to train with two of the biggest soccer clubs in the world thanks to NCE Soccer's COE Program.
That's right. She trained alongside World Cup winners at Manchester City and Manchester United thanks to NCE Soccer's Pro Pathway program, the pinnacle of our programming.
In this interview, Nicolette, describes her NCE Soccer experience and details how she has developed as a goalkeeper and secured her place at the prestigious Stony Brook University.
Opportunity
Nicolette, said: "I get chills and motivation every time I think about the incredible opportunity that NCE had given to me.
"I traveled to England to be on trial with the Manchester City Women's First team and Manchester United.
"I can't say this was one of the best experiences of my life, that's because it was the absolute best experience of my life!
"At Manchester City, I was training with the best female athletes from all over the globe. I was training with players who had just come back from the World Cup.
"My days would start leaving the hotel in the early morning and heading over to the training facility. I would get dressed in the locker room into my training kit with the rest of the team and prepare for the day.
"We then did warmups and activation, then proceeded to the field. I was learning under some of the best coaching staff in the world. This was one of the most challenging environments that I have been in.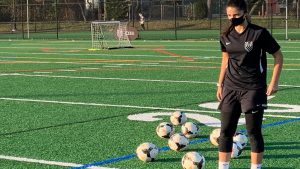 "The women at Manchester City were very welcoming. Although I was younger and new, they didn't treat me like that. They treated me as if I was one of them. I will never forget all that I learned."
"However, in that period of training, I was pushed to my limits and learned more than I could have imagined.
"This experience could not have been possible without John Curtis, Lee Broster, and the rest of the NCE coaching staff.
Seawolves
Nicolette has the footballing world at her feet – or maybe her gloves to be more precise – and we are delighted to learn she will continue her soccer and education at the prestigious Stony Brook University and play for the Stony Brook Seawolves next year.
Her personal goal is clear: She is excited to help the Stony Brook Seawolves continue their success and win their conference again. She also looks forward to advancing in the NCAA tournament when she starts this time next year and will then work towards turning professional once she graduates.
She has no doubt, as she begins the final year of her studies at Connetquot High School, that her soccer progression would not have been possible without joining NCE Soccer.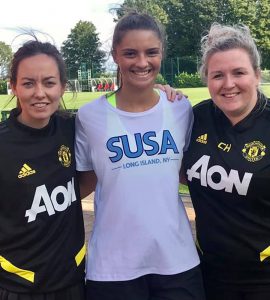 She added: "NCE was one of the best decisions I have ever made.
"I wouldn't trade my time and experience at NCE along with my future here for anything.  Other players should consider NCE for so many reasons, the list goes on and on.
"The training and feedback you receive will help you attain your goals. If you are looking to play college soccer at any level, NCE can help you.
"The coaching staff sets up many showcases for players to play in front of college coaches of all levels and that kind of exposure is hard to get.
"I was committed prior to the showcases but the success is unreal.
"The staff really does do an incredible job. NCE also cares about the player themselves. It is a hardworking environment that pushes you to become a better player, but the coaches also know when to pick you up and motivate you
"NCE is a highly competitive organization that can help you reach your goals and they are also so great with getting to know parents as well."
Ironically, Nicolette only turned her hands to goalkeeping after an injury to a teammate forced her to fill in between the sticks.
Hard Work
She added: "Soccer was one of the first sports that I was introduced too. I played other sports throughout the ages of 10-14, but no matter what sport I was playing, the best feeling was knowing that I got to go to soccer practice after.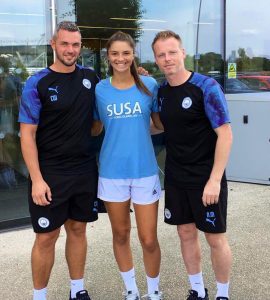 "When I was young, our Goalkeeper got sick right before a game,  no-one wanted to fill in, so I said that I would do it. After that game, I never left the net again! There's no better feeling than making a great save and knowing that your hard work is paying off.
"I played for my local town team in Ronkonkoma till around sixth grade. I wanted to play at a higher level because to reach my goals, that was necessary. I then decided to try out for ISA New York, a high-level soccer academy.
"My coach Ron Alber had me playing two years up but coming from a local club team, I did not have the footwork or agility that I needed to compete. I truly believe that is when I first realized that I had my work cut out for me.
"I was training between six-seven nights-a-week and sometimes going from one practice to another for six months or so before I was first selected by John Curtis to come to play with NCE, which was known as PDP at the time (Player Development Program). I was able to train with other high-level female athletes around the tristate areas and compete in tournaments and games.
"My freshman year of high school I tried out for the Varsity Soccer team and made it. It was also during the beginning of my freshman year that I was given the opportunity to play at the id2 National Training Camp.
"That was a camp that lasted three days and I was now not only competing with girls in the tri-state area but girls around the country. More opportunities came and now I was competing with the US Soccer National Training Center.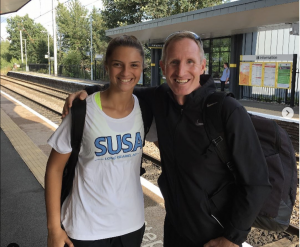 "Events like this and ID2 were extremely competitive. There was no such thing as picking a weak player out or trying to find the weak side because there were no average players. Throughout all of this, my club merged with another local club, so I am now playing for SUSA Academy.
"Fast forward another couple of years, I am now entering my senior year and still playing for SUSA Academy. I had other amazing coaches throughout my years at SUSA who helped me grow as not only a soccer player but also a person.
"My team is being coached by Ron now and I am so excited to finish out my club years with the coach who I started with.
"I am currently training with Lee Broster. He is definitely one of my biggest mentors. He puts me in game-like situations during training and pushes me to become the best I can be."
Professional
Nicolette is passionate about NCE Soccer, and the opportunity the program provides for young aspiring soccer players.
In fact, her love for the program will see her work alongside goalkeeping coach Lee Broster this fall coaching with the juniors, as well as keeping goal for the SUSA FC Academy and working part-time as a customer service representative for White Water Life fishing apparel and lifestyle clothing.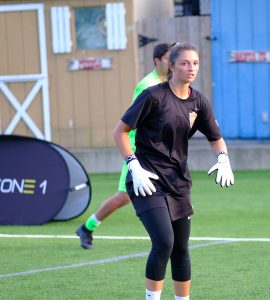 She added: "My ultimate goal is to play professionally. I am going to continue working hard so whenever the opportunity comes, I will be ready.
"I am working hard to become the starting goalkeeper at Stony Brook when I attend in the Fall of 2021. I chose Stony Brook University because it felt like a home away from home.
"The coaching staff made me feel so welcome. The school also has great academics and I know I will be challenged academically and athletically.
"NCE has been such an important part of my life. I have been apart of NCE for about 4 years now. A lot of my growth and development was through this program. After I played in England I wanted to give back to NCE for the amazing opportunity. I want to share my experience with younger goalkeepers and show them that anything is possible with hard work and dedication.
"That is when I started my coaching career with Lee Broster. He has allowed me to create session plans and coach with him over the winter. I have learned so much by coaching because not only did I learn and am still learning to coach, it bettered me as a player.
"My goal is to continue coaching goalkeepers alongside Lee with NCE and throughout my time at Stony Brook University playing Division 1 soccer. I know that NCE will always be there to guide me."
Beyond Soccer
Nicolette insists it is crucial for young players to commit completely to the NCE Soccer program, and consider the 'Beyond Soccer' approach to have a true chance of success.
She added: "It is not enough to just attend team training or to train on your own. Yes, training on your own and private training is extremely important for personal growth and development, but its more than that.
"It is treating your body like a temple. Staying hydrated, getting proper nutrition, becoming a student of the game, and analyzing game/training footage.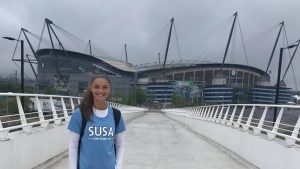 "It's also knowing your body along with giving yourself rest. Soccer is more than playing on the field, it's what goes on off the field too. I also believe in being humble.
"Giving back to my community and helping out where I can is also a big part of who I am."
Soccer Talent
Nicolette's proud parents Mike and Jennifer have delighted to see their daughter grow, both as a soccer talent but also, as a young woman, during her time with the NCE Soccer program.
Jennifer said:  "As a mom, you want your child to not only be the best player but also the best person.  Working with NCE all these years, I have seen how hard they work and how much they care about these kids.
"They listen to them and work to give them the stepping stones they need to build their soccer careers."
Father Mike, added: "Her confidence level has grown since training with NCE.  When she has training there, they are not only showing her what to do but explaining the reasons why.
"If a player understands the game, they will perform better.  Seeing her come off the field smiling and confident, I know we are training with the right people."
We have been delighted to work with Nicolette and will continue to support her in the future and ensures others her path to success.
* Now it is your chance to follow in her footsteps and tryout for our COE Goalkeeping Winter program via this link.
View Video
View Gallery