NCE Soccer is delighted to launch our exclusive Performance Profile Player Cards.
Every player participating in our Performance Profile Program will have their own card – just like the top FIFA professionals.
The cards will display their overall Excellence Score along with their Academic, Athletic, Community scores and their Speed, Power and Endurance.
They will be updated four-times-a-season following the culmination of each COE Program (Winter, Spring, Summer and Fall) and provide a very visual reminder of their progress.
Each card will display the players name, image, country of residence and preferred playing position.
The cards displays the player's Athletic Score, Academic Score (a multiple of their GPA and a Community Score for work given volunteering or helping others) – which are all combined to produce an overall Excellence Score.
Player Statistics
The cards will also feature three statistics from the athletic testing, namely Speed (10m spring test time in seconds), Power, (counter movement  jump height time in inches) and Endurance (the level attained during the Yo Yo / bleep test)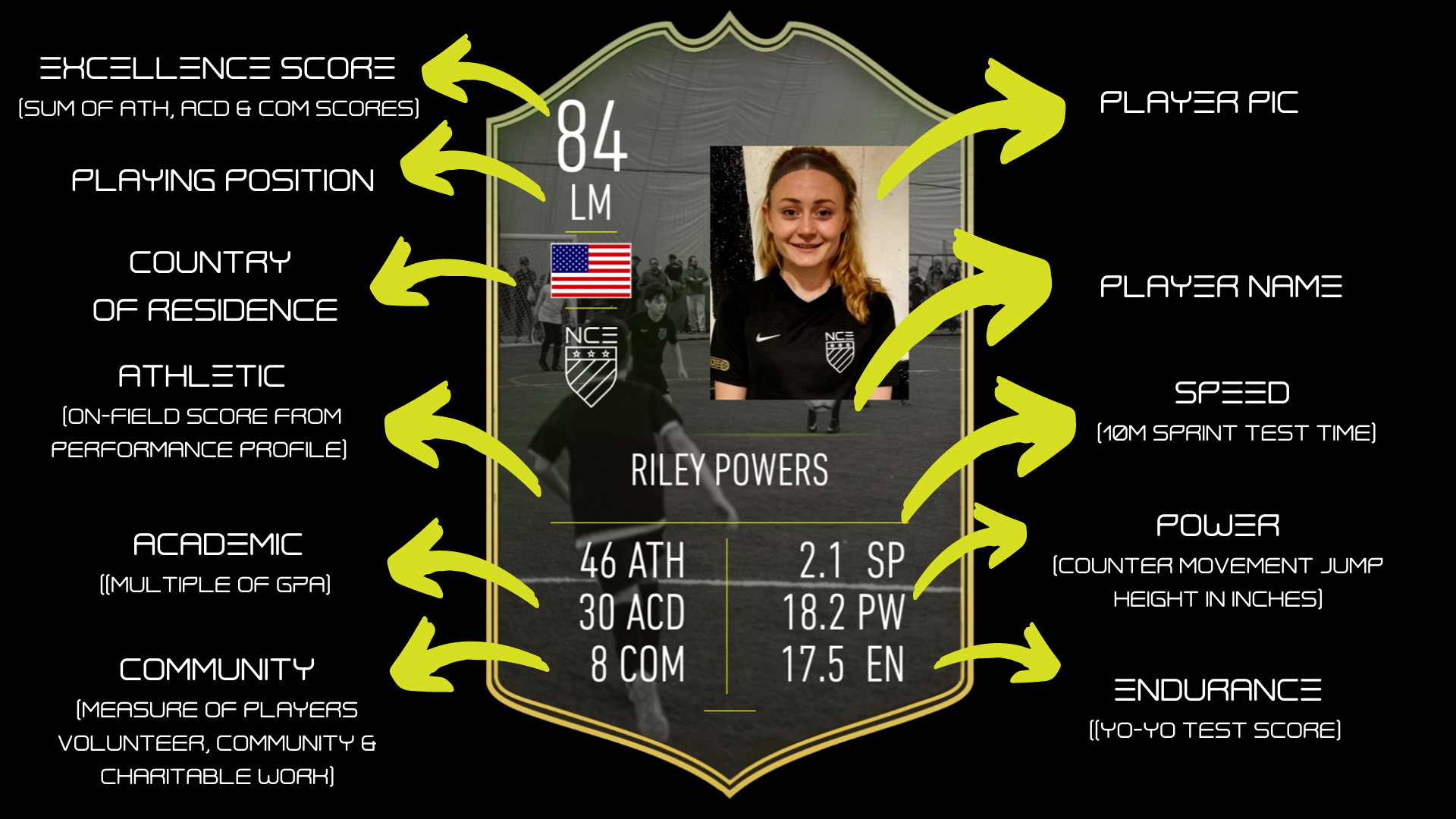 Winter Results
Our first set of cards have been produced based on our Winter Scoring which saw Matty Reitzel with our top Excellence Score of 89, boosted by his impressive charitable work in the community.
The 13-year-old midfielder from Bellport, New York, ousted edged it over Ashley Dolloiacono, squeezing her into second place by just a single point. The 16-year-old Ashley from Moodus in Connecticut scored terrific marks athletically.
Riley Powers added to the girl power with an impressive 84, securing a top two out of three for the girls overall!
Over the coming weeks we will be looking at the results and revealing the fastest, the strongest, the fittest NCE players comparing age groups across our regions.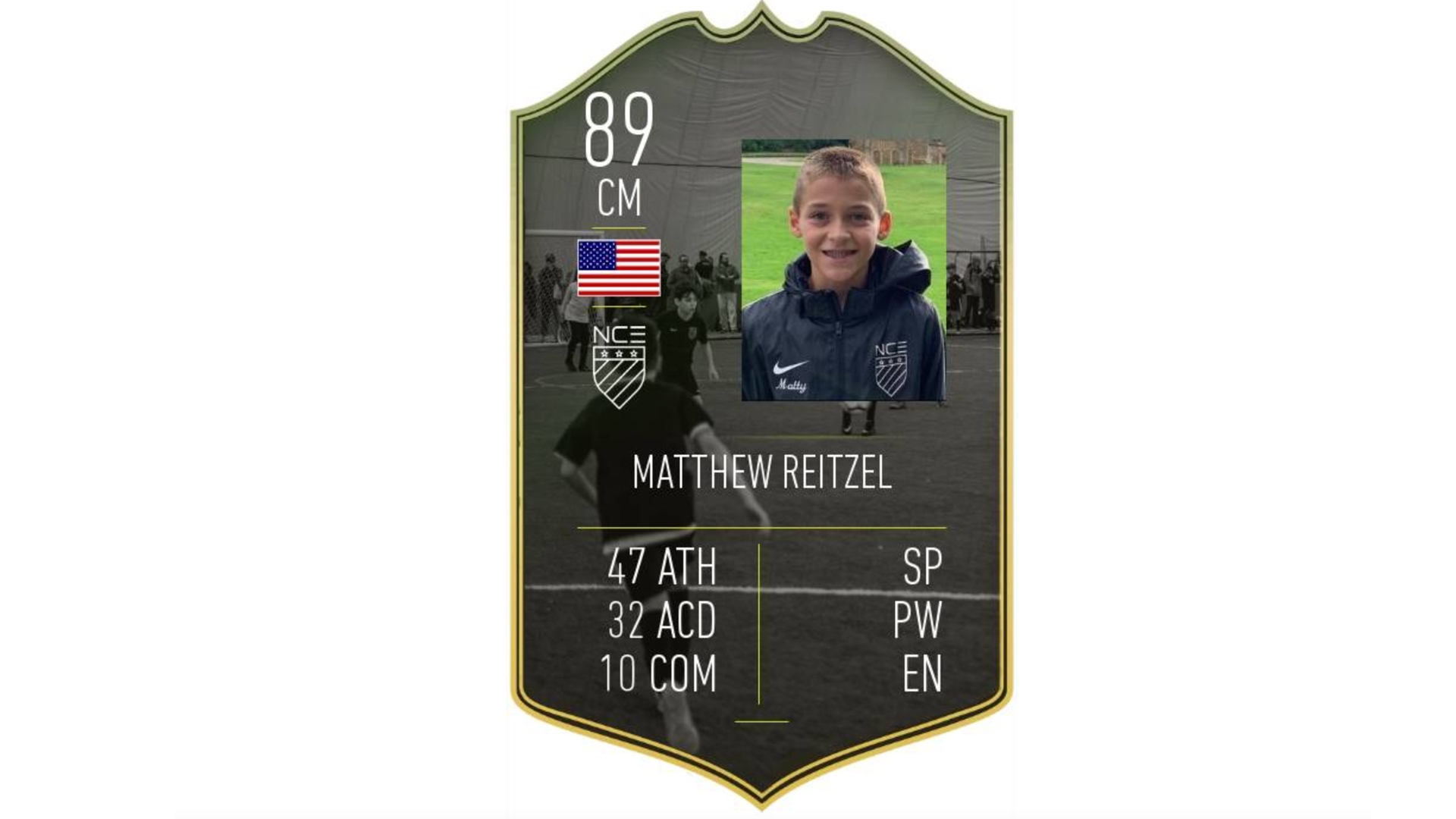 We can show the leading academic, athletic players and pay tribute to those with the top community score, for the work they do to give back to help others.
It is a bit of fun but we also hope the cards will inspire you and provide you with a very visual record of where players are – and how they have improved season-by-season.
Coach Curtis, said: "We are delighted to publish the player cards, they are a bit of fun but actually provide players with their very own illustrative record of their success.
"They will be updated four-times-a-year and the players can share them on social media and enjoy a bit of interaction with their friends and teammates.
"The Performance Profile is really important, it sets our players apart from the rest. It has been created as a tool which enables our players and their families to take responsibility for their own growth and development.
"It empowers them with knowledge, provides them with an insight into the areas which could be improved.
Top Players
"It covers all of the aspects required to become a soccer professional, it encourages them to become better players but crucially, better people.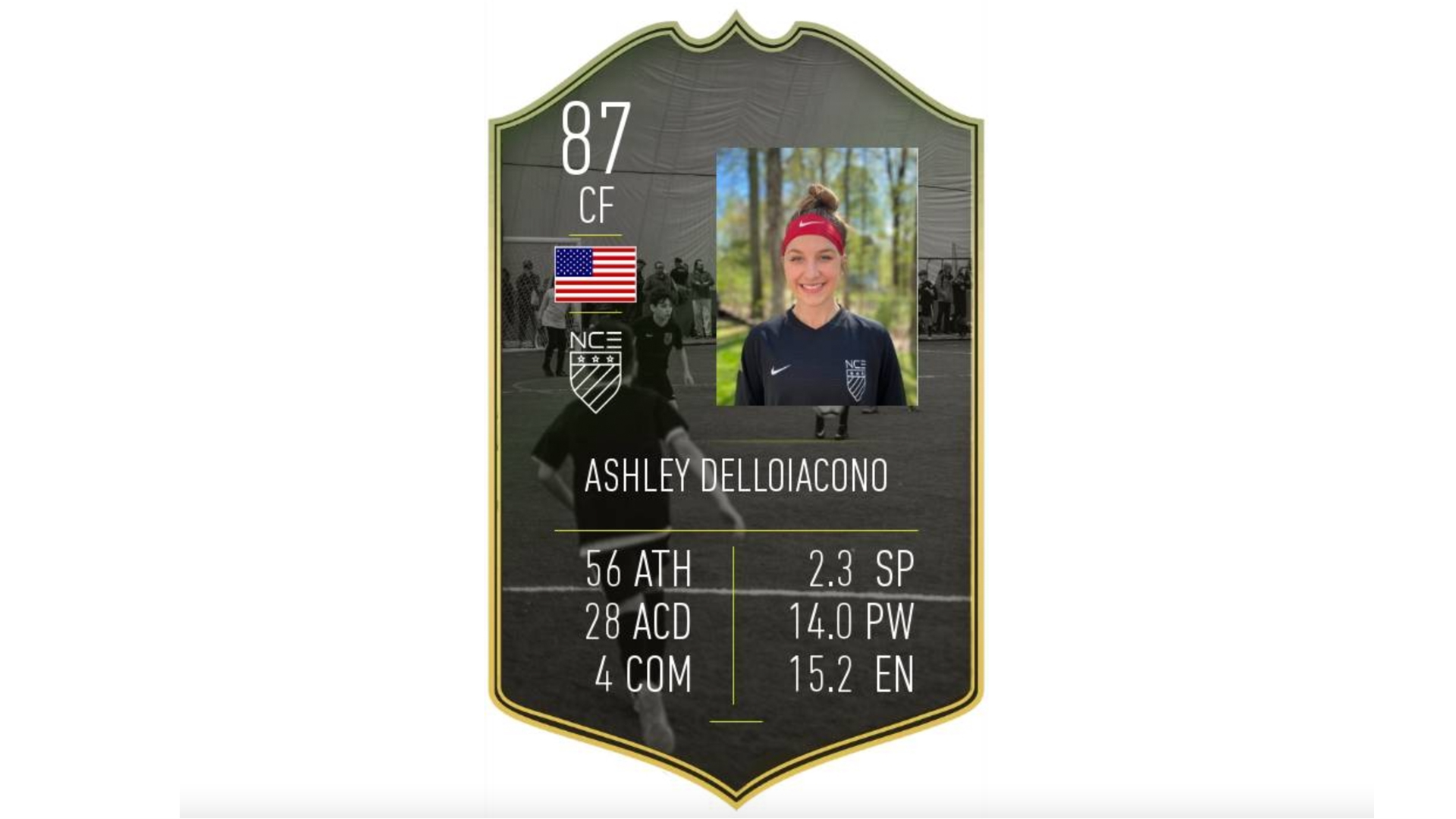 "There is far more to becoming a top player than just being able to pass a ball, score a goal or make a save.
"Our primary goal is to help players develop, to improve their skills, their technical ability and the like but, if they want to become a top player, then these other areas are crucial.
"I have played with some incredible players with ridiculously good ability but they didn't make, they didn't stay the course and that, is almost always, because something was missing.
"The Performance Profile enables our young players to consider all of those aspects, and look to super strength any of their weaknesses."
The Excellence Score is the reason we do, what we do. This is an overall score combines players Physical, Psychological, Social, Tactical and Technical ability, but crucially recognises the players as people.
This is where the community element is so important to us. The best players will never top the Excellence Score tables unless they are prepare give something back to their community.
Matty, a 13-year-old midfielder from Bellport, New York, has consistently been a strong performer with NCE Soccer.
He recorded an Excellence score of 89, scoring 47 for his athletic performance, 32 for his academic progress but it was the extra effort he puts in to help others which gave him the edge.
Community
Matt scored an impressive 10 out of a maximum of 12 for his charitable work.
As NCE Soccer reported earlier this year, Matty and his family give up their Christmas Day to provide hot food, drinks and presents for those less fortunate in the Patchogue community.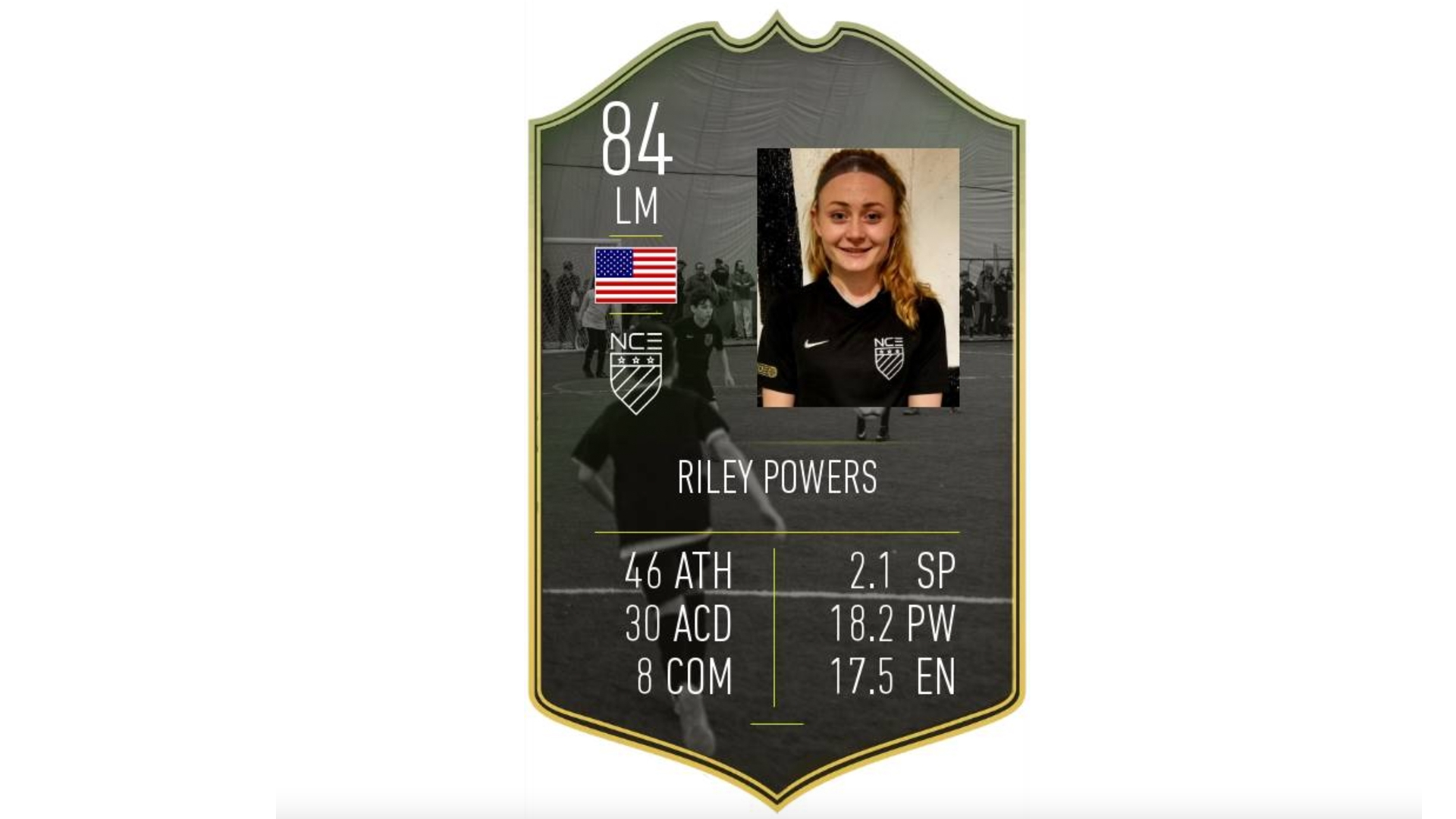 Midfielder Ashley Deolloiacono from Moodus in Connecticut also scored well for her community work, rewarded for her work with 'Straight From The Heart' organisation.
She was pipped by just a single point, whilst defender Riley, aged 15, from Newtown, Connecticut, scored an impressive 84 and again, was rewarded for her community work.
Coach Curtis, added: "The Performance Profile is a tool designed to help leverage a players passion for soccer, but crucially to help them improve as a student and a person.
"The score is a combination of our players on field soccer ability, their academic prowess but crucially also, about the amount of time and effort they spend working in community.
"The whole purpose is to promote stronger academics and be good better people all around."
Key Competencies
Players participating in the Player Performance Profile are evaluated across the five key competencies; Physical, Psychological, Social, Tactical and Technical with each component broken down into key areas.
For example, a players Technical ability is based on their ability on SIX key areas:
1 v 1 Attacking
Crossing and Finishing
Heading
Passing
Receiving Skills
Ability to Run With the Ball.
And those individual components are broken down further into their own, individual competencies.
So for example, a players passing ability – one component of their overall technical ability) is based on the players ability to:
loft or curl the ball appropriately
pass first time using different techniques and over varying distances
demonstrate sound long passing techniques with disguise where necessary
demonstrate sound short passing techniques with disguise where necessary
deliver measured, penetrating through passes
"This is a very complex, hugely detailed method of analyizing very specific areas of our players," coach Curtis, explained.
"We clearly want to create better soccer players but, it is even more important, that we create better people.
"We want to help young players flourish and develop as humans and we believe the Performance Profile will help to inspire that."
Players participating in the Player Performance Profile will be assessed each season, Spring, Summer, Fall and Winter, and provided with a report following the publication of their Excellence Score.
Each player has their own dedicated online Profile with crucial feedback and insight, and the ability upload their own images and video to showcase their soccer career and off-the-field community work.
* To see how the Player Performance App would look like take a look at a sample profile by clicking this link
* To join the Player Performance Profile Program sign up via this link
* For media, interview requests or to discuss marketing opportunities please contact James Fletcher at Onside PR via this link
View Video