Matty Reitzel is an inspiration. An NCE Soccer Community hero.
Whilst kids across America are unwrapping presents on Christmas Day or playing with new toys, Matty is working hard to help families in need.
He won't want the praise. That's not why he does it.
But we were so inspired by his events we decided it should be shared amongst the NCE Soccer family, and used as an inspiration to us all.
Matty and his own family are part of the team at Eileen's Home For The Holidays, a special place, created to provide families in need with food, gifts and the dignity they deserve.
It was launched by Matty's Uncle, Pete Picataggio and family friend Kevin Connolly.
Kevin, lost his mother Eileen to cancer and wanted to do something in her memory and so, the pair decided to create a safe place for families who struggle during the Holiday Season.
Donations
"Pete and Kevin were high school friends of my dad and initially, the idea was to drive around with donations of food and gifts, to simply try to help those that needed it," Matty explained.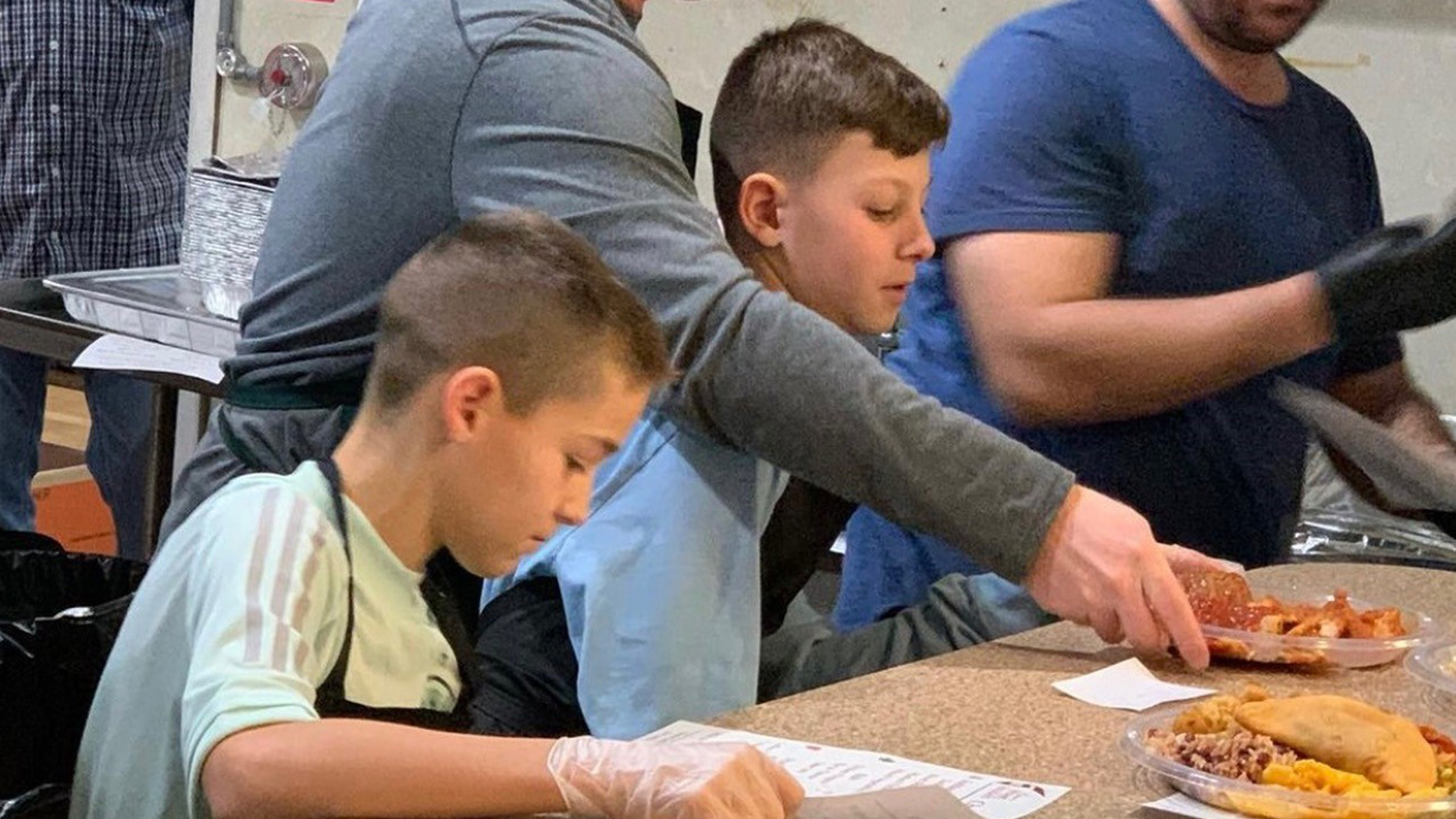 "In those early years, they would assemble candy bags and donate bunches of food.  All of the work was done in the days leading up to Christmas rather than Christmas Day but that changed after Hurricane Sandy hit Long Island.
"Uncle Pete and Mr. Kevin decided to do a Christmas Day meal in Lindenhurst, which was one of the areas most impacted by Sandy. That was the beginning of our Christmas Day volunteering.
"The idea was to create a restaurant feel for the families that visit.  Uncle Pete really stresses that he wants our visitors to feel welcome.
"Thanks to the donations of so many area restaurants, there are menus each year.  Families make reservations.  The volunteers get different jobs, and your job can vary. As my sister Mairéad and I have gotten older, we have been able to do more and more.
"Mairéad has been a hostess and waitress and for many years, I worked in the back with my Dad getting drinks ready.  My mom does it all, as she has become one of the people Uncle Pete depends on most.
"For the past few years, I have been a member of the kitchen, one that supplies food to the busboys or girls.  There is a toy section with gifts for kids of all ages, and a visit from Santa."
Eileen's Home For The Holidays is now in it's 11th year. It fed 35 families in it's first year, more than 100 in year two and has gone onto serve thousands of families across multiple locations thanks to an army of volunteers like Matty, Dad Chris, Mom Megan and sister Mairead.
Mountain Bike
Covid threatened to pull the plugs on the crucial service this year but the quick-thinking group adapted the usual dine-in experience to create a drive-through / walk-through service in in Patchogue, Long Island in New York.
It includes gifts, randomly wrapped and all sorted into age-appropriate piles.
Matty donated a special personal gift this year. He gave away his own mountain bike to a family in need.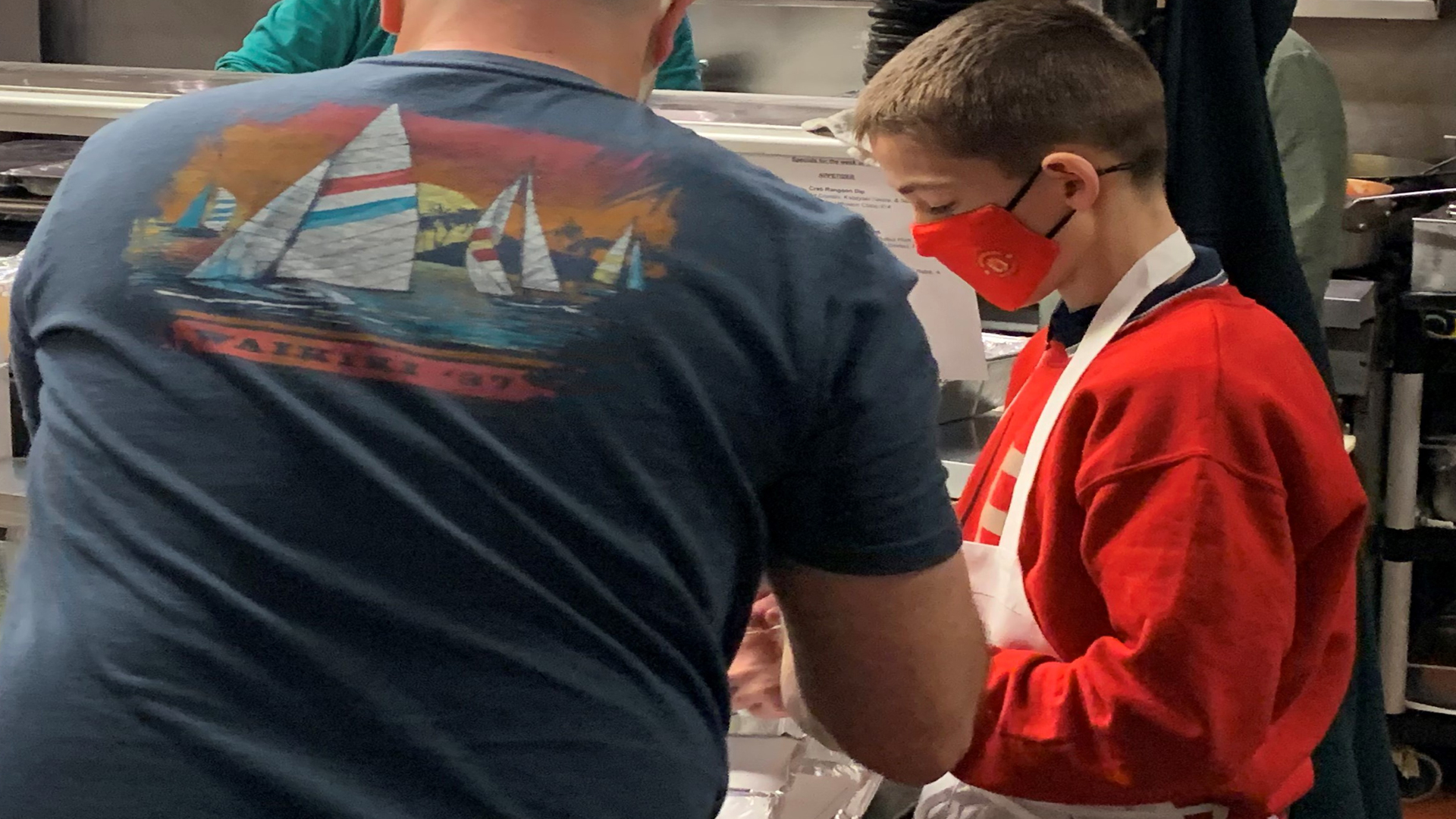 Matty added: "This year was different, because of COVID. Everyone – including us – was nervous that we would not be able to do anything at all.  But it really worked out nicely.  Instead of a sit-down, it was a drive-through, with families placing their orders ahead of time.
"Two more my dad's high school friends, Scottie Campbell and John Peragine, allowed their restaurant, Perabell Food Bar in Patchogue, to serve as the take-out spot.
"My mom, sister and I drove around to local churches, food pantries and shelters, providing them with a menu, a date and a time. That is how the word got around. We all worked on December 23 to prep the food and to set up the gift bags, by family.
"The gifts section was very different this year.  While I was in the kitchen, my parents and sister spent December 23rd wrapping the gifts appropriate to age from new born, to babies, toddlers right up to older teenagers and young adults.
"This year, I also ended up giving my old bike away. We heard about a child that wanted a bike, and I had one that looked new so I decided to give it to the cause. That was special, because someone requested a gift, and fortunately, I had what they needed.
"For me, this is a great way to spend Christmas because it reminds me that other families are maybe not as blessed as us for whatever reason, and it is our duty to at least try to make up for that. Hopefully we can make them feel special and create happy memories.
"Christmas is about spending time with your loved ones and helping others and this year we served over 500 meals and gave out Christmas gifts to more than 300 kids.
"We were so nervous that Covid would prevent us from having it, but it ended up making it more special somehow."
Marcus Rashford
Matty is a talented soccer player and a huge Manchester United fan.
He felt compelled to share his charity work after we highlighted the amazing, campaigning work undertaken by United and England striker Marcus Rashford.
Rashford has been awarded the MBE for his tireless charity work, which last year included collected for the homeless and this year has seen him tackle the UK Government head-on to secure vulnerable people receive free meals.
Matty, added: "Marcus Rashford is a great person and inspiration both on and off the pitch. He is a person to admire. He is out of school, so he has no need to protest about free food vouchers.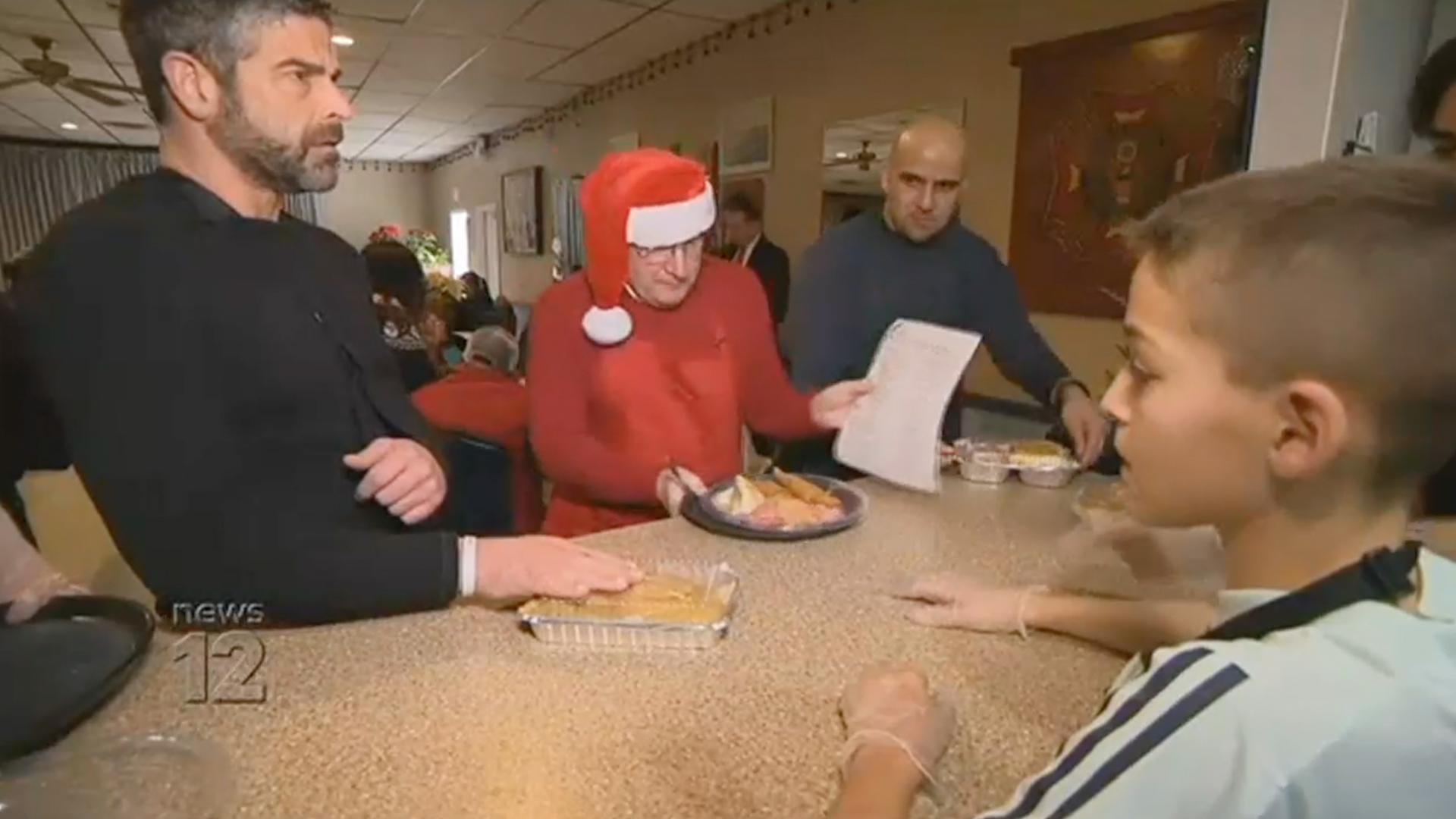 'He was a recipient of it, but it no longer affects him. Why does he do it? He does it because it is right, and he is providing many kids with a quality meal for 5 days of the week.
"He went through a lot, and sometimes he didn't have a loaf of bread in the house. If that is your situation, and schools don't help you out, you could be going days without a good, nutritious, meal.
"Helping out for one day, doesn't make me a superstar, but why would I do it for that? I do it because it is one small way to share some of what we have with others.
"Also, at the end of the day, I get something back too. I get back a sense of happiness and knowing that I did what is right. There are people that need serious help, and if this is helping them, we are doing some serious good."
Center of Excellence
Having followed Marcus in his charitable works, he now dreams of following in his footballing footsteps as he progresses through the NCE Soccer Center of Excellence Program, under the guidance of former Manchester United star John Curtis.
Matty, who turns 13 this February,  Bellport, New York, was originally inspired to play soccer by watching his older sister Mairéad, who is also a soccer player and fan. He started playing with local teams and clearly had a love for the game.
He added: "I was very competitive and I was really into it. My parents also tell me that some of the other parents could tell how much I loved the game, and suggested that maybe I should train with Eddie Gibbons.
"Eddie is a Bellport Dad who has five kids, all of whom played college football, which is pretty remarkable.  He is a fantastic trainer, and I partially owe it to him for what I am right now.
"With Eddie's encouragement, I started playing travel soccer and a Grandfather of one of my teammates took me to NCE a few weeks into the season with his Grandson, and I loved it immediately. I had never experienced group training quite like it.
"I loved it from the first session and have tried to do as much NCE as I can over the past few years, starting with tournaments, then Summer Residential (twice!) and then England.  2020 would have been England and Italy, but with COVID that could not be. I am really hoping England still happens this year.
"Football is the main one for me right now and I cannot imagine it changing.  Some of my favorite players are guys like Bruno Fernandes and Marcelo, who play with passion but also with big smiles.
"That's something I like about the NCE sessions.  They always encourage us to be creative and try new things.  You can do things there to see if they work and if they do, great.  If they don't, maybe you don't have to worry about getting reprimanded or losing playing time.  Either way, you learn something.
"My hobbies off the pitch are studying for school, because school is important too. My parents tell me that everything starts with school.  They will support me in any way possible if I am doing my best at school and love the thing that I want to do.  I enjoy watching football, particularly football that involves Man U winning!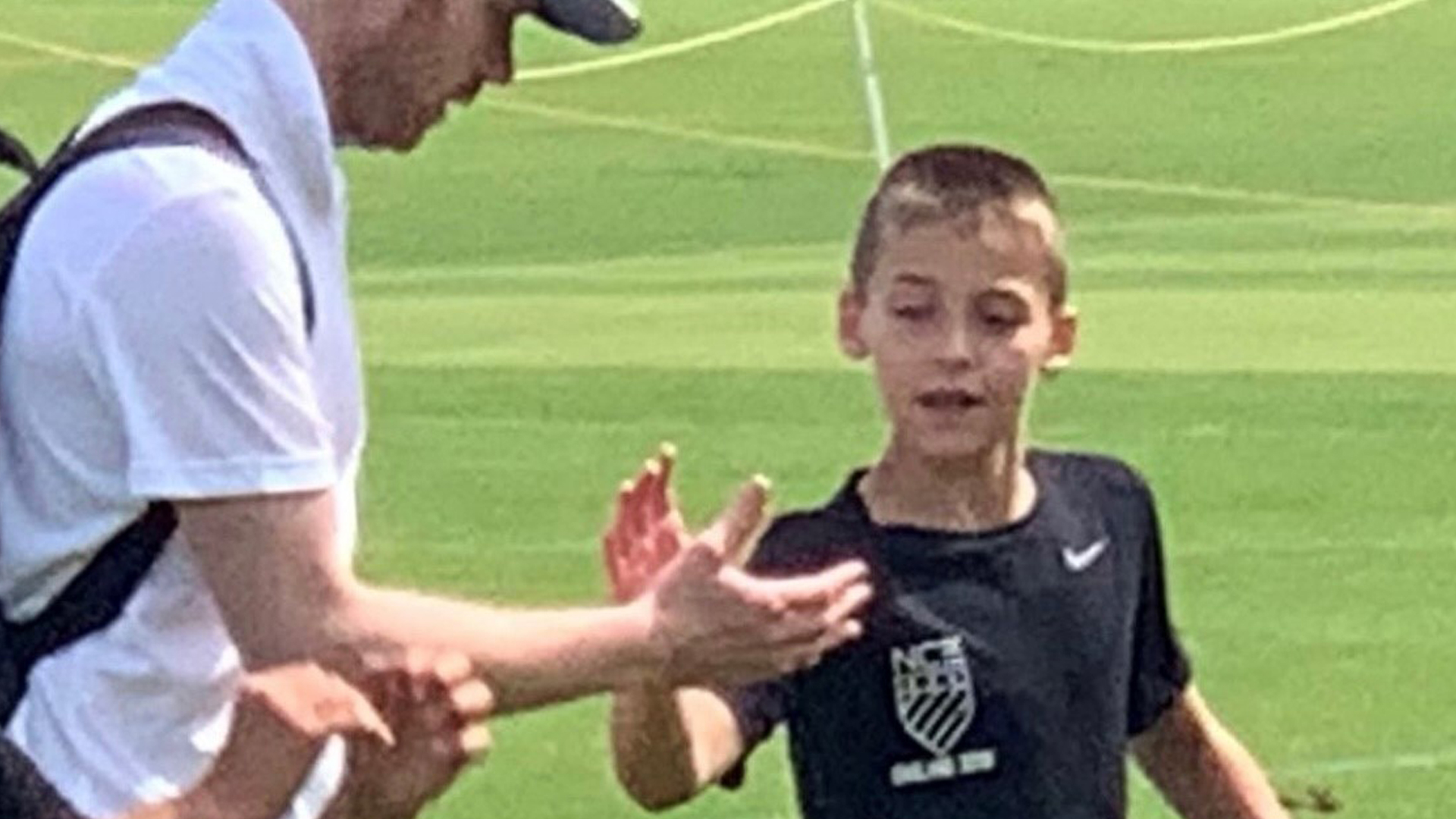 "I love soccer practice and have been blessed to play for great coaches at Albertson SUSA and now at NCE Soccer. I've learned so much about the game but also about the expectation to be good off the pitch too.
"I know how difficult it will be to make it as professional, but the has always been my biggest goal and aspiration so, I try to do things that will improve my chances.  NCE is one of those things for sure as the coaching is first class.
"When I think about it, it is clear that I had some help getting to NCE.  Our Bellport friends encouragement and then Coach Eddie.  My parents remind me all the time that NCE started because a Grandfather that loved soccer the way I do took an interest in me.  He did not have to do it, but he wanted to give me a chance.  Just like us trying to give something on Christmas."
Matty's efforts will not go unnoticed by NCE Soccer with his community work recognised as part of our recently launched Performance Profile.
NCE Soccer Technical Director John Curtis, said:  "It's so great to see a young man committed to putting others first and giving back to his community.
"Matty is a pleasure to coach, has a tremendous attitude towards his own development and is a fantastic teammate to his peers.
"It's amazing to see many of the qualities he's developed on the field transcend into his personal life, with the benefits now spreading throughout his community."
Everyone at NCE Soccer is very proud of Matty, his sister Mairead and their entire family for putting others before themselves. Well done!
* Tell us about your work supporting the community? What do you do for others?
* Email us via this link and we will share your story with the NCE Soccer Community
View Gallery