Gothia World Cup winner Se-Hanna Mars will be reunited with NCE Soccer skipper Taylor Jenkins with the Huskies.
The pair have both committed to play for the University of Connecticut and that means Division 1 defenders will be quaking in their boots.
Se-Hanna and Taylor actually met through NCE Soccer and instantly hit it off – on and off the pitch.
The were both integral to NCE Soccers 2019 Gothia World Cup winning team – with Se-Hanna's free scoring performances resulting in her being crowned MVP.
And she has no doubts, as he soccer trajectory continues to soar, of the role NCE played in her development.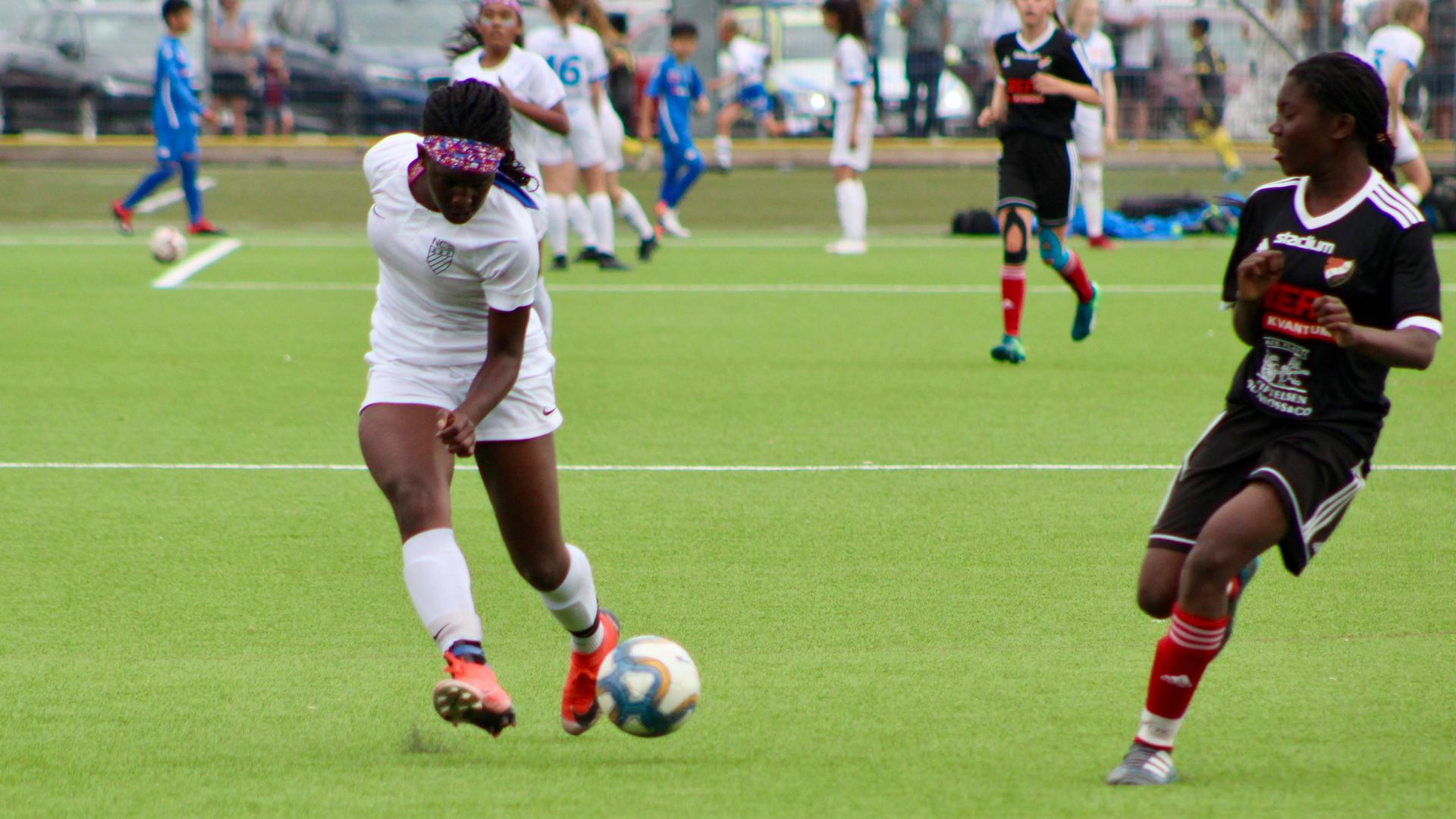 Great Players
"I'm sincerely grateful for NCE, because I was able to meet and connect with great players like Taylor Jenkins, another player committed to UConn," Se-Hanna explained
"Not to mention all my friends from Massachusetts all the way to New Jersey.
"I got to play with and against unique players and got better every day going to those Sunday training camps and tournaments.
"My greatest joy to date had to be the amazing opportunity to play in Sweden for the Gothia Cup."
But it nearly didn't happen for Se-Hanna. She nearly slipped through the net after missing out on selection from her first NCE tryout.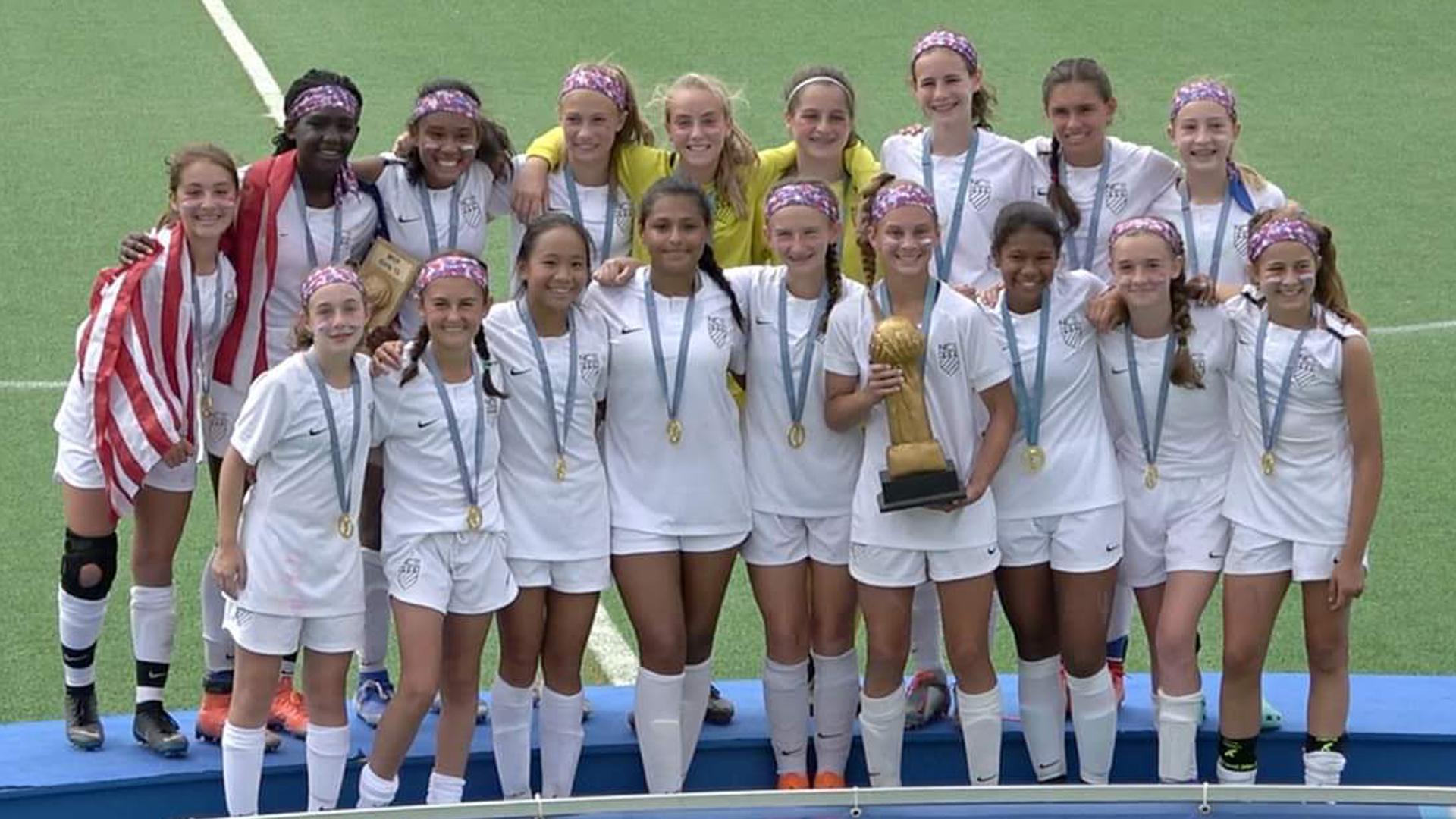 Gothia World Cup
She refused to give up and simply worked harder, kept her focus and remained more determined than ever to succeed. And she certainly did that.
Se-Hanna was ultimately selected for NCE Soccer's Select Squad to travel to Sweden for the 2019 Gothia World Cup.
The talented team blew the tournament apart and went on to beat some of the best teams in the world as they were crowned world champions.
She added: "At 12 years old my initial tryouts for PDP, my father and I drove all the way to New York to tryouts but sadly didn't make it since I didn't fully go through the process.
The second time I saw them was when I played them in the GPS tournament in the finals, we won and I ended up trying out again for their training groups.
"After I found out that I made it, I started going to the weekly trainings in hopes to be selected into the monthly training groups.
"I was selected into the group and during the first monthly training that I went to I met my future UConn teammate Taylor Jenkins and immediately connected with her when I found out she also was from Connecticut.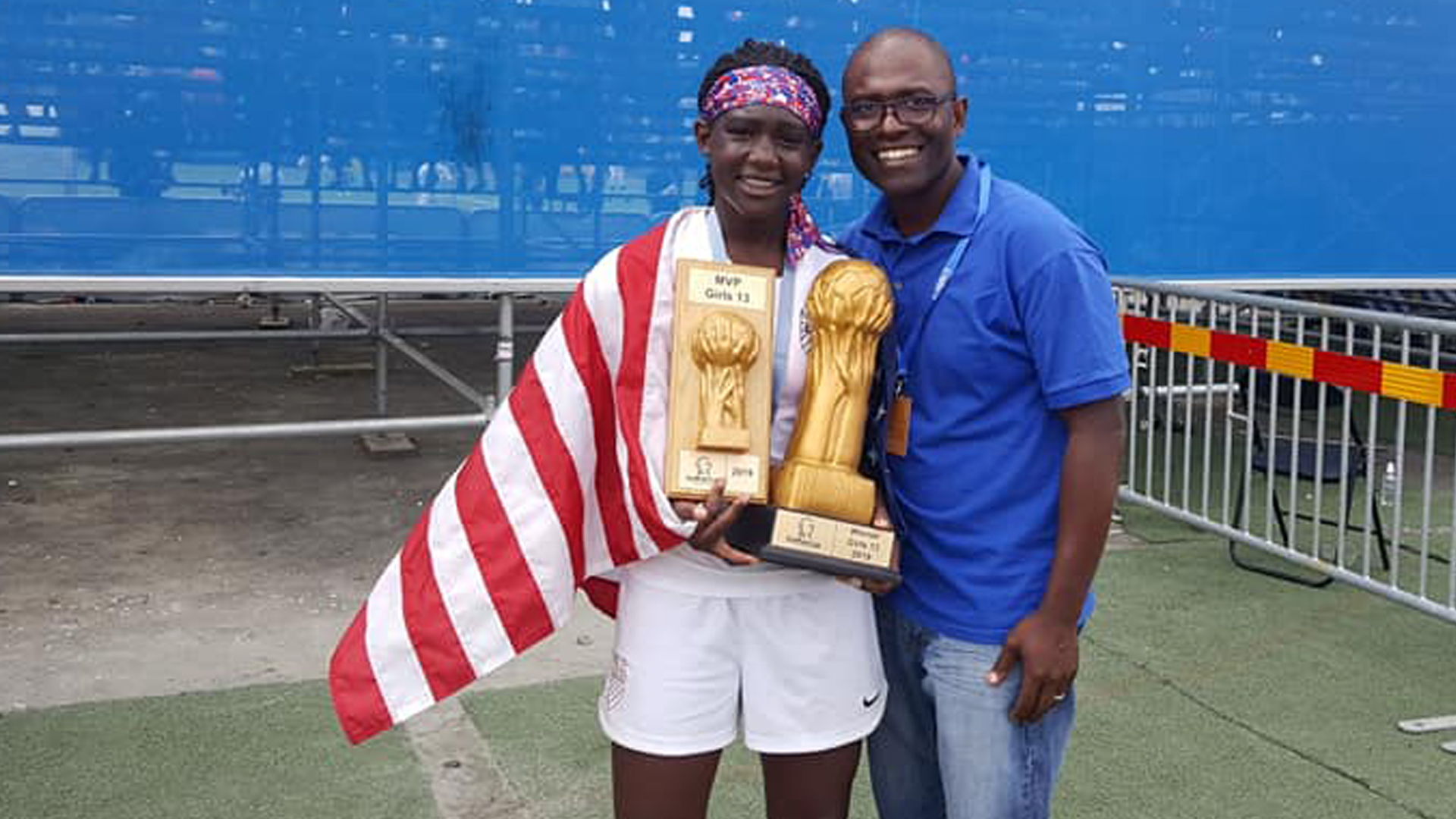 Leadership
"NCE has helped train me in managing certain areas of the field and skills that I wouldn't get at a club practice.
"They helped me improve and work on my leadership skills along with providing me the opportunity to meet new people of different backgrounds and playing styles, even taking me to Europe to play in front of tons of people.
"I didn't think we'd be able to go to Sweden. It was something my family could not afford financially but my coaches were able to make it happen, and I was very appreciative of that.
"My dad and I ended up going and had an amazing time, with us winning the whole tournament and I being recognized as the MVP was the sweetest surprise.
"After that experience it really made me love the sport even more and would have loved another opportunity to play nationally.
"The coaches have been so kind and gave me great help on how to develop myself more as a player.
"My experience at NCE was incredible and I enjoyed the Sunday training sessions, mixing in with the boys in certain drills and scrimmaging against each other. It brought the best out of all of us.
"You can go into this program and really show what your made of."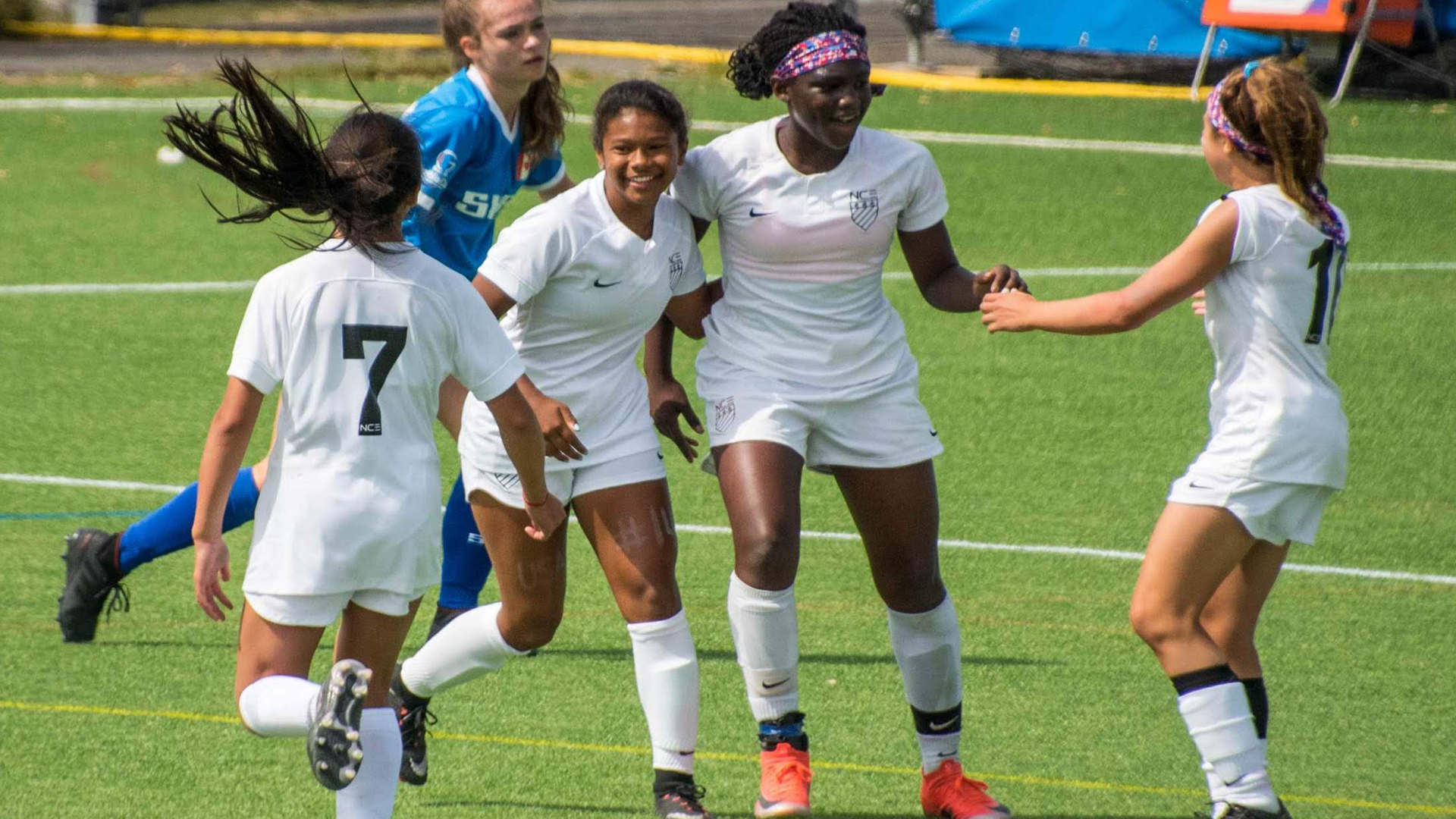 Soccer
Se-Hanna's soccer journey began as a four-year-old as her dad Samuel suggested his kids take up a sport.
She immediately stood out and was approached by a team called 'Packed Lunch Box' before being scouted to join NEU, CFC and Celtic.
She added: "I also did town soccer, however, because the girls' team wasn't as strong I played with the boys and did the same for Celtic.
"At 8-years old I tried out for a club team called Oakwood, where I'd also play with the girls team and occasionally the boys.
"I spent 5 years there, before moving to FC Stars in 8th grade and where I currently continue to play.
"As I think about college, I would say that my club helped to prepare me in important ways. As a kid that young, I wasn't thinking of the process then, but I am very grateful for them and NCE for building me into a player and a leader that can be ready for college today."
Now the focus is College. And then hopefully a career as a pro soccer player.
Se-Hanna had no doubts that UConn provided her with the best opportunity of success – and her family the opportunity to share her journey.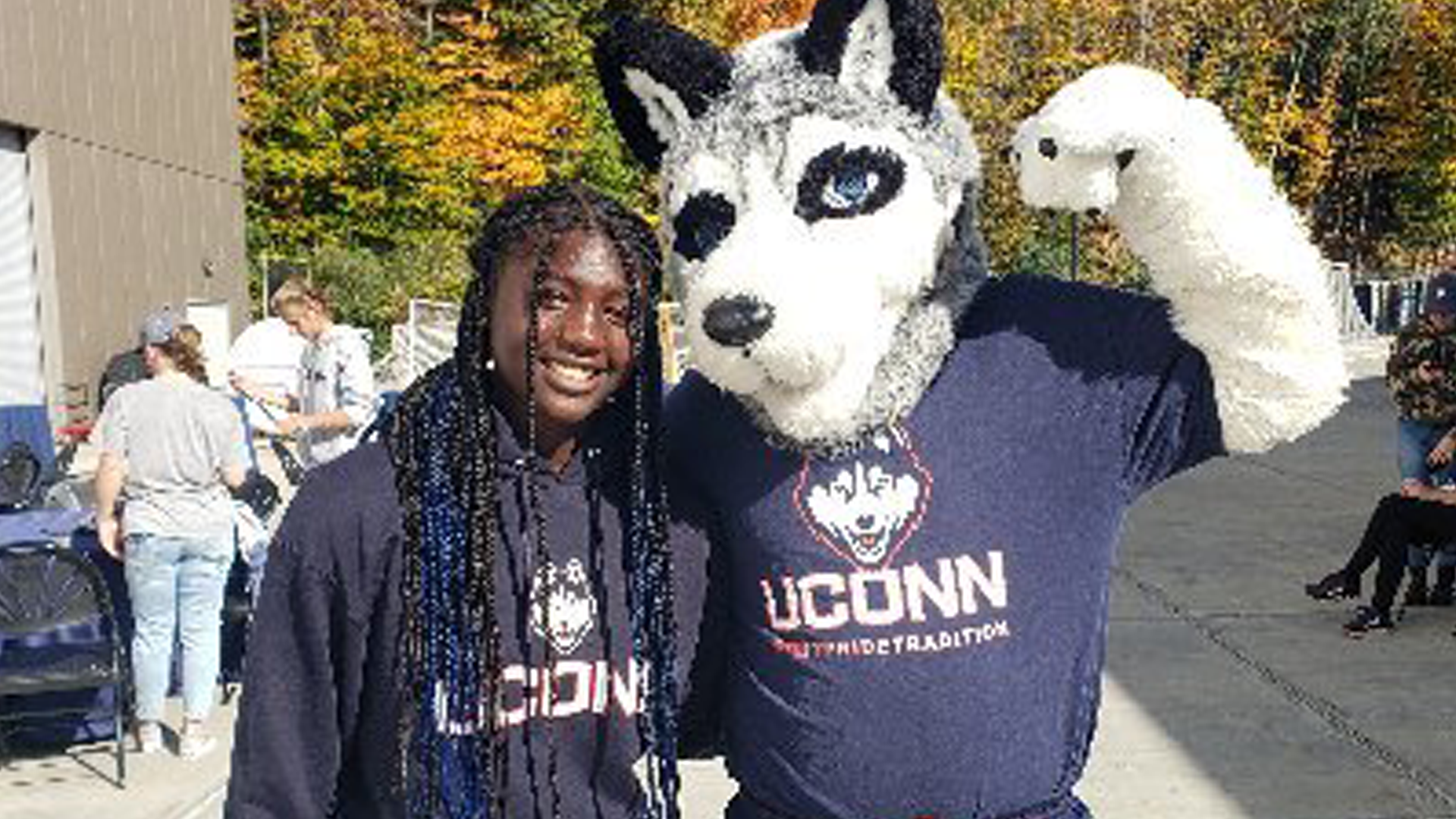 UConn Campus
She added: "I absolutely loved going to the UConn campus. I currently have a brother that goes there and whenever he needs to go to campus during his free time, I'd ask him to take me with him.
"When I was younger I often loved going to the games and seeing how they played. It didn't amaze me then, but over the years I've seen growth in the team and thought, I would love to be a part of it.
"I also have a couple of teammates committed there who speak so highly of the staff. I heard so many great things about the staff, but then I was able to confirm them immediately after my visit.
"It was an all female staff and they were just so welcoming, informative and nice that I knew I could trust and rely on them.
"My family means alot to me, and so this decision not only serves me, but gives them the opportunity to support me by attending my games.
"I hope to study Forensic Science at UConn, but also hope to use and elevate my skills in soccer to go farther than college, My dream is to play pro!"
Given Se-Hanna's can-do attitude, few would bet against her achieving that dream! Go Huskies!
* NCE Soccer will be returning to the Gothia World Cup this summer. Follow in Taylor's footsteps and join NCE Soccer Programming. Tryouts resume in April ahead of Spring and Summer Programming but you can resister your interest now via this link
Images courtesy of Se-Hanna Mars and family.
View Video