NCE Soccer has kicked off its College Webinar Season for High School students and their parents.
Aspiring College Players and their parents joined NCE Soccer's expert team for the first of a series of planned online webinars.
College Coordinator Evan Brandsdorfer and College Admissions Counsellor Pay Doyle hosted the session in midweek.
They were joined by NCE Soccer founder John Curtis, Regional Directors Gary Taylor-Fletcher and Scott Middlemass for the two 60-minutes sessions for boys and girls.
The webinar have been created to help College ID Players – and their parents – navigate the minefield of Collegiate soccer.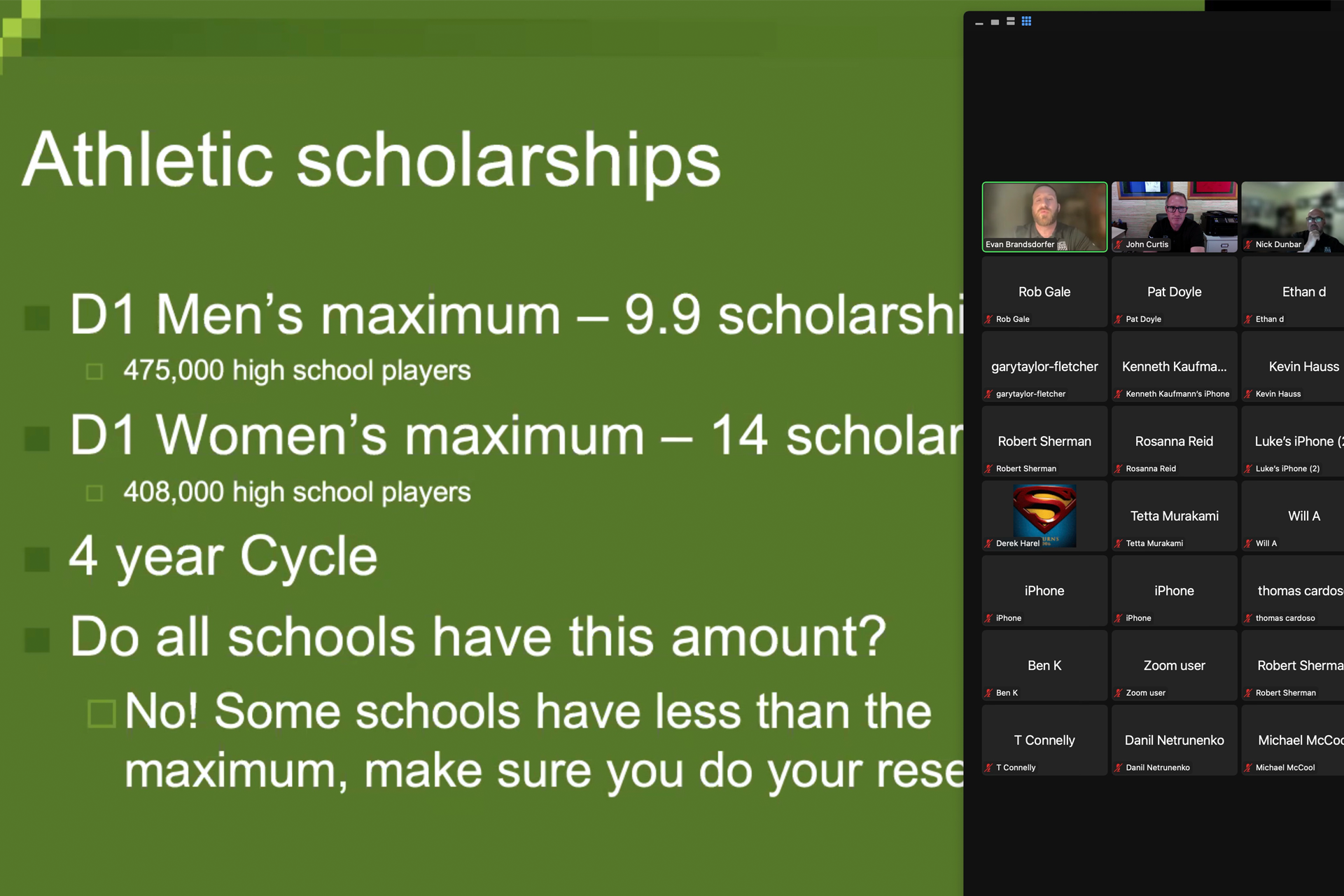 Collegiate Soccer
Over the coming months they will be guided through every single step of the journey, leaning fully about the process, the elements to consider and those to dismiss.
Families will provided with unrivalled knowledge and experience as well the crucial connections to help them secure the right University or College.
Evan explained: "The Webinar series is a great chance to learn valuable information about not only the NCE College ID program but the general scope of recruiting from the comfort of your own home!
"These webinars will be informative but will also include exposure to college coaches in a stress-free setting.
"We have a hugely experienced team, Pat has been providing counselling to players and their parents and I combine my role at NCE with being a head coach at Sarah Lawrence College.
"We understand the system, we have first hand knowledge of the issues parents and students need to consider and we help to simplify the whole process.
"It was great to get the series off and running and expect more and more people will join us as we grow."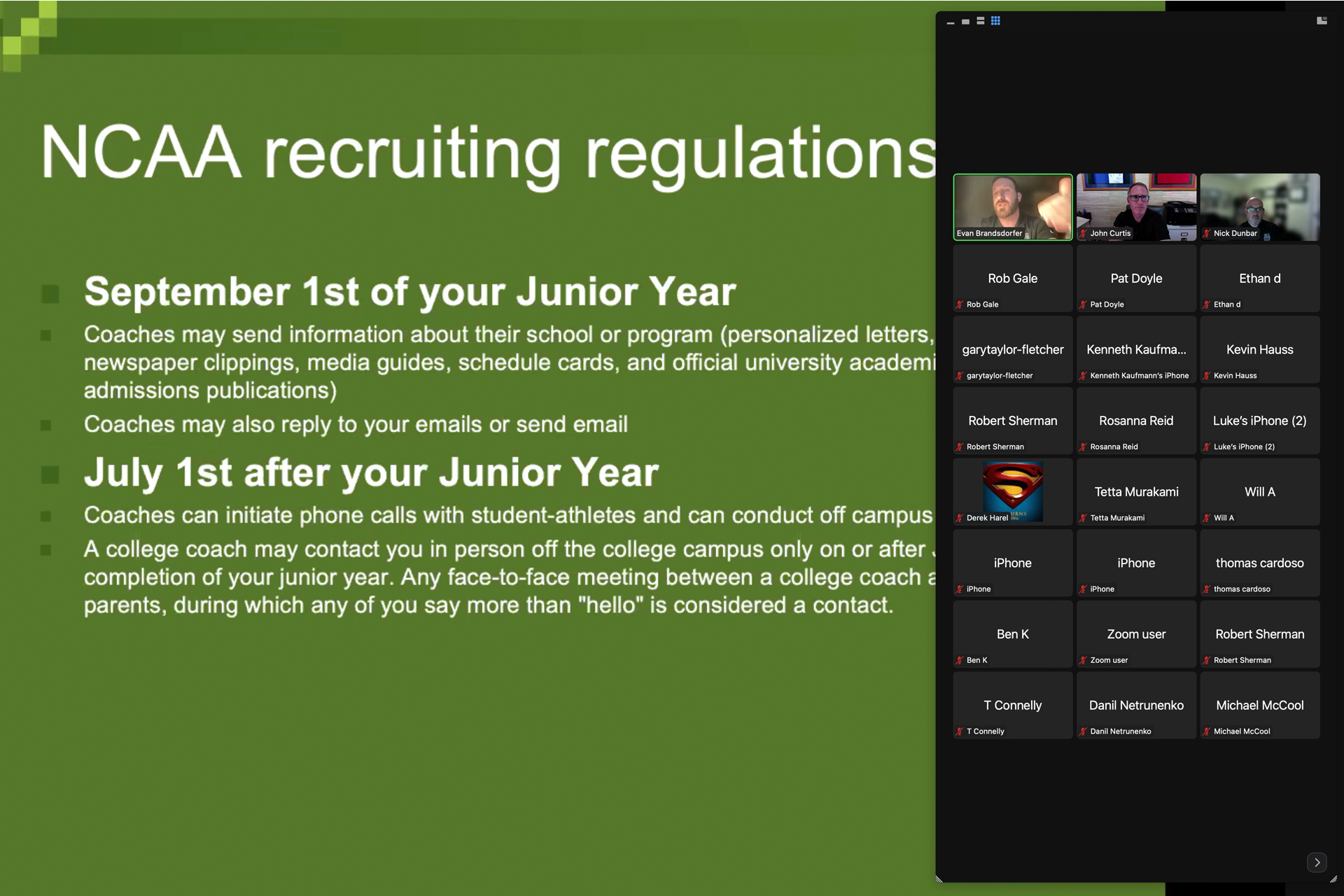 Webinars
The webinar program includes sessions covering both Academia and Athletics.
Themes include Recruiting, ID Camps, Highlight videos, explanation of the various devision and much, much more including detailed descriptions on utilizing highlight videos, emails and the freely available NCE Soccer College website for each player.
Webinars are divided into two hour-long sessions, with boys session usually held between 19:00-to-20:00 and the girls following between 20:00-to-21:00.
Evan and Pat will be joined by both male and female University coaches and will specaliase in different areas include freshmen, Sophomores, Juniors and Seniors with age-specific information.
"This is such a vast subject with so much to cover but it is crucial that information is presented in an age specific way," Evan added.
College ID
"The issues a freshman should be doing or considering will be different to those concerns as a Junior and we ensure that messaging is clear and concise.
"We also make ourselves available for one-on-ones and every sessions includes Q&As and some may even include tests. The College ID webinar makes sense of a very complicated system to ensure our players are properly prepared to succeed."
The College ID webinar series runs alongside the College ID Programming with players invited to attend the College ID Summer Camp and College ID Showcase weekend.
This year, more than 40 top College ID coaches have already
* To find out more about the NCE Soccer College ID Program click this link.
* To discuss the College ID Webinar series you can reach out to coach Evan via this link.