Sink or you swim. Lay around and feel defeated, or rise to the challenge.
Gianna Peracchio has no doubts. Seize the day. Control your own destiny.
She has challenged herself continuously to push barriers, to seek improvement, to overcome hurdles.
Not even a global pandemic would interrupt her development.
Lockdown robbed Gianna of her first day at Choate Rosemary Hall, one of the most prestigious High Schools in the United States. It even tried to break her love affair with soccer, as practices were scrapped.
But Covid, like so many opponents Gianna has faced on the field, didn't reckon on her strength and determination.
"Covid definitely turned my life upside down. I remember when Covid first came, all of soccer was closed down and school was changed to online," Gianna explained.
"I was in my eighth grade but field trips and school activities were cancelled, then I heard that soccer was being shut down.
New Reality
"I had no clue on how to deal with my new reality.  I couldn't go practice on the pitch, couldn't see my friends, couldnt go to the park, or even go train at the fields because they were closed down.
"I realized, I now had complete control over my future. I could lay around and feel defeated or I could rise to the challenge and take this time as an opportunity for myself to be creative with my training.
"I found creative ways to train and focus on areas that was not particularly my strongest. I wanted to come back from Covid bigger, stronger and faster and prepared.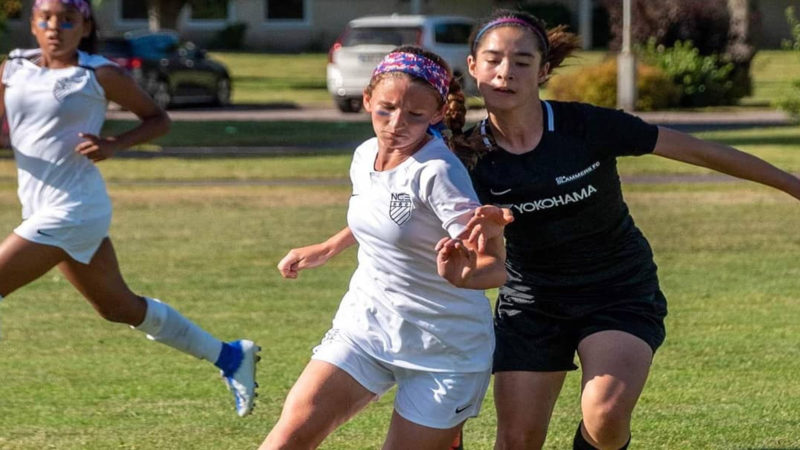 "I wanted myself to be prepared for the day we could take the pitch as a team.
"I had hopes that Covid would go away soon, and really was looking forward to an in person first day at Choate, but it did not.
"We were initially online for a couple of months, but I was able to go on campus after and I absolutely loved it. Choate did an amazing job keeping the students engaged and safe.
"I definitely dreamed of a totally different scenario for my first day of high school, but at the least the year would be memorable.
"The pandemic has been horrible, but I feel I have grown as a young woman after facing these challenges."
COE Program
Gianna turns 15 in February and is already a very impressive young woman. She is a shining beacon for other NCE Soccer players and sets a fine example for others to follow, including her teammates at CFC United in Connecticut.
By her own admission, Gianna wasn't the best player when she joined the COE Program. She was good enough to earn selection but she felt she needed to do better.
She took charge of her own destiny and worked on her weaknesses, turning them into strength.
She added: "When I was younger I actually played softball first prior to soccer, so I got a late start compared to most of my peers. Around the age of eight, soccer started to become serious to me, leading me to pursue the sport year round. Once I took to the pitch I knew that this was the sport for me!
"I made my decision to pursue the sport I instantly fell in love with. I grew up watching my uncle play high school soccer games and I was like, "This is will be me!" My parents also contributed by supporting my love for this sport. They devoted all their free time to drive me to different towns and states, never missing a game.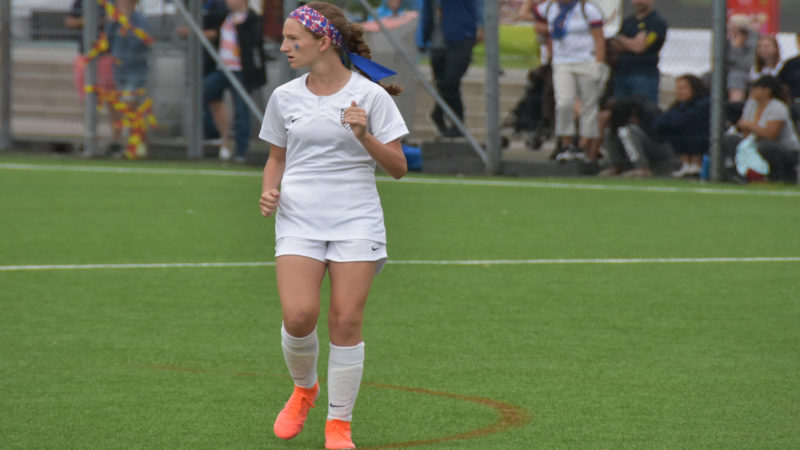 "I started playing with my town rec team along with travel team Middletown Magic. The following year, coach Goran (Vasic), coach Tom (Shields) and coach Zach (Eddinger) saw something in me, they liked encouraging me to take the next step and join a premier team at Sporting CT. I continued to play for the Middletown Magic travel team, while I played premier for Sporting.
"While I was with Sporting CT, they recommended me to the NCE Soccer program in which I took the opportunity to try out.
"The competitiveness and the coaching really drew me in, and I thought that this is a great program to help me improve my skills.
"In the beginning, I realized I was not the best on the field, but I was driven and determined to do everything in my power to improve my abilities. I took advantage of every opportunity I could, even if it meant missing a dance or two and I've been with NCE for roughly six years.
"The program has improved my life so much both on and off the field. It has driven me to be better each day, whether in school, on the pitch, or just being a better person."
Gothia World Cup
Gianna's progression as a soccer player and academic student appeared to have followed the same trajectory. A very steady, but continual journey skywards!
She has dedicated herself to both, and her performances on the field secured her selection for NCE Soccer's Gothia World Cup winning team.
"I chose NCE Soccer because I knew that the expectations were high," Gianna explained.
"Everyone that attends NCE  is serious about soccer and are striving to improve themselves.
"The training environment is top-notch which is exactly what I wanted and the competition is very intense, and it certainly improves your skills.
"Coaches expect you to be disciplined and give your maximum effort, but it is done in a way which encourages you to break from your comfort zone to develop.
"The coaches really put the effort into developing their players both on and off the field and their continued support has been amazing.
"Two summers ago I was given the opportunity of a lifetime, to compete internationally on the NCE Select team at the Gothia Cup in Sweden! There we won the Youth World Cup beating Canada in the final.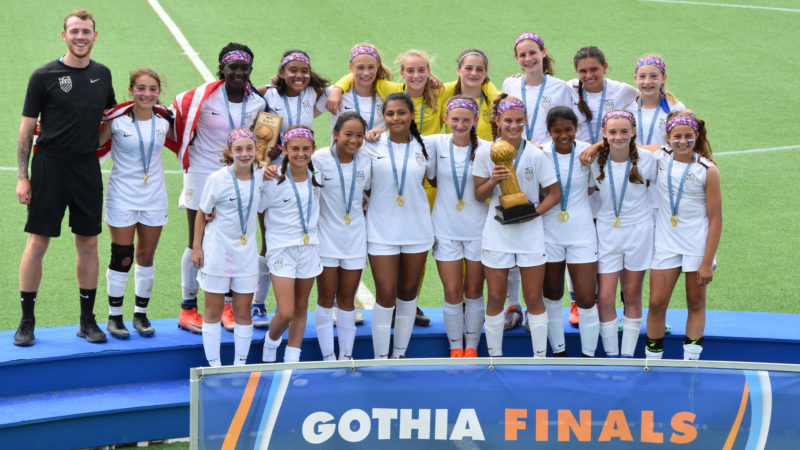 "Being the international champions of our division and hearing our National Anthem play prior to taking the field were surreal and incredible moments!
"I am looking forward to hopefully returning to Gothia to defend our title. The opening ceremony held 52,000 people and as incredible, just like the Olympic opening ceremony."
Choate Rosemary Hall
Gianna's performance in the classroom are just as impressive as those on the field. She has worked her socks off to secure a place at Choate Rosemary Hall and ironically squares her soccer circle.
Choate Rosemary Hall's fabulous facility in Wallingford, Connecticut, has hosted NCE Soccer coaching programs and it's where Gianna was first introduced the COE Program.
She added: "It's one of the most academically challenging and prestigious prep schools in the world. I used to attend NCE coaching at Choate and I was always fascinated by how big and beautiful the campus was.
"I come from an average income family and Choate is a very expensive school, so I never would have dreamed i would have the opportunity or option to attend though it was my number one choice for a high school so I was ecstatic when I was accepted, and I was even granted with a large grant to make this a reality!
"After only attending my first trimester at Choate, I made the Dean's List while enrolled in all advanced classes.. You can only be put on this list if you have a higher GPA than 3.50.
"I also made the Varsity Soccer team as a freshman. Playing for Choate was extra special for me and kind of a full circle experience.
"I began my NCE training at Choate, now I get to finish my teen years playing there so thank you NCE for the intro! Lol!
"My hopes in the future are for me to be better today than the day prior.  I would love to get into a great D1 school which has a challenging academic curriculum so, if you are a coach and reading this, put this centerback / holding mid on your radar!
"Of course I have dreams of signing a professional contract,  whether here or overseas, but I will also work at becoming a Dermatologist if that does not plan out!"
Proud Parents
Her parents are understandably proud of Gianna's progression, both at school and through the NCE Soccer COE Program.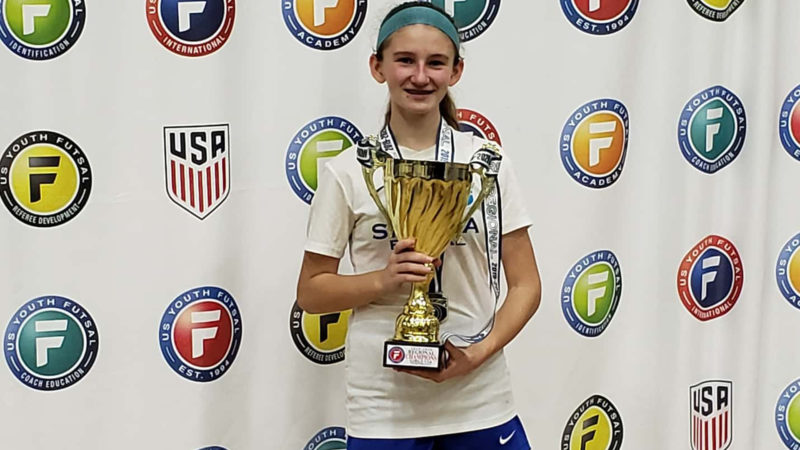 Father James Peracchio, said: "Gianna is very determined and always strives to do her best and is an incredibly hard worker. She is very competitive and works very hard for her achievements.
" As parents we are there to both support her and offer our advice along the way but is a 'go out there and get the job done' player. Her knowledge of the game put her in the right areas of the field to make the plays.
"Gianna has never had a B on her report card in grade school, with straight A's throughout. She was named the salutatorian for her school in her 8th grade year. First trimester at Choate she was named to the Dean's list and on the field, Gianna has competed in many tournaments and showcases. However the 2019 Gothia Cup Champions with the NCE program was an experience of a lifetime.
"From the opening ceremony in front of 52,000 people to hearing the national anthem at the championship, the tournament and experience NCE provided for their players and families was unbelievable.
"I can not thank the NCE program enough. It has helped form a determined and confident young lady on and off the field. Through the years it has built her into one heck of a soccer player, and built many friendships players and family along the way.
"It has shown her the benefits of working hard for something. NCE has prepared G for the future both on and off the field. John's support through the whole process has been phenomenal. NCE really invests in the interest of the players, offering them support both on and off the pitch."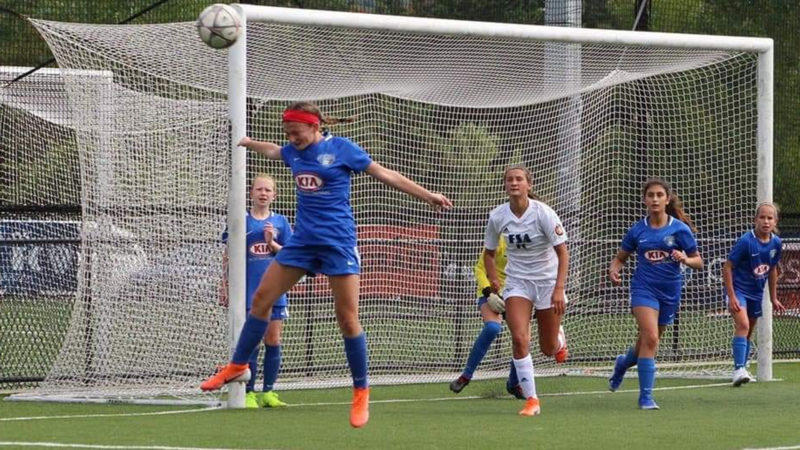 Dedication
NCE Soccer Technical Director John Curtis has watched Gianna blossom into one of the strongest players in her age group.
Coach Curtis, said: "Gianna's journey within COE has been fantastic. When she joined the program 4 years ago she was only scraping through the tryout process and to date she's one of the most highly rated 06 girls in the program.
"Dedication, determination and hard work allied with a multitude of other positive mental attributes meant that Gianna's progress was inevitably. She's a great example of how mental fortitude trumps virtually all obstacles."
Gianna knows there is a long way to go but, her attitude and appetite are providing her with a terrific foundation to succeed.
Gianna, added: "I feel some of my strengths on the field are my decision making, aggressiveness, competitiveness,  and respect towards my teammates and opposing teams.
"I am the type of player that goes out there and gets the job done. I'll make the tackle, make a proper switch, and join the attack. I'd love to give back to my community encouraging the next generation of kids to be the best person they can be.
"I have a desire to be better each day, which I believe has driven me to become the player and person I am today. #stayhumble and #LeadByExample.
"I understand my areas I need to work at, but that drives me to be better. I look at defeat as an opportunity to make progress. I look forward to challenges instead of shying away from them. I compete against myself, to be a better me each day.
"My dream, since I was eight years old, has been to become a professional soccer player. In order to do that, I realized that I had to work hard each and every day.
"Soccer and school basically consumes my life, but I accept that,  because I am determined to challenge myself and become ether a professional soccer player or highly prepared person for my future. I would not have it any other way!"
* To follow in Gianna's footsteps join the COE Program by registering your interest via this link.
* For media, interview requests or to discuss marketing opportunities please contact James Fletcher at Onside PR via this link.
View Gallery