Soccer is Moria Delaney's safe place. It's where she feels happiest.
She's been playing since the age of five and it's clear, she has talent in abundance.
But she believes joining NCE Soccer's elite Center of Excellence Program, was the crucial factor in her development as a player and a person.
Confidence was key. She says her confidence grew once she began to understanding that she could hold her own, and even excel, in the company of elite players.
Now, her performances on the pitch and in the classroom have led to her being offered a place at The University of  Rhode Island, and Moria can't wait to begin the next step of her soccer journey.
Safe Place
"Soccer has always been a huge part of my life. My dad is a huge soccer fan, and if it weren't for him I probably would never have gotten into it," she told NCE Soccer.
"I'm the youngest of four, so I grew up watching my siblings all play and I was just surrounded by it from such a young age that I just fell in love with the sport. I started playing around five and I've been playing ever since.
"Soccer is my safe place because it's where I can do the thing that I love and enjoy the most, where I feel most in my element.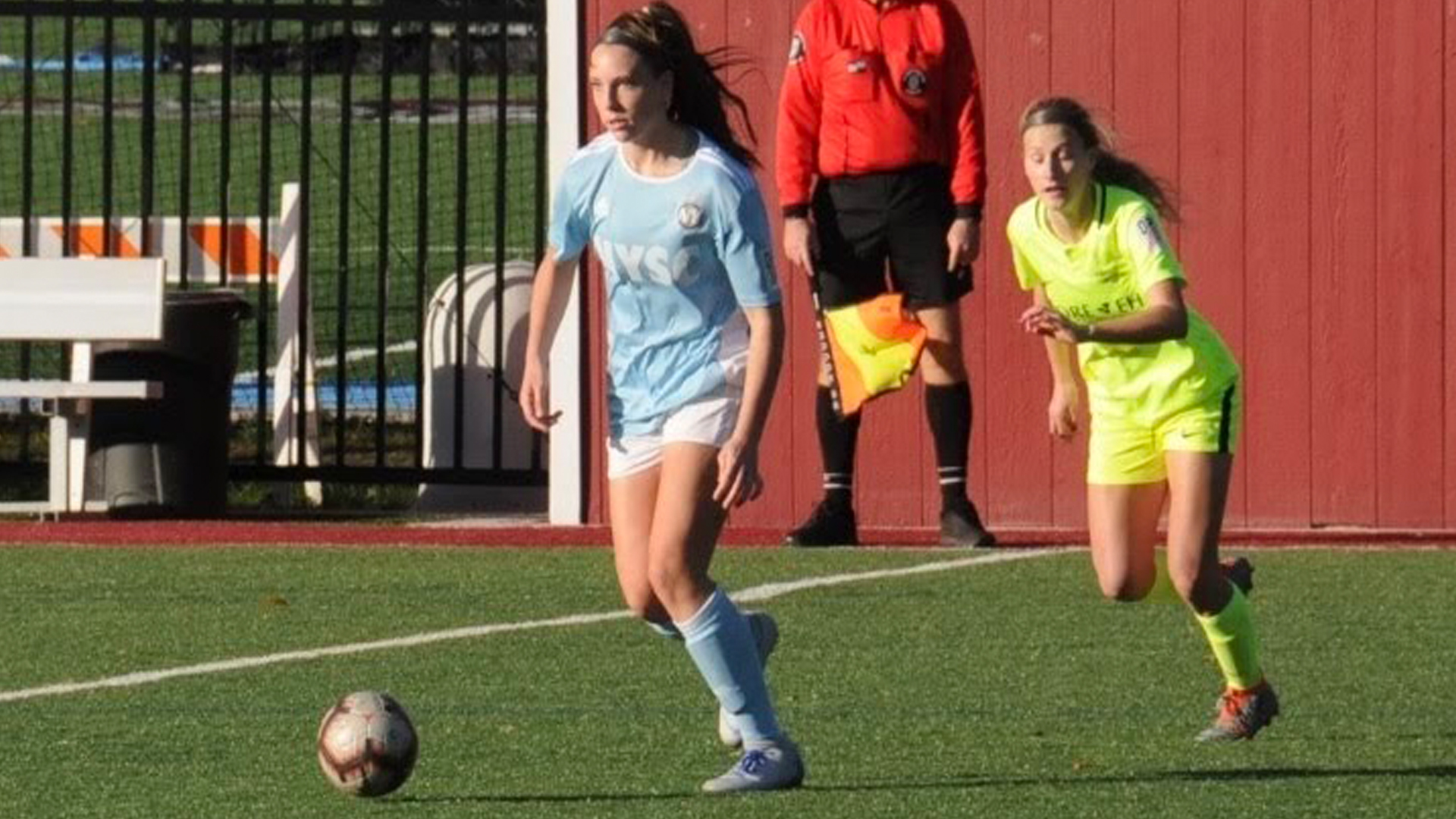 "I started training with coach Curtis and NCE around 2015. I remember me and four other girls from my travel team at the time were all invited to the tournament and it was such a great start to my experience with the program.
"Ever since then I went back every year for training sessions, tournaments, and I was able to end my time with the program in the best way possible with the Gothia Cup.
"Going into it this program was new and exciting. I was kind of nervous because I knew that these were Select players, so they must be good.
Intimidated
"I felt kind of intimidated because I didn't know anything about the program or anyone there, but as I kept going to more and more training sessions and tournaments, and getting to know the girls and the coaches I began looking forward to when I'd get asked to come back and keep training with them.
"I was hoping to go into this and get the best training I could get to improve my skills as a player, and I'm happy to say that after being a part of the NCE program I made so much improvement as a player and person.
"It was a great learning experience because I had never experienced being on a select team before, so it taught me to always be ready for anything and what it's like to play at the highest level with some elite players."
If Moira was nervous she did a pretty good job of coming to terms with her fears and overcoming them as her performance within the COE Program earned her a call-up to the NCE Soccer Gothia Squad.
The Gothia Cup is the World Cup for young players, held in Sweden every year – though Covid forced the competition last year to be suspended.
Gothia Cup
"The Gothia Cup was definitely the biggest highlight of my whole experience at NCE. It was such an indescribable feeling being able to represent the USA at a Youth World Cup," Moira, added.
"I remember my dad telling me about it and I couldn't even believe it. I was so excited to be a part of something so big. I already knew a majority of the girls from past tournaments and trainings, so it was nice to have some familiar faces.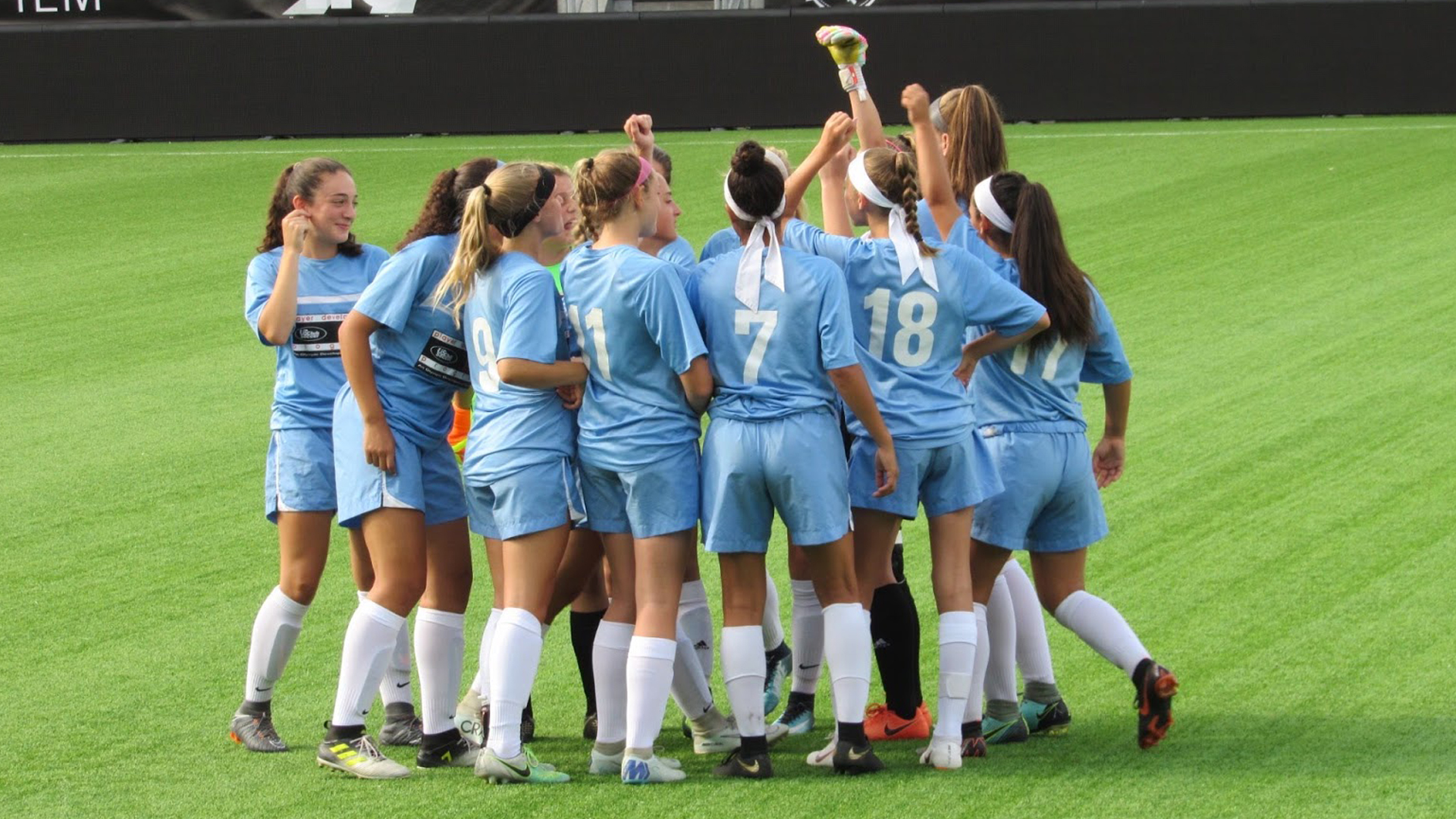 "All of us were so excited to get out there and play teams from other countries. Traveling everywhere by our bus, getting to spend every second of every day together, and traveling together as a group getting to see a part of the world I probably would've never visited if it wasn't for NCE.
"It was the most fun I've ever had, and the greatest experience of my life. I remember before our first game our Coach, Lee Broster, asked me to be captain for the whole Gothia Cup, and I felt such a big responsibility for the team and it made me even more excited to play and boosted my confidence so much.
"It was such an important role to play and I'm happy that I was the one who got to fill those shoes."
Moira, who plays her club soccer with New York Soccer Club, has represented NCE Soccer and tournaments since she joined the program aged 11 and she has no doubt those experiences have helped her personal development.
Experiences
She added: "Every time I would go to a tournament or training session I knew that I would get the most out of every second I spent there. It was more about the experiences the program gave me.
"I would never have believed I could make it as far as I have if it wasn't for this program. It taught me that I am good enough and if I really want something to go after it and get it.
"Like I said The Gothia Cup was my favorite memory of all, and I've truly never experienced something like it before. I'm so grateful for everything this program has done for me."
Now Moira's focus is finish her schooling and prepare for Rhode Island, having committed herself to the prestigious University.
Moira was grateful for the support NCE Soccer provided during the process and the Showcase events which allowed University coaches to watch her abilities as a soccer player.
She added: "I am into my senior year of high school, but the college process was definitely stressful, yet exciting at the same time.
"It was definitely weird to start looking into colleges that I could see myself being a part of because it's so hard to just pick one, and you don't want to pick the wrong one, so it definitely was tough.
"Getting emails back from colleges though was so exciting, and getting to play in front of so many coaches at showcases made playing more exciting because there was always a lot on the line.
"You want to be playing at the best of your abilities at all times because you never know who's watching you.
"I would definitely love to play professionally one day, but I believe that going to college is something everyone should experience if they have the chance.
University of Rhode Island
"Rhode Island was not my first choice, I had actually been emailing a bunch of other schools just to get my name out there and for colleges to take a look at me. As my junior year of high school started I knew that I wanted to have found a place to call home for another four years.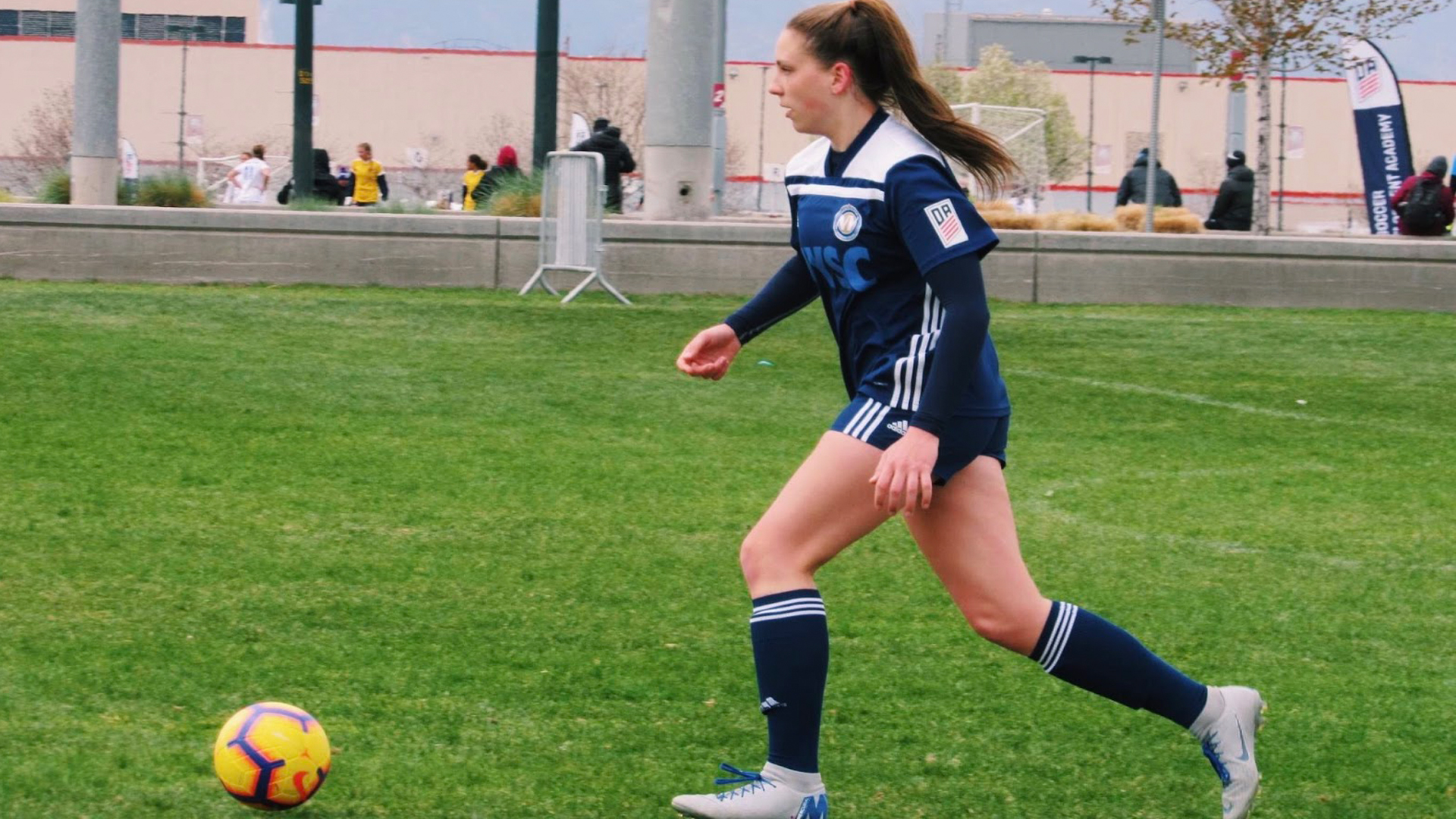 "I talked to and visited a lot of schools, and none of them really gave me that feeling that URI did. Everything about the school is what I like. It's a moderate sized school, the location is amazing, it has what I'm interested in studying, Kinesiology.
"It's a part of the Atlantic 10 Conference, which is the conference that I want to play in. The coaching staff are amazing and they are all so kind. I feel like a lot of players are most nervous to talk to the coaches, I know I was, but they do such a great job at making you feel welcomed and important.
"I'm looking forward to being a part of the team and getting able to represent URI. The whole college process does get a bit tedious, but it's all worth it in the end, and the excitement of being able to find a college that fits you is so relieving, and knowing that you are the one who put in all the hard work for so long and it's finally paying off is such an amazing feeling."
NCE Soccer Technical Director John Curtis is delighted for Moira and hopes her work will inspire others.
He said: "It's so great to see Moira's hard work pay off. She's been a consistently strong performer within the COE which resulted in her selection for Gothia Cup 2018. She excelled in that event and it's no surprise to the NCE coaches who've worked with her, to see her graduate into Division 1 soccer."
Future
The future? Who knows? First, Moira's target is to secure her academic qualifications  but she still dreams of a pro soccer career and NCE Soccer will certainly continue to support Moira, and help her achieve her reality.
"I hope to stay in touch with coach Curtis and the NCE program because they are a great program that has gotten me far in my soccer career," she added.
"I couldn't thank them enough for all the opportunities they've given me, and I would love to go further with my soccer career after college, even professionally if I get the chance. Hopefully in the years to come I will be blessed with those opportunities."
* To follow in Moira's footsteps join the COE Program by registering your interest via this link.
* For media, interview requests or to discuss marketing opportunities please contact James Fletcher at Onside PR via this link.
View Gallery