Brooke Gallo will play Division One Soccer next Spring – and has no doubts about the role NCE Soccer played in her helping her achieve her dream.
The talented midfielder has been honing her craft with NCE Soccer for the past nine years and feels that work gave her the edge.
She feels the quality of coaches and the players the COE Program and College ID Program attracts, fast tracked her development.
Now, that work has paid off and Brooke has committed to Queens University of Charlotte, the latest of the 2019 Gothia World Cup winning squad to secure Division One soccer next Spring.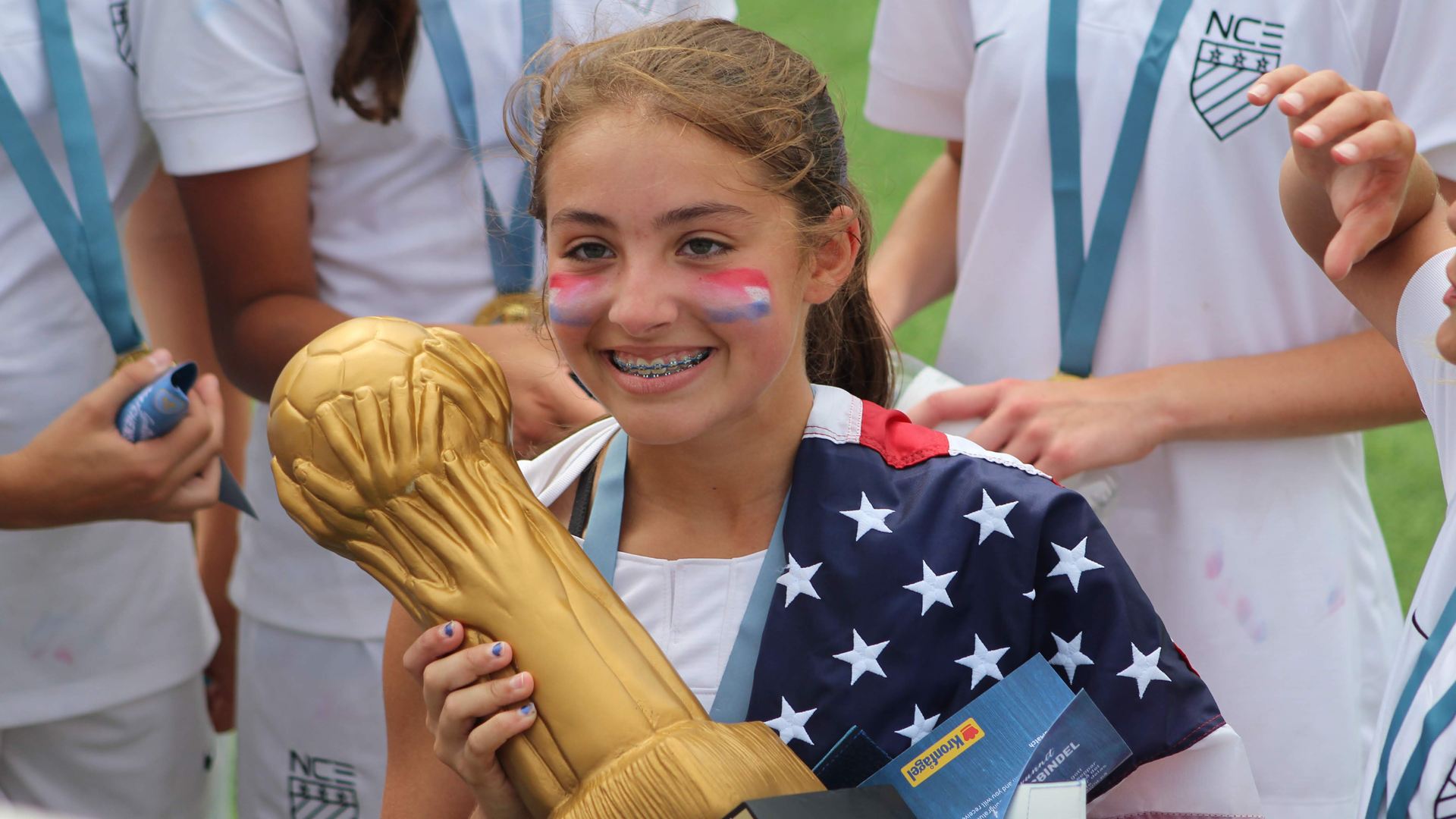 "NCE has been apart of my life ever since I was little," Brooke explained.
"They placed me into their program with such talented players, and all the coaches helped me believe that I could compete with them.
"I truly believed that after every training session I was getting better and better, and that's something special.
"I've met so many girls who I still talk to today, and I also played for such great coaches for so many years.
"I am beyond thankful for every single opportunity NCE has provided me, and the development I saw in myself because of it is amazing.
"And NCE definitely helped my college process by allowing me to play against girls all around the country.
"Playing against high competition all of the time helped me get an idea of what kind of player college coaches are looking for. It pushed me to try to work just as hard as everyone else because they were also trying to get recruited just like me."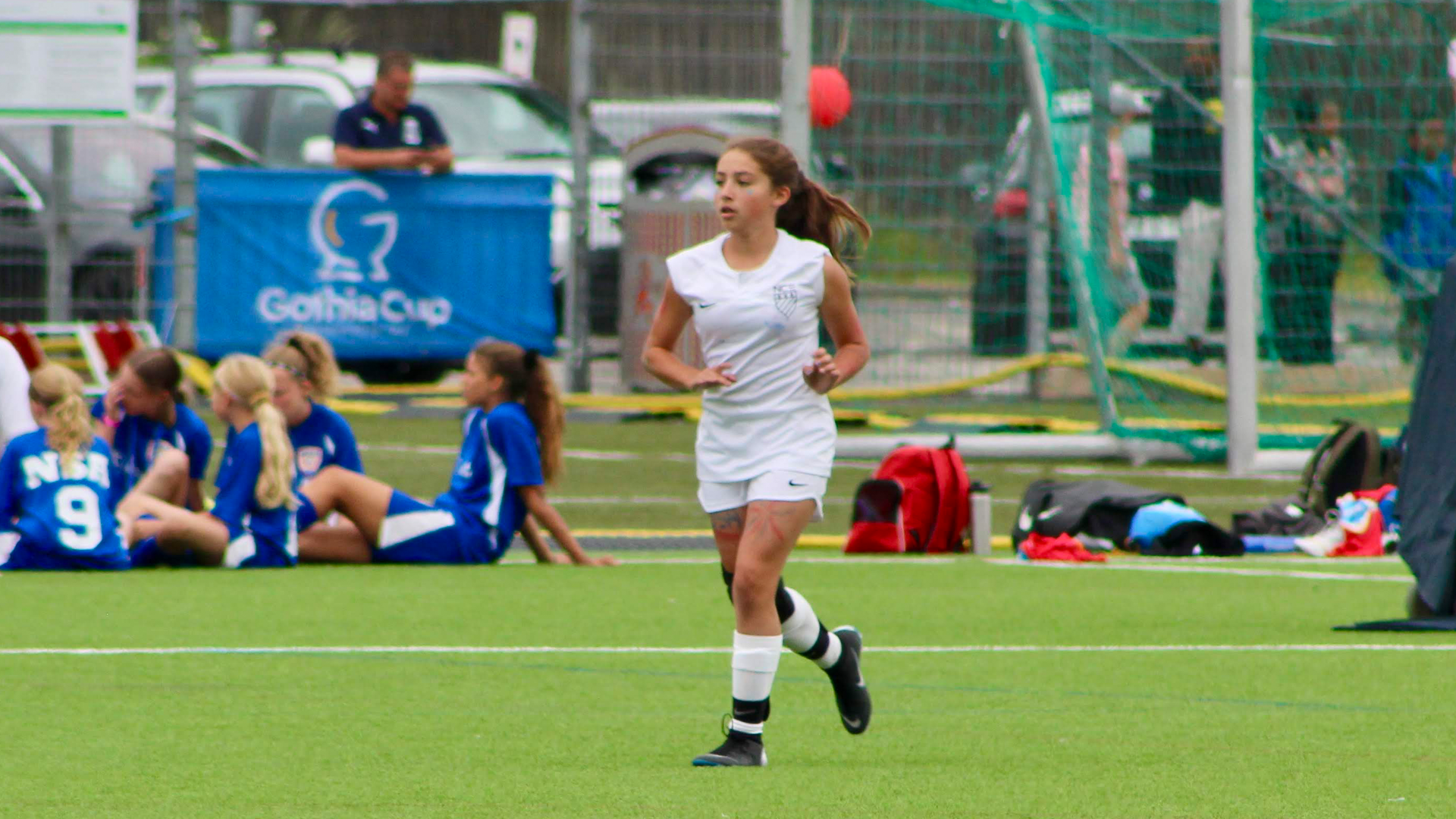 Brooke's soccer journey began almost as soon as she could walk, first kicking a ball around as a three-year-old and joining local intramural team Sachem before switching up to Atletico FC, EMSC Smithtown and onto Long Island Soccer Club.
She tried out for NCE Soccer in 2016 and her talent stood out, gaining selection to almost every Select Squad and attending Residential Camps and Showcase events.
But without doubt, it was her time in Sweden with the NCE Soccer Select Squad which lifted the Gothia World Cup which stands out as her career highlight to date.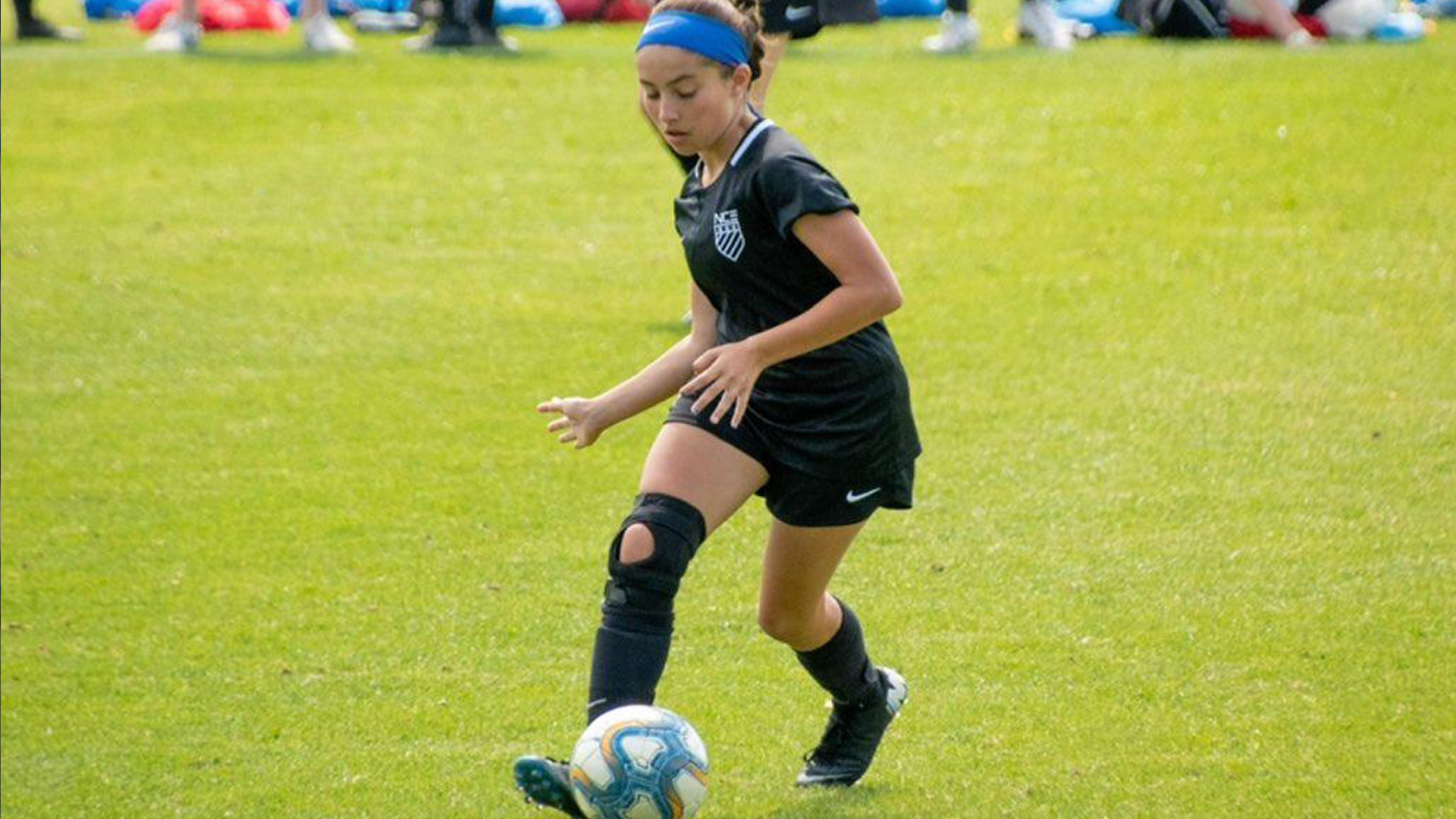 She added: " I have had a ball at my feet for as long as I can remember. playing soccer for most of my life and I've loved every minute of it!
"I tried out with NCE Soccer back in 2016 and thankfully they took me into the program.
"I would go to the Friday night practices every week, the Indoor tournaments, Sleepaway camps, the Soccer Coliseum, the GPS tournament, and I luckily had to opportunity to go to Gothia Cup.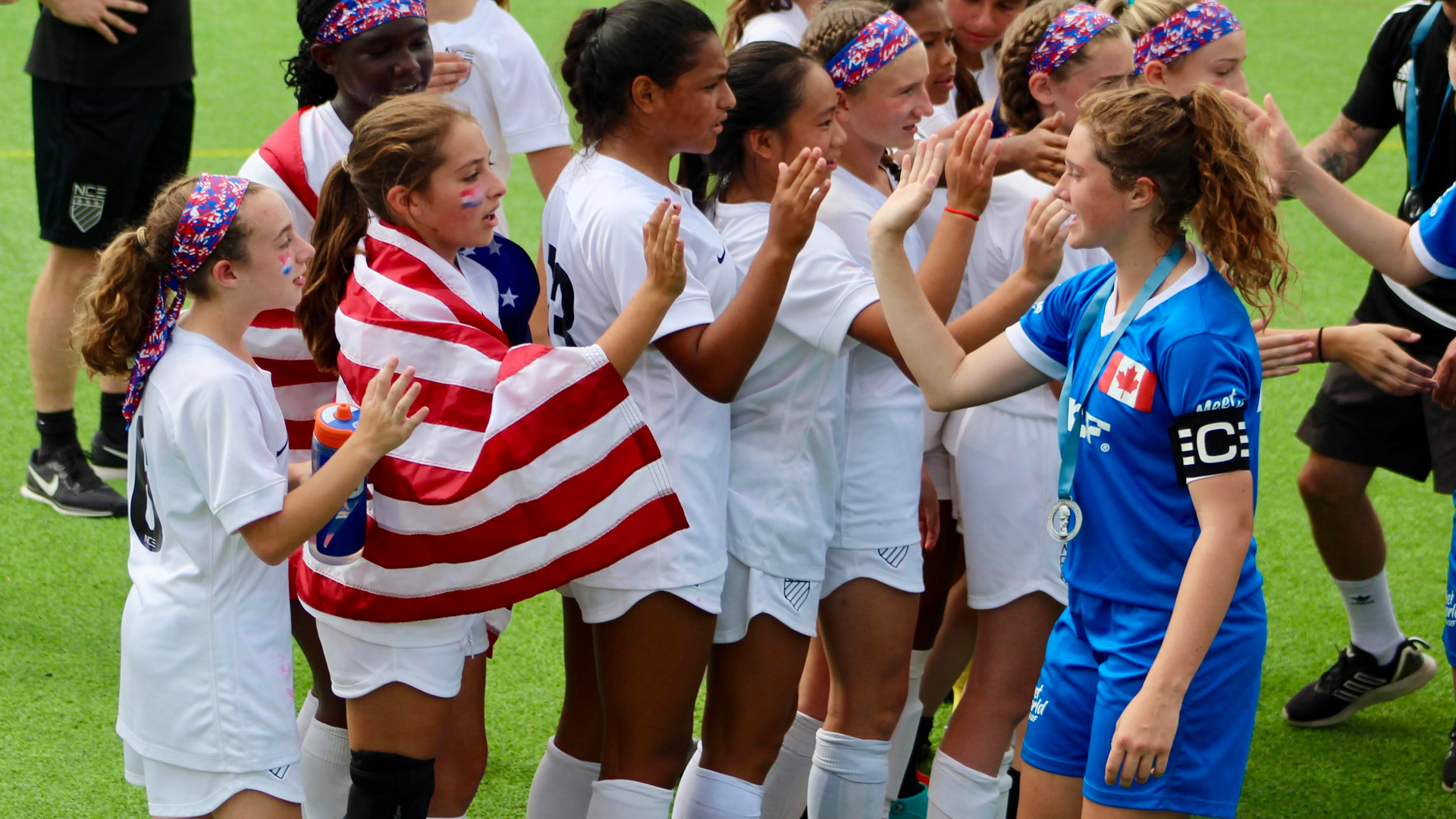 "My NCE highlights are Gothia Cup and the Friday night sessions. My NCE journey started off with practices on Friday nights at KK Athletics, and I would look forward to them every week.
"Working with multiple coaches every week and having the chance to get 1-on-1 feedback was vital to my development as a player, and the trainings prepared me for the talent at all of the other NCE events, including the Gothia Cup.
"Going to Gothia Cup with NCE is something I will never forget. The process leading up to it was a challenge, but it pushed to me to work at 110%.
"My teammates were incredibly talented, and I am so blessed to have played with all of them. The experience was once in a lifetime, and not only the soccer was amazing, but the relationships it created were also important to me.
"Being able to win 1st place in our age group with girls I had just met 10 days prior was so surreal and it was crazy to see how well we all clicked so fast.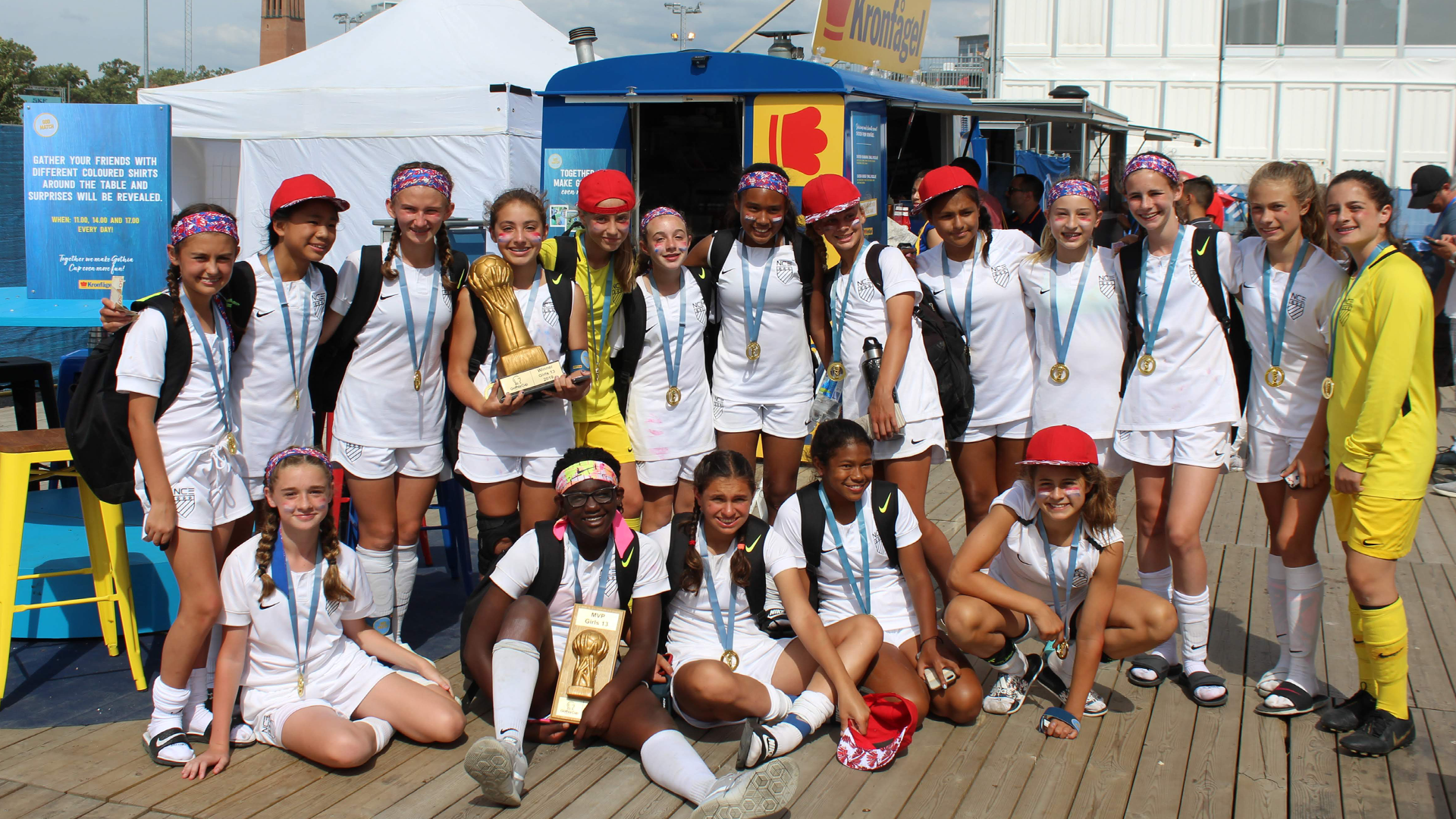 "The talent that surrounded me at every single NCE event I have been to also helped me grow. I could watch my teammates play and pick up on some of the skills they might've done or the place that they played at. I always felt that I played better around harder competition, and NCE provided that for me every week."
Brooke has been benefitted from quality coaching. She credits Heynar Rodriguez and Kurt Kelley at Athletic FC for helping her to realise her opportunities and the NCE Soccer team for developing fast-tracking her talent and preparing her for College Soccer.
It certainly worked. Coach Shannon at Queens University of Charlotte recognised her talent whilst coaching with Long Island Soccer and has continued to follow her progress at Showcase Tournaments.
Brooke has no doubts that personal connection, like that enjoyed by players at NCE Soccer College ID Camps and Showcase events, helped to smooth her passage through the Collegiate process.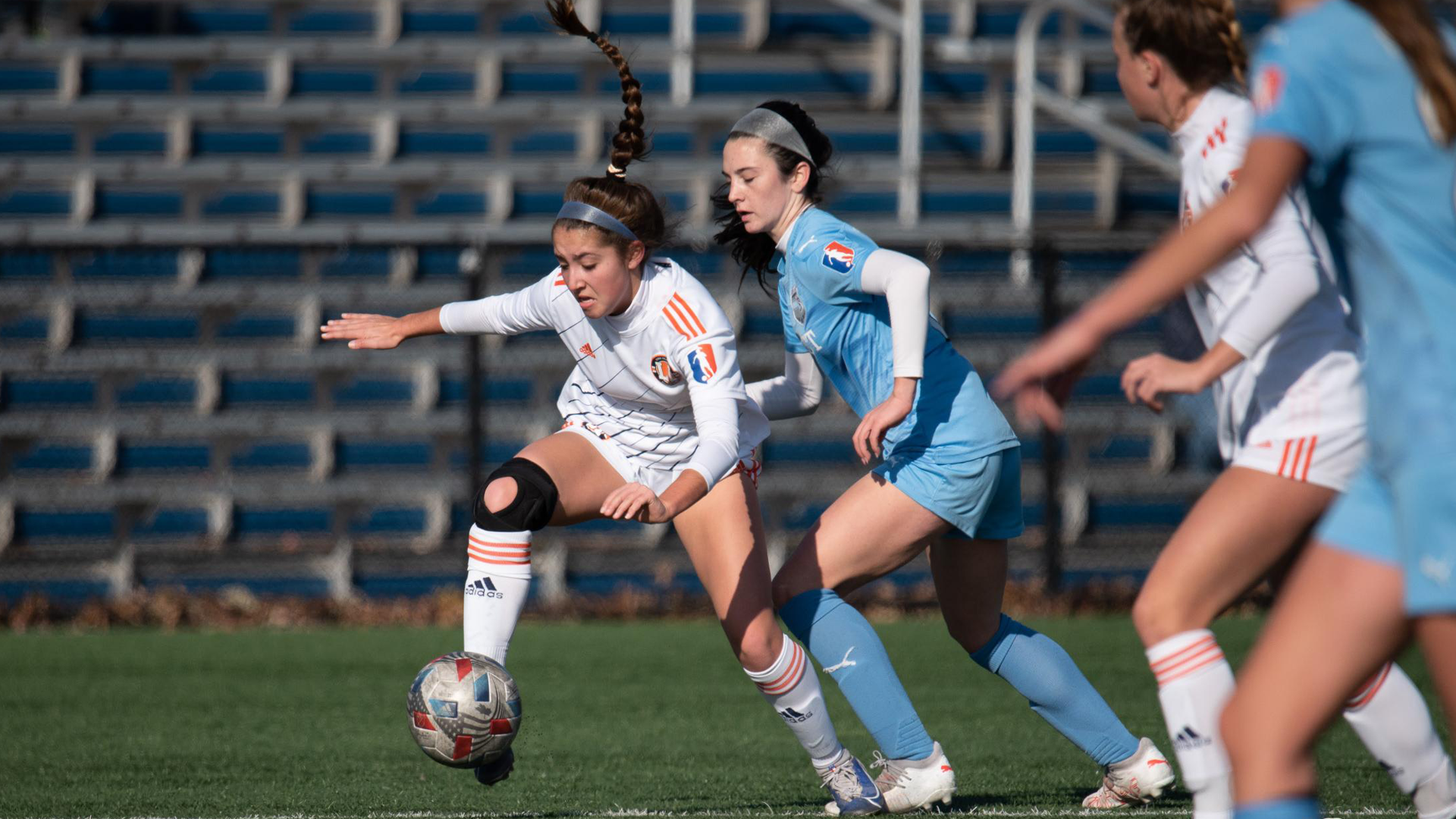 "The college process was intimidating at first, but eventually I learned to keep an even keel. Being realistic with myself about colleges and what schools I thought I could play at was also important to the process," she explained.
"Learning how to navigate college websites to find the rosters, and the academics was also something I had to pick up on because it wasn't always easy.
"My process was over at the beginning of my Junior Year, so it was over pretty fast, but it definitely was not easy. I had two ankle surgeries, so that put me really behind in my process. I got discouraged a lot of the time because I didn't have much film I could keep sending to coaches, and I didn't want them to lose interest.
"Eventually I learned that everyone has their own pace with the recruiting process and that I was going to find the right home for me, and I did!
"Once Coach Shannon moved to Queens I started to look at the school out of curiosity and I became interested. She would come and see my games at the GA showcases and once June 15th hit my sophomore year her and I were in contact.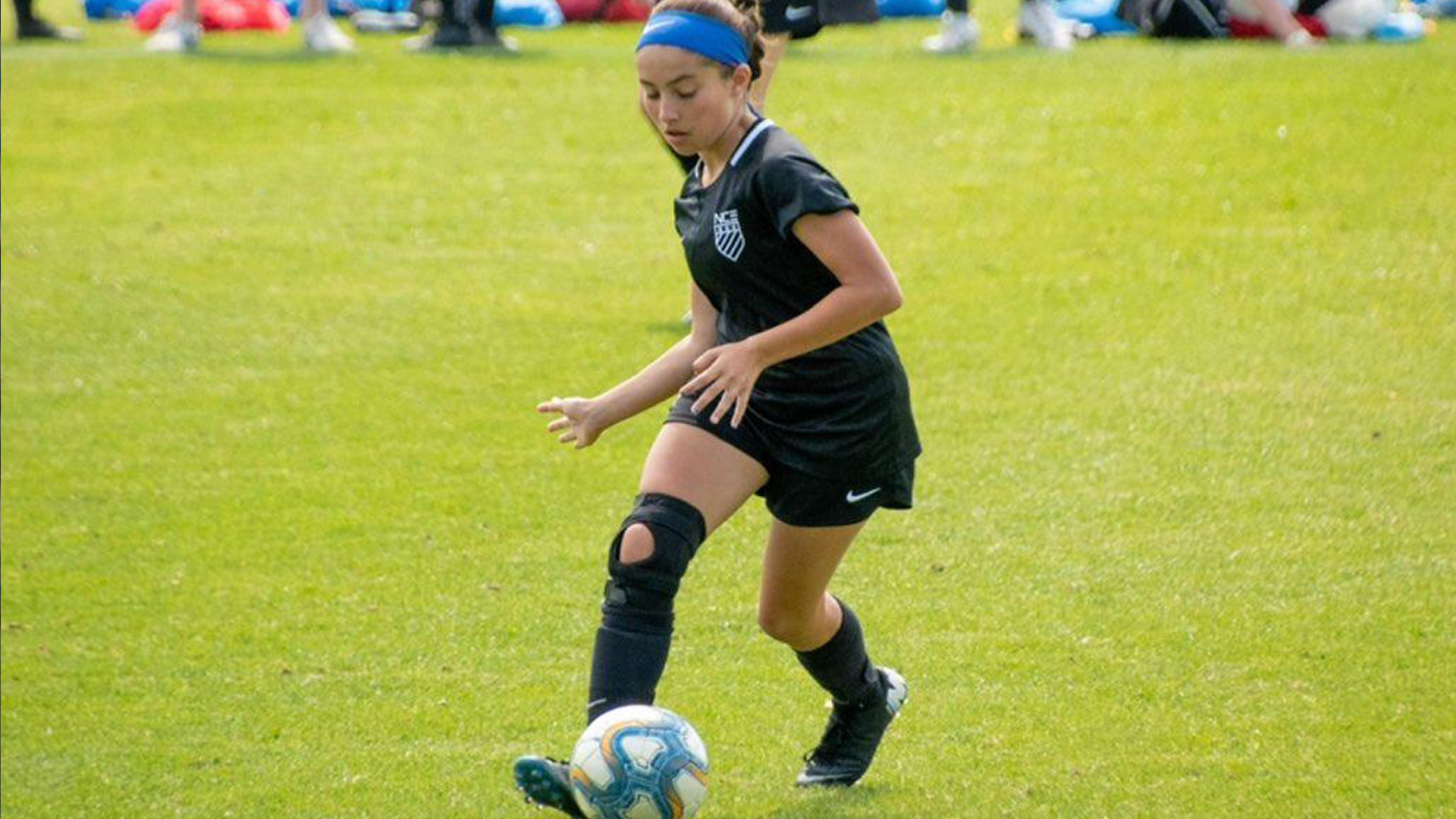 "I hope that in my future with soccer I continue to grow and get better as a player and person. I want to make an impact on my college team, and I want to embrace the college soccer experience.
"I'm so excited to play for Queens and I am so lucky to have the opportunity to develop with such an amazing staff and squad. After college my goal is to become a lawyer. I want to either be a criminal lawyer, or a lawyer for professional athletes!
"I'm still debating between psychology or business as my major, and I am also going to apply to their pre-law program so that I can hopefully go onto Law School. I wanted to go to Queens because the opportunities seem endless to me.
"Being right outside of Charlotte allows me to have many internship opportunities, and the ability to make connections with people in the job force. The school also just felt like home to me the second I made it to the campus.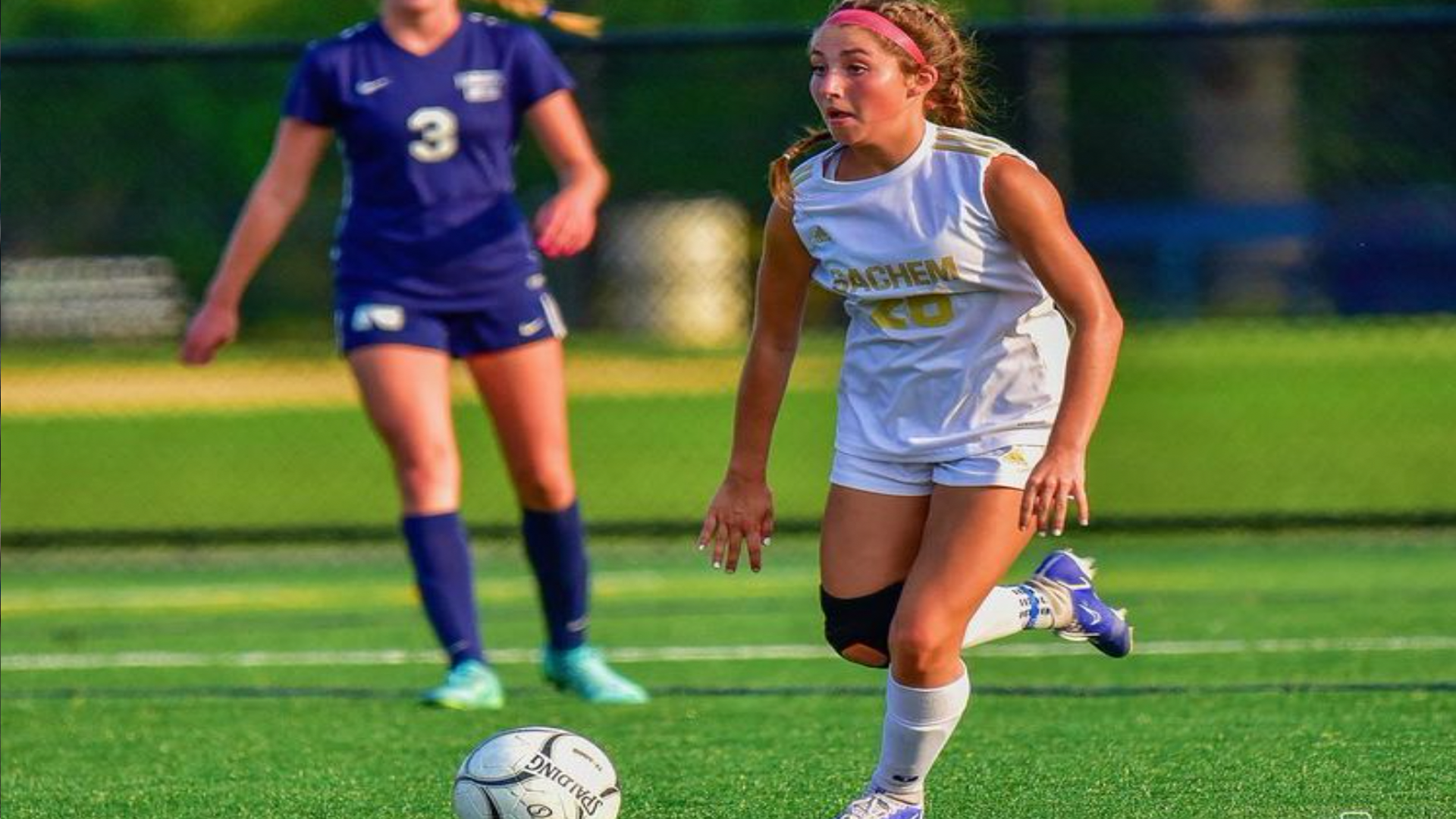 "I loved all of the girls when I went on my visit, the coaching staff is so personable and I did not feel nervous at all around them, and the professors that I met there were so polite.
"The community surrounding it reminds me a lot of home, and everyone has a respect for the college athletes in the area. These were all special things I took into consideration when I made my decision.
"I will start my time at Queens University of Charlotte in spring of 2024. I am so excited to get to play for Coach Shannon at such an amazing school. I know that my time there will be positive, and I hope that I can become the best player that I can be while I am there."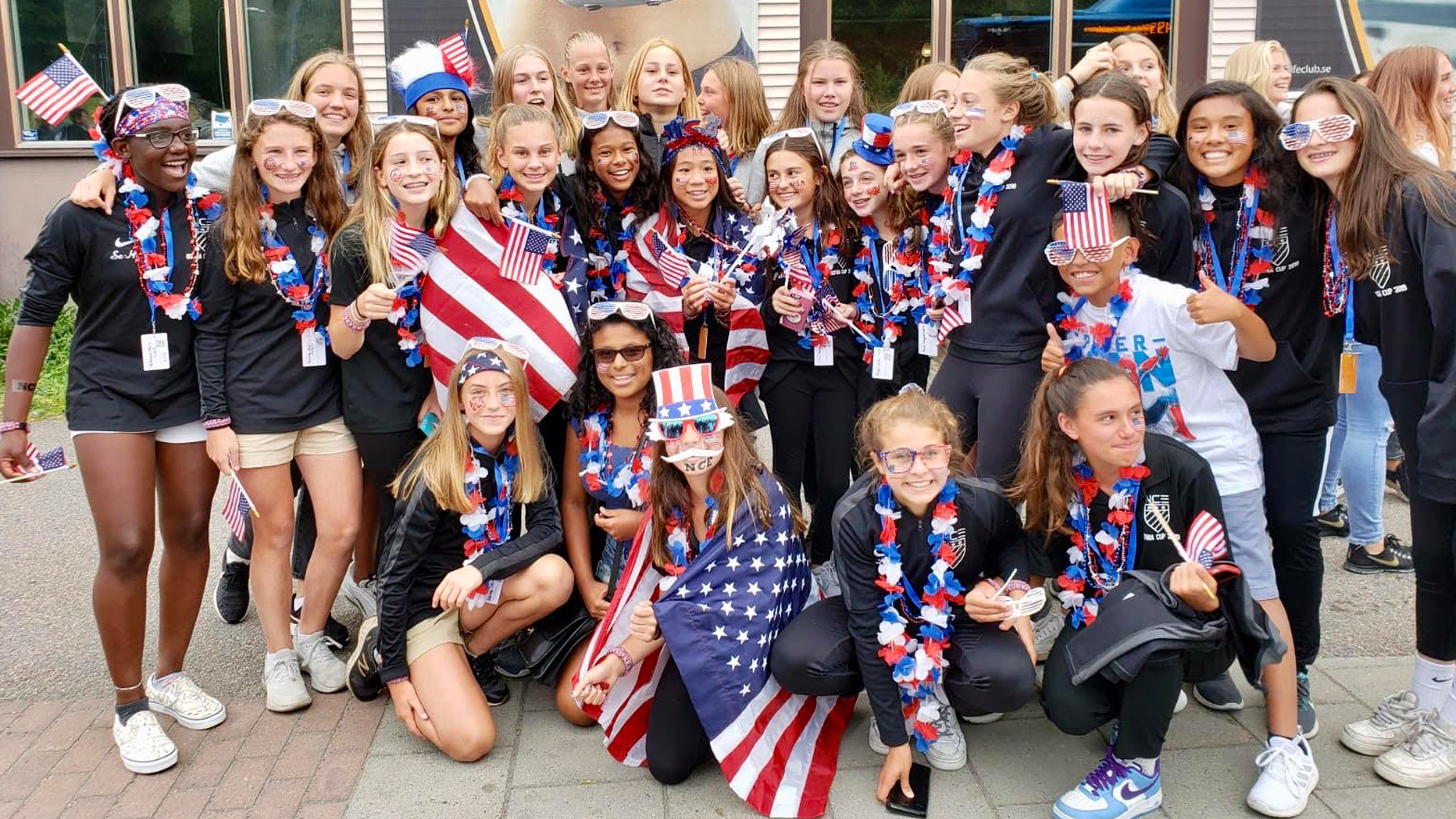 Proud Mom Vanessa, added: "I'm so excited that Brooke has officially verbally committed to continuing her academic and athletic career at Queens University of Charlotte, NC. We are beyond proud and excited to see what the next chapter holds for her. She has worked so hard since the age of four , playing this sport that she loves. It is an absolute dream that BOTH of our daughters will get to play Division 1 soccer TOGETHER! Crying tears of joy!! Class of '27 and Class of '28
"May the road be smooth, go confidently in the direction of your dreams and live the life you imagined."
* Follow in Brooke's footsteps and apply to join the COE Program or College ID Program by clicking this link.
NCE Soccer host COE Programming and College ID Programming throughout the Summer with Residential Camps, College ID Camps, Showcase tournaments and more. To apply to join NCE Soccer Programming click this link.