NCE Soccer 'veteran' Annie Maguire has committed to Fordham University.
The versatile midfielder is the latest Gothia Cup winner to secure her place playing Division 1 soccer, following hot on the heels of Taylor Jenkins and Se-Hanna Mars.
Annie has committed to join the Rams and has no doubts about the impact NCE Soccer has had on her soccer career,.
She has been with NCE Soccer since the age of eight and was part of the 2019 Gothia World Cup winning side – but she believes the College ID and Showcase Tournaments helped her to secure her University dream.
"I'm looking forward to playing at the D1 level in the A10 Conference. I'm excited to be with other players who can play at that level and to learn from them and the coaches. I can't wait to meet the team," Annie explained.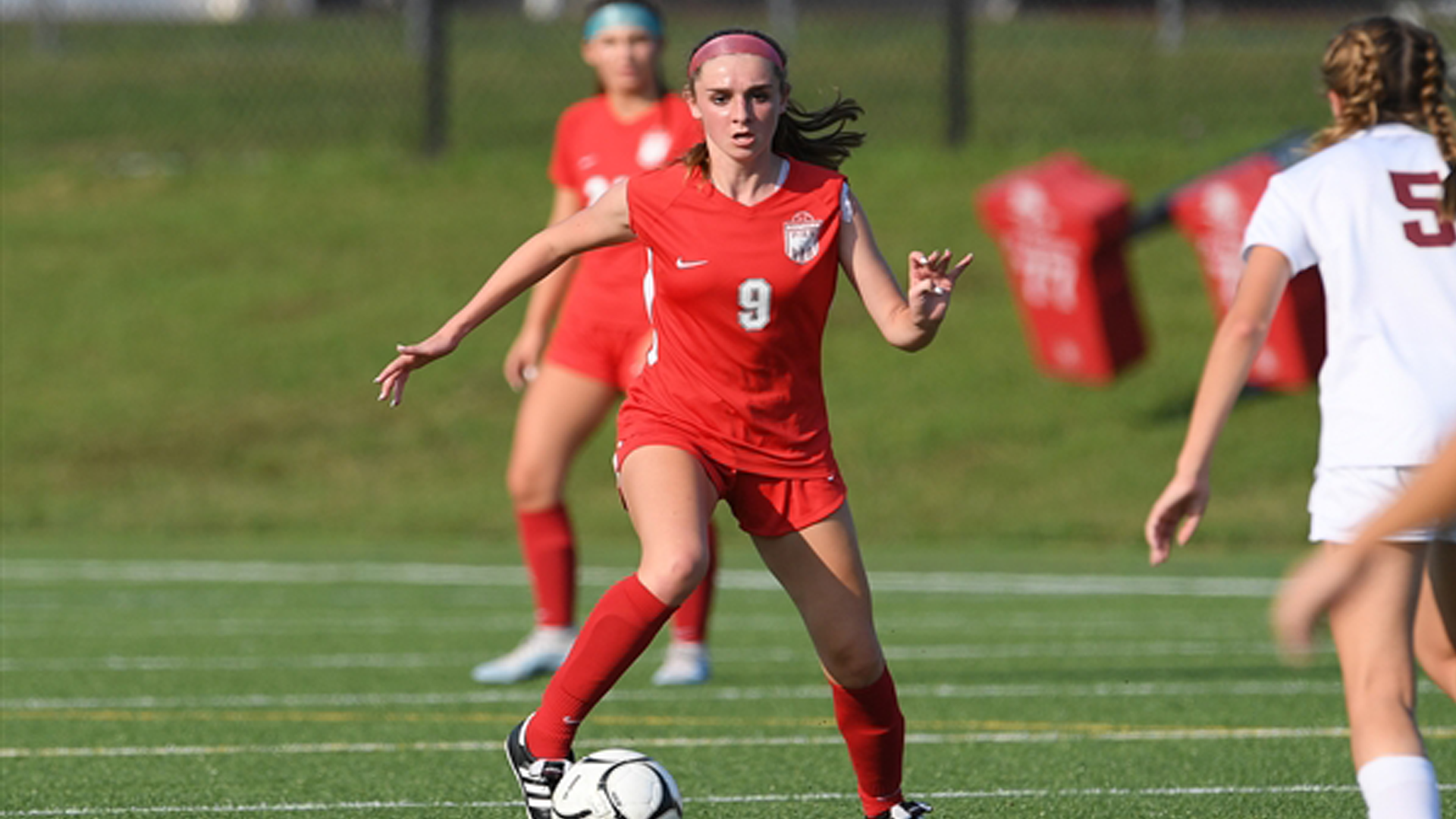 "I've had this goal of playing at the college level for a long time and have worked so hard, especially these last few years, to get to this point. I'm a little nervous but really excited that it's actually happening.
NCE is a big part of the reason I am the player I am today and why I love the game so much. I always felt like the level of competition was challenging and I looked forward to the session every week.
"All the coaches had their special connections with the players and they made you feel like they truly cared about your individual development.  You could tell the coaches really wanted to teach us and make us better.
"I've been in the program since I was 8 years old (so I've been with NCE 8 years). I chose and stuck with the program because I had great coaches and I was surrounded with like-minded players who wanted to be challenged and challenged me.
"Every player at NCE took their training as seriously as I did and no one was ever there to just goof around.
"My FC Somers coach, Mark Hopper, initially suggested I try out for NCE. I was so nervous to try out because I heard that it was hard to get into the program and that they were highly selective and competitive.
"I was not sure if I would make it into the program because the players around me were so good. I was really happy when I got the email that I had made it into the New York Metro area region training program."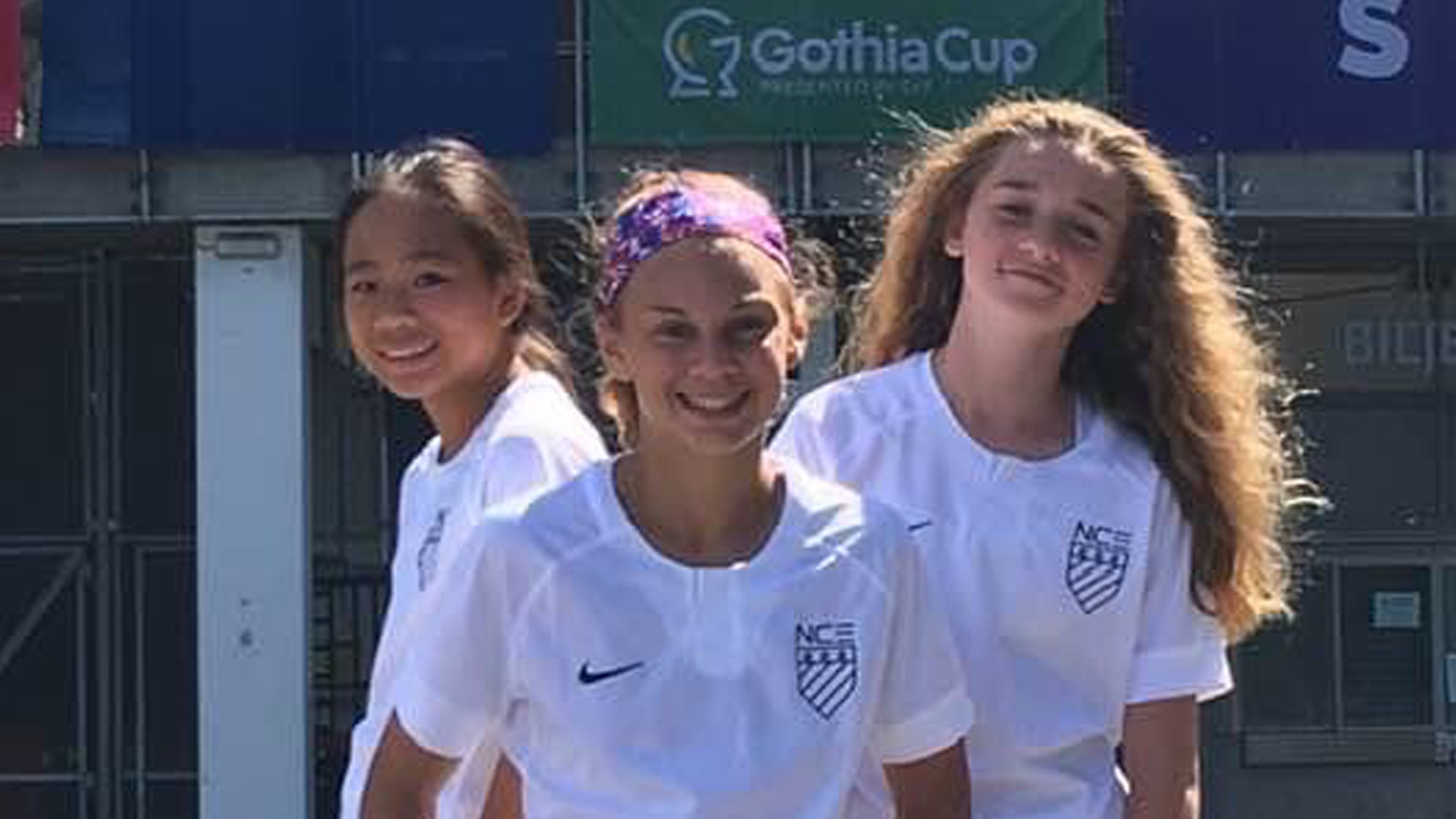 Annie was probably always destined for the soccer field. Her family would often enjoy brunch together whilst watching the English Premier League and she started playing aged just four.
She played with AYSO before joined FC Somers and the New York Soccer club DA/Development Academy before joining CFC (Connecticut Football Club) as a freshman and then joining Patriots FC.
Annie's constant has been NCE Soccer. She moved through NCE's range of programming and stand out performances secured her place in Select Squads and Showcase events – with the College ID camp proving vital preparation for Fordham.
She added: "The Friday night sessions were great because the coaches were closely watching every player. Sometimes they'd select 1-3 players at the end of the session to go play with the boys or to play up an age with the girls group. There was always an awesome competitive feeling because everyone wanted to get better.
"Every week we learned something new. The extra night of training with NCE definitely helped improve my first touch, speed of play, decision making and my overall fitness too.
"The NCE College ID camp was incredibly helpful to me. It answered so many questions I had about the recruiting process. We practiced speaking face to face with coaches, learned the differences between D1, 2 and 3 programs and learned what types of things coaches are looking for in a player on and off the field.
"The week of camp was a great environment to play with great players but it was also a chance to learn about the many different paths for young soccer players. We had such a fun time and I met some really good friends at the camp that I'm still in close touch with. I have such good memories of NCE summer camps.
"The NCE intramural tournaments were great too because we got to compete against NCE players from different areas and I also played in some showcases tournaments with the NCE 2006 select squad.
"Our regular training sessions were every Friday night Winter, Spring and Fall and I often would miss out on other things like parties, sleepovers, trips, family dinners to go to NCE but I never wanted to miss out on the training sessions."
Her dedication to soccer – and her stand out performances- secured her place in the now legendary class of 2019, who went onto win the Gothia World Cup.
She added: "The Gothia trip is one of the greatest memories in my life! I'm so grateful that I got the opportunity to travel to Sweden with the NCE squad with some amazing soccer players to play at the youth world cup and to actually come home with a championship trophy/medal.
"We were all so proud to be representing our country, team and NCE. We were expected to behave as though we were professional athletes. Our team had to dress appropriately even while traveling.
"My team had strict rules for rest, recovery, meals, and preparation. We watched team footage and reviewed games to prepare us. The opening ceremonies at the stadium where we all walked in as a team was an amazing night. There was a fireworks display and teams from all over the world were there representing their countries.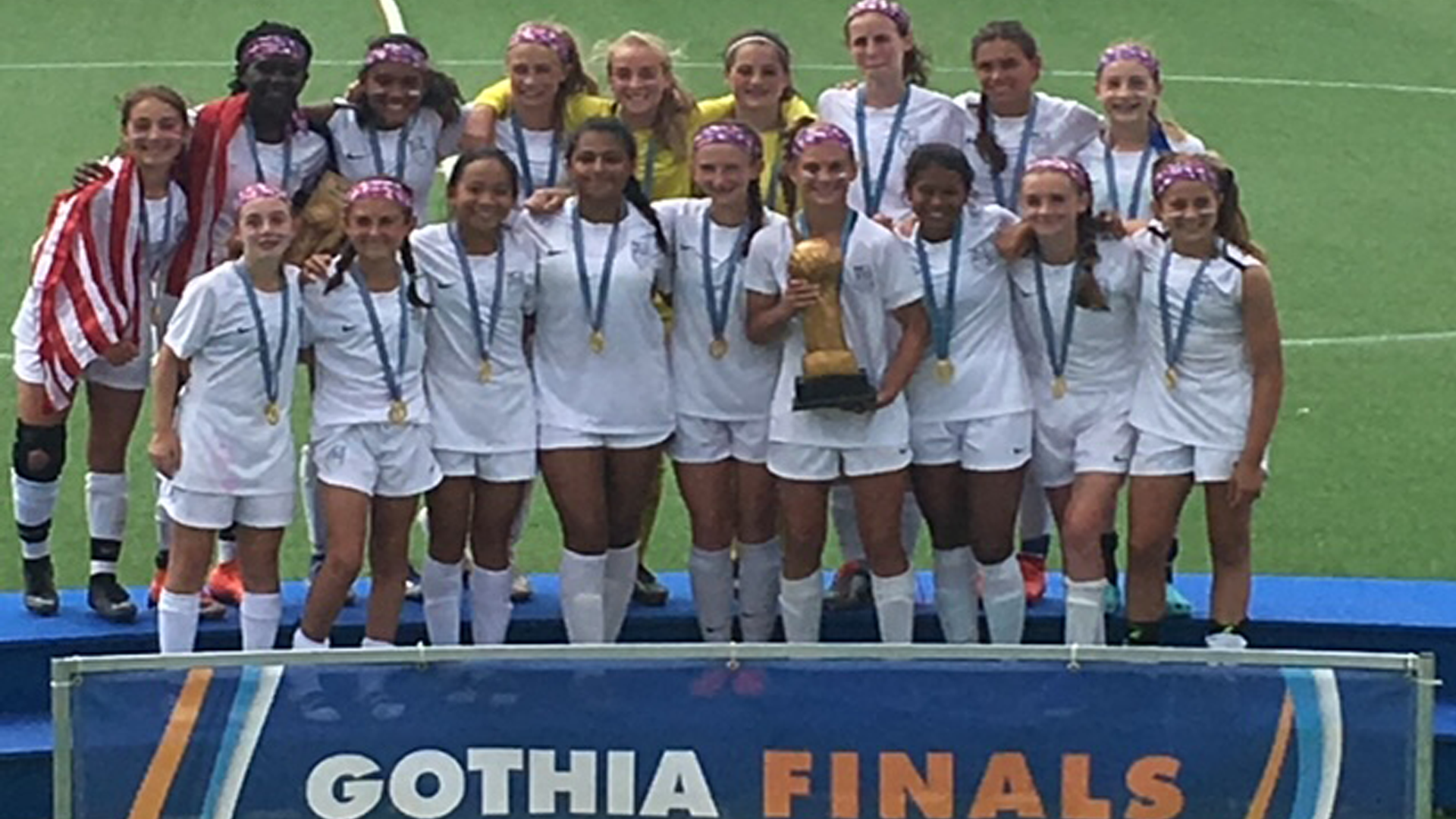 "Many of my teammates from the Gothia squad are getting recruited and going on to play at top university programs.  I am really happy for them all! I'm absolutely certain our paths will cross over the next few years.
"I have great memories from NCE and met players from different areas and clubs. It's always cool to be at a showcase or league game and run into players that I know from NCE.
"Every coach had so much knowledge and were really enthusiastic about sharing that information with us. Being respectful and appreciating the NCE staff was always expected and every player in the program felt like they were a part of something very special.
"Attending the Gothia Cup and making my 2006 squad felt like a huge accomplishment and reward for all the years of commitment and hard work I and my teammates put into the NCE program.
"Being able to put all the information and training together with other teammates who had the same style and training was probably the best part for me.
"Coaches were always teaching us and available to answer questions. Traveling to Sweden and playing teams from all over the world was an experience I'll never forget."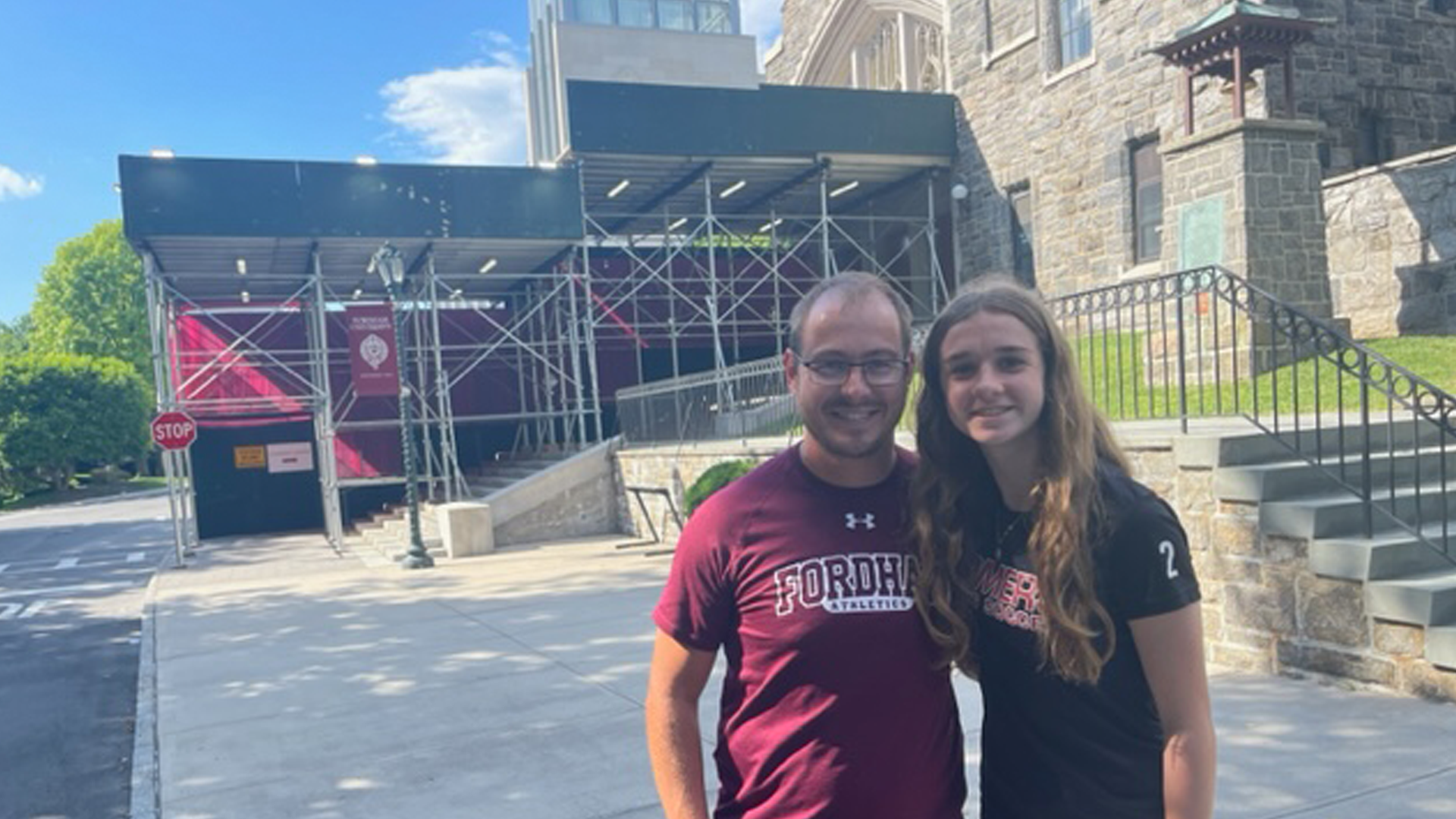 Now, it's onto Fordham and her parents could not be prouder.
Mum Heather, added: "Annie has been with NCE since she was 8-years-old and her experience and training with the NCE program has helped shape her mentally and technically.
"Her approach and style is very much NCE/European style. Her IQ and love for the game was fueled and inspired by the coaches and trainers she was surrounded by. And she is a Gothia 06 sqauder / champ! That experience was epic, and meant everything to the kid who LOVES her sport!
"She's attended many summer camps, weekend tournaments and showcases and met some of her best friends through NCE, and never missed Friday night training at Ophir.
"As parents we couldn't be more grateful for all NCE has given to Annie over the years to make her a well rounded player with a great attitude and help prepare her for an exciting future career ahead!"
* Find out how you can follow in Annie's footsteps by joining NCE Soccer Programming by registering via this link.