Viva Italia! Italy were crowned European Champions on Sunday night and NCE Soccer will be living La Dolce Vita in 2022!
That's right, after two frustrating years because of Covid we are BACK at the Milano Football Festival next year.
NCE Soccer will be taking two groups of boys to Italy next April to take the on the best teams from around the word.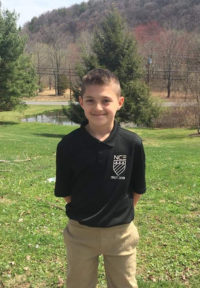 Two squads of 2008 and 2010 boys and their families will be invited to represent NCE Soccer on the international tour.
As well as competing in the largest Italian Youth Soccer Festival, our tour takes in a top Serie A game involving either Inter Milan or  AC Milan and visits the breathtaking scenery of Milan, Lake Garda and Venice.
Hunter Baran was a member of the traveling NCE Soccer Squad for the last Italian Tour in 2019.
Experience
His parents Oz and Stephanie joined the Tour and shared their experience with NCE Soccer.
Oz, said: "Hunter is a soccer junkie. He has been to many camps and through various training programs but once he found NCE, he was immediately in love with it.
"He loved how they brought some of the best talent in the area together to train in a very competitive but also supportive environment.
"NCE residential camps were his absolute favorite so when the opportunity to attend Milano Football Festival came up it was a no brainer… but why is it important? and what we wanted to achieve?
"It was all about the experience, the journey! As the world gets flatter and flatter, it is extremely important to expose young children to as many cultures as possible.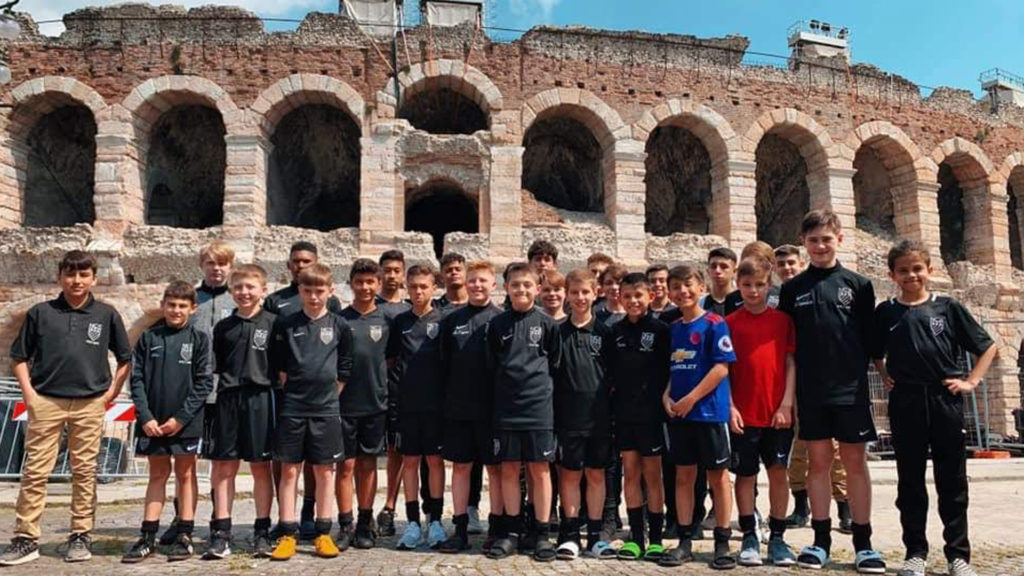 "Tie the trip to something they love, in this case soccer, even better — now you have their full attention.
"From a soccer perspective, who knows where these boys will end up down the road but I think the more unique situations they put themselves in the better prepared they will be for challenges ahead and this sure was a unique opportunity.
"Overall though, how cool is it to one day say; 'when I was 12 I represented the United States in the Milano Football Festival!'
"Bottom line, we knew it was going to be an experience we would cherish as a family for years to come. That is why it was important."
Sightseeing
Oz, the traveling squad and their families flew to Italy from New York for the eight trip to be greeted by our Italian hosts and treated to the sights and sounds of this stunning part of Europe.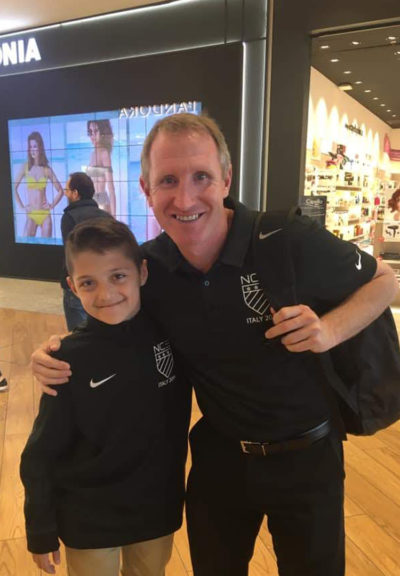 Whilst the Milano Soccer Tournament remains very much the focus, it would be criminal to travel to Italy and not see the sights, whilst sampling the wonderful cuisine.
Oz added: "The trip ran like a well oiled machine. I imagine it can be stressful for people that don't travel overseas often. They shouldn't worry. NCE team took care of everything, we just went along  for the ride!
"Prior to the trip we got a very detailed itinerary as well as a list of what exactly to bring. We didn't have to worry about arranging accommodations or transportation while we were there at all.
"We got picked up at the airport, got driven around Lake Garda, Verona, Venice and Milan, to all the practices, games and tourist attractions. It was a full service tour, we just sat back, relaxed and had a wonderful time!!
"We loved the fact that we got to stay at two different locations. Lake Garda was gorgeous, the hotel was fantastic and boys had a great time training in Verona. Then Milan, what a great venue for the festival and of course off the field attractions!
"We felt that the itinerary and the trip was extremely well planned. While we were of course there for the soccer training and tournament, we had enough time and freedom to take in all the tourist attractions in Milan, including Venice, and we got to watch Rome vs Inter Milan Serie A match! What an experience."
Milano Football Festival
Players selected for the NCE Soccer traveling teams are the best players that have been part of our Center of Excellence Program.
The Milano Football Festival attracts teams from around the world and our coaching staff prepare our teams for the white hot competition.
Oz added: "The tournament was a true festival! They had opening night ceremonies like you would see at the olympics, live music, light show, boys & girls walking around with their countries' or clubs' flags. Proud and just super excited to be there.
"The tournament itself was exactly the level these boys needed. They didn't blow away any teams and they didn't get blown away by any.
"If I recall correctly they were one last minute goal away from making it to the finals. It was a fantastic learning experience, but just experiencing the passion for the game, seeing all the neighborhood clubs and facilities available to even the youth players was such a treat! 
"The NCE staff was impressive. Not just how they handled the coaching and the games but how they took care of the entire trip. They had to be exhausted when it was all over!
"I even recall having the conversation with my wife that if our son would ever get an opportunity to travel with NCE again we would feel very comfortable sending him by himself."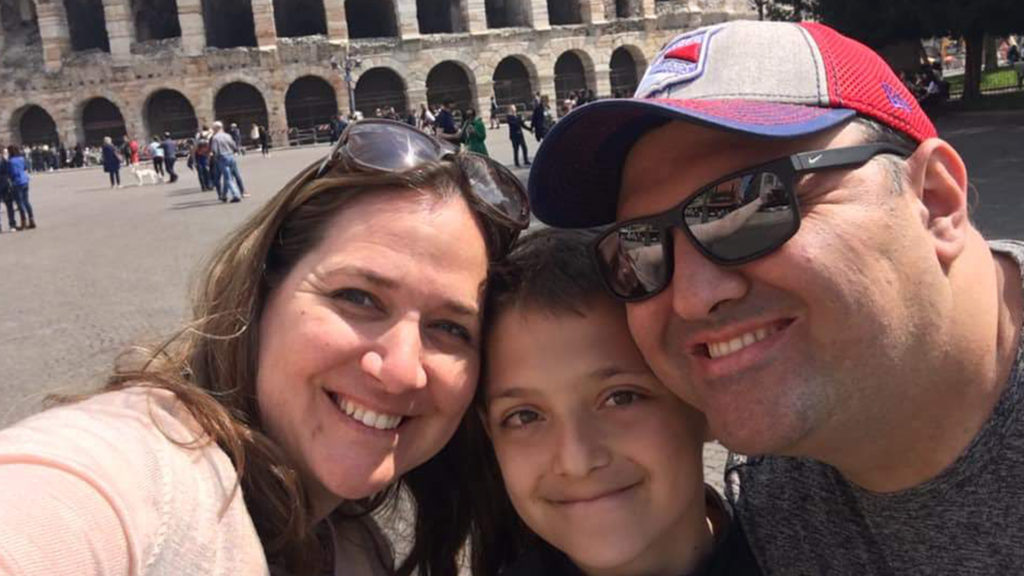 San Siro Stadium
The Baran family all have their own highlights of the team which included the opportunity to tour the world renowned San Siro Stadium, home to Inter and AC Milan.
Oz added: "I could go on and on so I will pick three! One per family member! My son's favorite was playing in front of a packed crowd with fans cheering. The stands were completely full, by then we had made up some chants and the locals — at least supporters of the teams that needed us to win — were chanting along in English and Italian.  It was a lot of fun!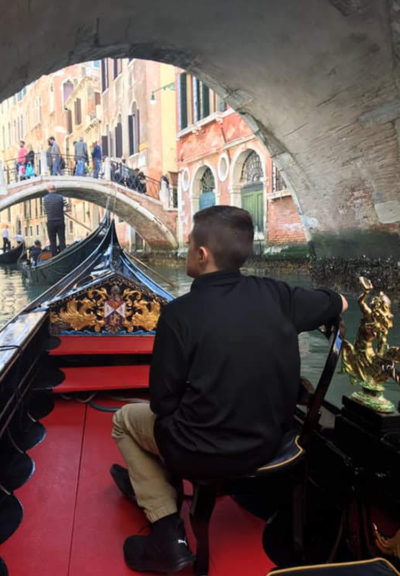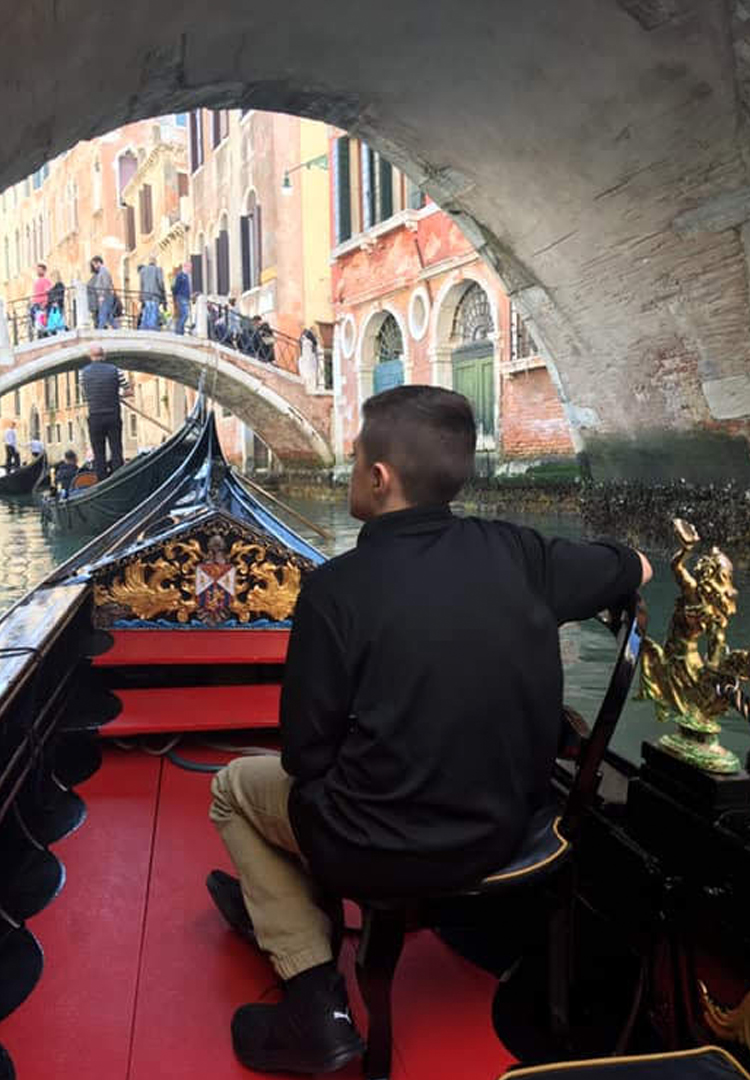 "My wife's favorite was seeing the younger NCE boys, cheering and supporting the older team during their games. They had the American flags out and were cheering 'Who are we, NCE!' and calling players over by chanting their names one at a time.
"My favorite, it is a selfish one, was touring San Siro! I grew up a huge soccer fan and to be in San Siro, visiting Inter Milan and AC Milan locker rooms, touring the museum, seeing Ronaldo (#9), Baggio, Seedorf, Shevchenko, Maldini and Gattuso jerseys displayed, that was something else!
"My advice for anyone joining the tour? Honestly, don't stress it! You get an itinerary, you get a list of what to pack and all your accommodations & transportation once you are in Italy is taken care of. You don't even have to worry about breakfast or dinner majority of the trip.
"Bring some comfortable shoes because you will do a fair amount of sight seeing. Other than that follow all the usual international traveling tips … consider adding international calling to your mobile plan, bring some cash in local currency, exchange phone numbers with the group and NCE coaches in the tour in case you get separated or need to get a hold of one another. Finally, take lots and lots of pictures!!
The Baran family have shared some of their favourite images from the tour for your enjoyment.
Details of the 2022 trip have now been advanced and invites are being sent out but, the trip is first come first served so book early to avoid disappointment.
View Gallery