NCE Soccer have adapted their Winter Program to provide maximum protection against Covid.
Our coaching staff will adopt tough new measures to protect the safety of our players, their families and each other as we move inside for the Winter.
That means a few modifications to the usual soccer coaching kit of a few balls, cones and sets of bibs.
These very strange times mean the average NCE team kit bag looks more like one you would see in a hospitals packed with face coverings, disinfectant spray, temperatures guns, bucket loads of hand sanitizer and even an electronic whistle!
Yes, that's right. Covid has forced NCE Soccer to ditch traditional whistles and turn instead to electronic versions of the oldest, and most simple of soccer tools!
NCE Soccer will leave nothing to chance. Our brilliant team have pledge to go the extra mile to ensure our Winter Program runs smoothly and safely, protecting all those taking part, their families and our staff.
Prepare
Nick Dunbar, NCE Soccer's Director of Business and Organizational Development, said: "It has been a little strange, and our coaches need to plan ahead and prepare but we have proved it is possible.
"My kit bag looks a little different these days with a face covering, disinfectant to spray down the equipment before and after every practice.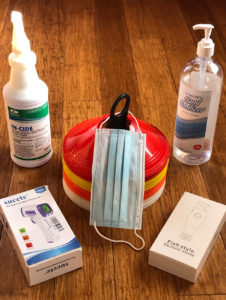 "I now have an electronic whistle for when I am officiating games as it's not possible to use a normal whistle without removing your mask,  and we have to consider this is an airborne virus so we don't want that.
"I do not allow kids in Massachusetts to pick up and cones and we would previously instruct players not to handle the soccer balls without us disinfecting them.  We also include a non-contact temperature gauge so that as players arrive, we can check them and then ask them to sanitize their hands before entering the field.
"Players are instructed to put socially isolate when they arrive at coaching sessions, with cones two meters apart for them to place their bags and equipment, they also have their own bibs which are not to be used by anyone else which means we are getting through a lot of washing powder after every session!"
COE Program
NCE Soccer operate the COE Program across multiple states with venues in the North Atlantic area, New York Metro and New England.
Rules have varied from state-to-state and individual venues have their rules but, our team have worked to adopt these localised issues into our overriding Covid strategy.
Coaches have been forced to amend sessions but, the result is a world class elite coaching program designed to maximise the potential of the very best players.
Nick, added: "NCE was proactive in sending information out to players, parents and guardians regarding our COVID return to play guidelines and safety is our most pressing concern.
Covid
"From camps over Summer 2020 to our outdoor and indoor training sessions we have continued to follow and implement all guidelines including strict quarantine and testing for our own staff if they have been exposed to COVID positive individuals.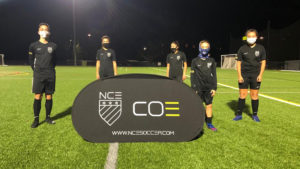 "We carry out player temperature checks, use hand sanitizer and then place their equipment at socially distanced cones and locations away from the playing area.  We have also reminded players no handshakes or fist bumps as they arrive.
"In states where players require a mask, we have enforced that they must cover nose and mouth and coaches wear face coverings at all time.  As we bring players in together we enforce social distancing, ensure that any modified rules are followed and NO sharing of equipment such as bibs.
"At the end of practice we collect any bibs that have been worn by players and place them in a laundry bag then set out new clean bibs for the next group.
"The next group is only allowed to enter if we can effectively socially distance them from the departing group.  No handshakes or fist bumps allowed as the group leaves which has led to us getting creative on how to celebrate our players with my favorite so far being a 'virtual high five'
"Coaching in the time of COVID has certainly not stopped us delivering impactful sessions but does require us to be educated and aware of parameters to ensure the safety of all involved."
The COE Winter Program moves indoors and that means, as well as the Covid Protocols described we will also NOT be allowing parents inside venues – and would ask them to not even leave their vehicles when dropping off players.
Tryouts for the COE Winter Program begin on FRIDAY December 4th at Ophir Field, Purchase, NY, Union Point in Weymouth, and XL Sports World in Cherry Hill, NJ. A further 11 tryout dates will follow at venues in New York Metro, the North Atlantic and New England.
* To register for tryouts click this link but don't leave it too late, the program is highly selective and the clock is ticking.