Three NCE Soccer graduates are this week celebrating a magnificent hat-trick – by making their senior pro debuts.
Cooper Flax, Diego Rossi and Dren Dobruna have made their first team debuts for New York City Football Club.
All three came on as second half substitutes for City in their pre-season friendly with Chicago Fire – and we are delighted for them and their proud families.
The trio were selected, along with two other teammates from the NYFC Academy, to join the first team for pre-season training.
They have been training with the senior squad in Orlando, and impressed enough to get game time.
All three agreed it was a dream come true, and now, having enjoyed a taste of the action, they are hungry for more.
Dream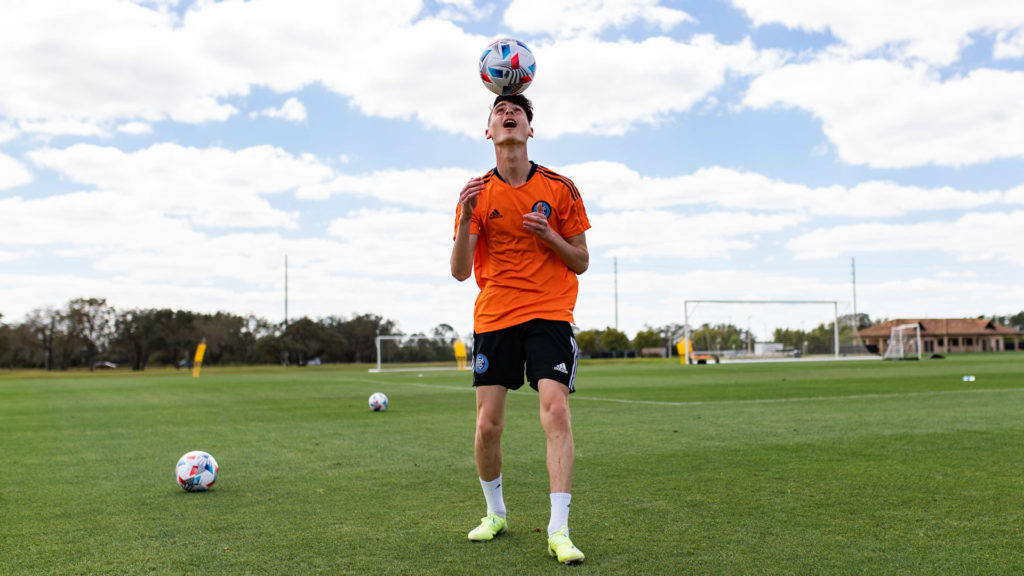 Cooper, said: "This is what I dreamed of, playing in a professional team, so I was very excited.
"The first few days have been great, playing with bigger, older, stronger guys who have been doing this for their job. It is great to be out here playing with them.
"I feel it is great time to be out here, everyone is enjoying it, I feel like everyone has taken to me, especially the players and the staff, so I'm very happy
"It was amazing to step on the field and to get a chance, just get a chance to play with the big boys.
"Definitely I'm taking away the speed of ball, the speed of play, it is very high and something I want to translate into my game every day ."
Everything
Diego, added: "This is everything…..coming from a little kid, training every day, working hard, for moments like this and the opportunities that we have….it is crazy!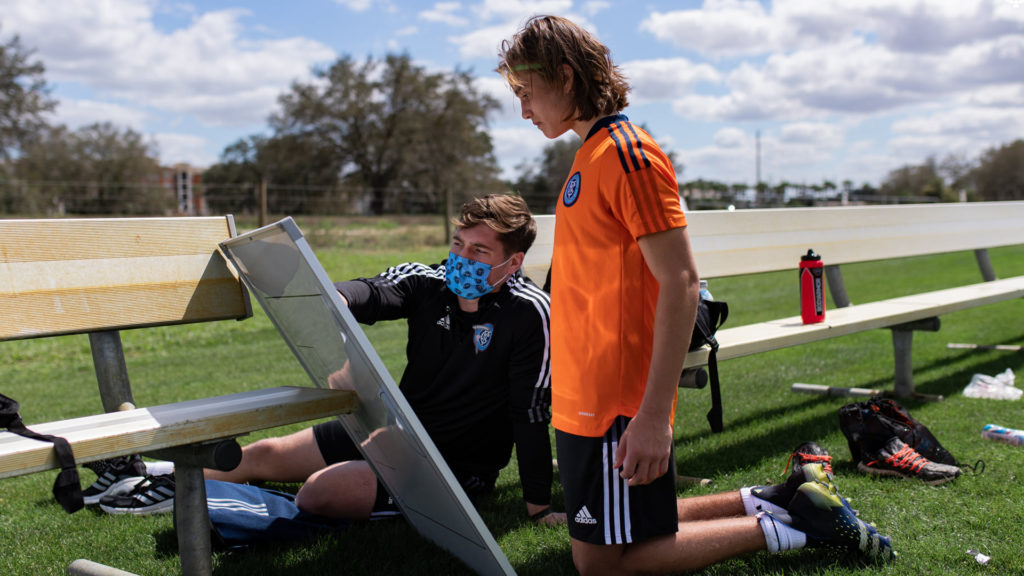 "I think the main thing is, that when I go back, is to be a leader and to help other players improve as well, and implement some of the principals that I've learned whilst playing with the first team."
Dren Dobruna, said: "When you join the academy, this is your main goal.
"Your main goal is to train with the pros, you look up to them.
"When I found out the news, I was actually in a Zoom meeting, but I was ecstsatic, amazed, I was excited.
"We have to implement what we learn in the academy and bring that to a much higher level in the first team."
"I think it so many things you can develop here, you confidence, leadership, your technical skills on the ball, off the ball, learn how to treat your body right off the field.
"That is something I've learned, on the pitch is so much but what happens off the field is so important to how you perform on the pitch."
Impressed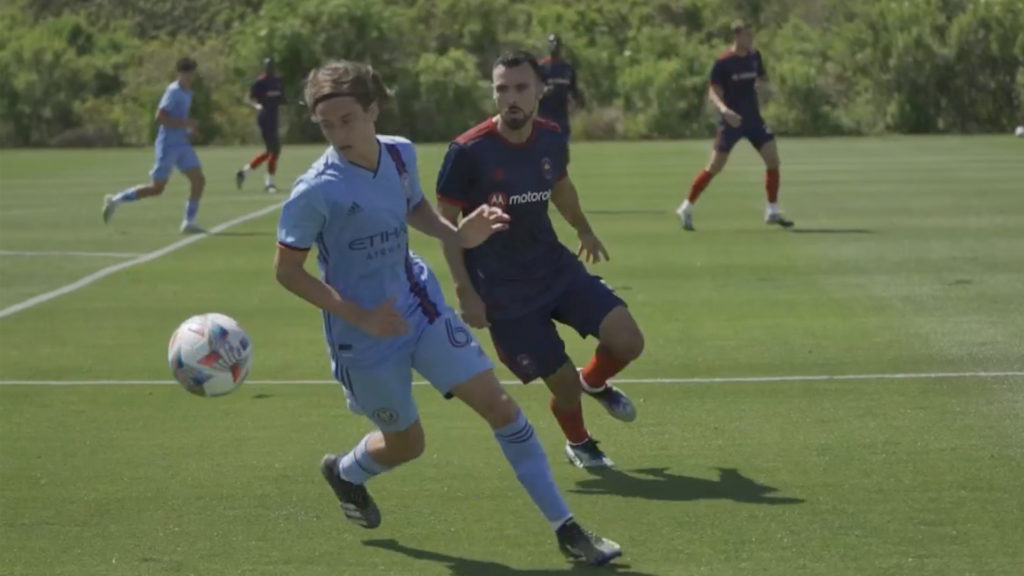 Head coach Ronny Delia has been impressed with the youngsters showing during preseason and was delighted they were able to enjoy their first 15 minutes of pro soccer.
He said: "The youngsters coming on did very well for the last 15 minuets. They impressed me. They are very young but you can see there is a lot of talent.
"We have a good group. It's a good culture here so we take care of each other. They are some talented young boys but it's nice to have them here.
"It shows me we have a lot of talent in New York and I'm looking forward to working with them so they can get into the first team."
The trio flew with the first team to Florida on a private plane and have staying and training with the first team.
New York FC lost the first pre-season opener against Chicago Fire but will be hoping for better luck tomorrow (March 18, 2021) as they take on Orlando City FC.
NCE Soccer founder John Curtis, said: "We are delighted for the boys, they really do deserve this and much, much more.
Talented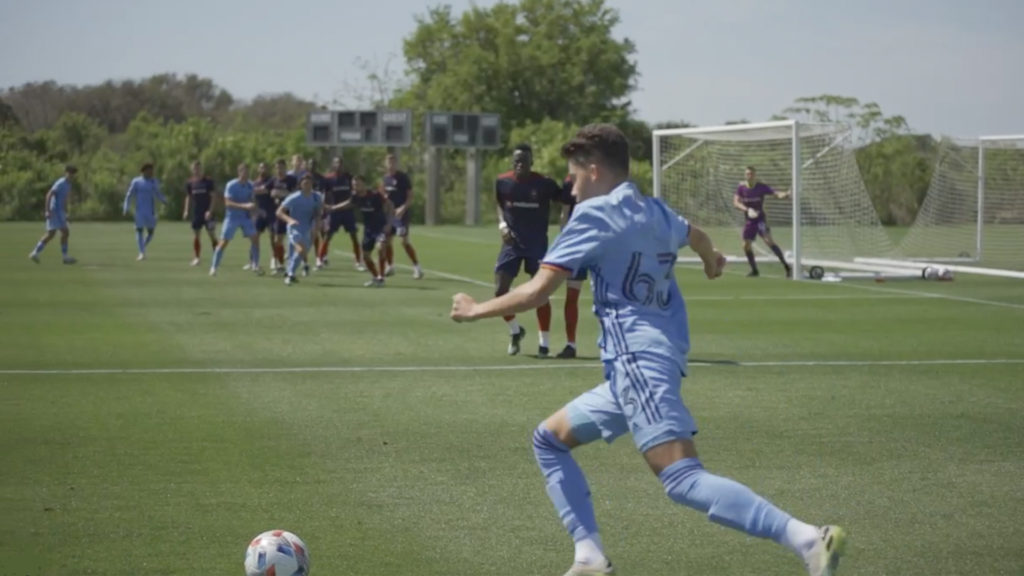 "They are terrifically talented players and they the right attitude and we hope this is the start of a long and successful journey to the top.
"It's a fabulous opportunity for them to train and play with the first team, and a fitting reward for all their hard work and dedication.
"It is a particularly proud moment for me, and the NCE Soccer team, to start to see the fruits of all our hard work.
"We launched with the hope of helping young player develop their potential and now, two or three years down the line, we are seeing that dream become a reality.
"Players have developed through the COE Program to sign for professional clubs, win international call-ups and be scouted by top colleges and that's why we are here.
"I'm very proud of all the players but this is magnificent for Cooper, Diego and Dren and I wish them nothing but success. Enjoy it but never stop working, this is only the beginning."
Cooper, from Huntington, New York, Diego from New York and Dren, from Waterbury in Connecticut, all progressed through NCE Soccer's Center of Excellence Program after impressing at tryouts. They went onto represent NCE Soccer in domestic and international tournaments, as well as attending summer camps and our COE Program.
* To follow in their footsteps and join our Spring Program which kicks off in April, with venues in New York Metro area, the North Atlantic and New England region, click this link
* For media, interview requests or to discuss marketing opportunities please contact James Fletcher at Onside PR via this link.
Watch Video
View Gallery