Stop the ball, save the planet…..not necessarily in that order, but Samantha Wilkins has both goals in her sights.
This shot-stopping NCE Soccer star believes in dreaming big and she is working tirelessly to turn her dreams into a reality.
Saving the world from global warming AND becoming a top class goalkeeper is quite the double header!
But this 17-year-old has proved already that she is up for the challenge, as she continues her comeback from a career threatening injury.
So, before she can don her goalkeeping gloves or super hero cape, she first has to conquer the small matter of climbing the stairs unaided.
Then it's off to University of Connecticut in the Fall to resume her education on and off-the-field by playing Division 1 Soccer with the UConn Huskies.
UConn Huskies
"It's been quite a year, and fortunately for me I was recruited by UConn before the injury left me requiring surgery," Samantha explained.
"The University of Connecticut (UConn) saw me play at a tournament before the Pandemic and, ever since that tournament, I stayed in touch, and sent them all possible films of me playing after the lockdown hit.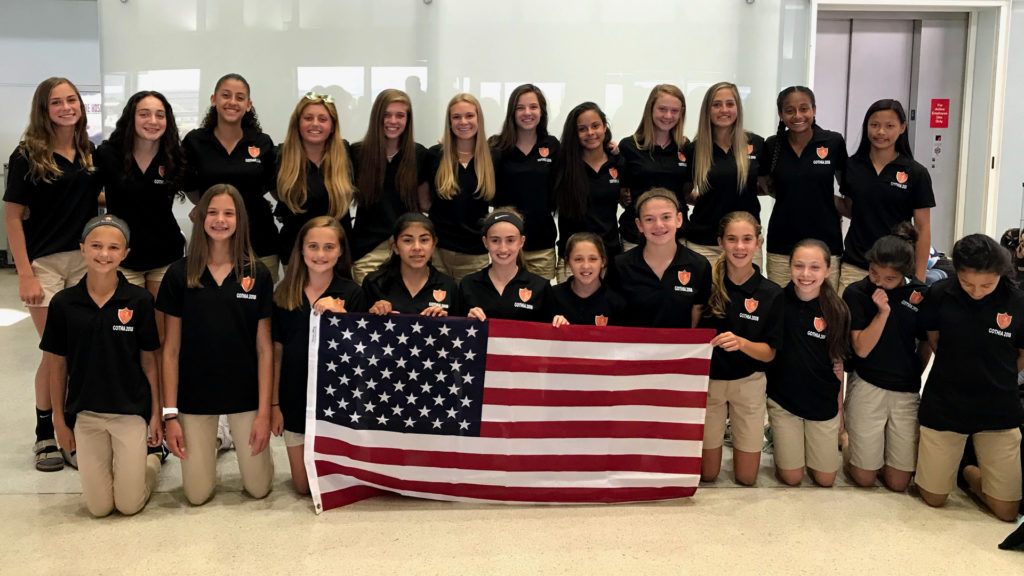 "I stayed consistent and determined because this was no doubt my dream school and after months of keeping in touch with the coaches, I verbally committed on July 16, 2020.
"I felt relieved and proud that I was able to get recruited given the unfortunate circumstances.  Even though I was still playing, I did not find out about the severity of my injury until the third week of August 2020.
"The injury is called Osteochondritis dissecans.  It is a joint condition, where the bone underneath the cartilage of your joint dies, due to lack of blood flow.
"The fragment can either be in place, partially detached, or completely detached.  Back in 2018, everything was attached and I was able to strengthen the muscles around my knee with physical therapy.
"Over the course of two years, my injury got worse and the fragment eventually wound up almost completely detached.  On August 28th, 2020 I needed surgery to correct this.
"I was told it'd be long and hard and it was just that.  I had to start physical therapy 2 weeks after surgery. I was unable to put weight on it for about 2-4 weeks.
"Each week I slowly progressed little by little.  Relearning how to do the basics was a lot harder than I had originally thought.  It was almost like I had difficulties trusting my new knee and its capabilities."
Covid Lockdown
Ironically for Samantha, Covid, and the lockdowns which followed probably helped her soccer career as she was forced to take a break – along with everyone else.
It allowed this teenager from Holtsville, NY to concentrate on her recovery without the fear she was falling behind – and the pressure to come back early.
Progress has been slow. Painfully slow. But steady and piece-by-piece she has been able to to literally place one foot in front of the next and now, she is almost ready for a return.
She added: "I was so thankful I was recruited before the pandemic and my surgery, but I now had to face a new problem.  Recovering from a demanding surgery during a pandemic.
"There had to be many video chats with doctors and some recovery depended on me at home.  It was hard, but again, I had an amazing support system.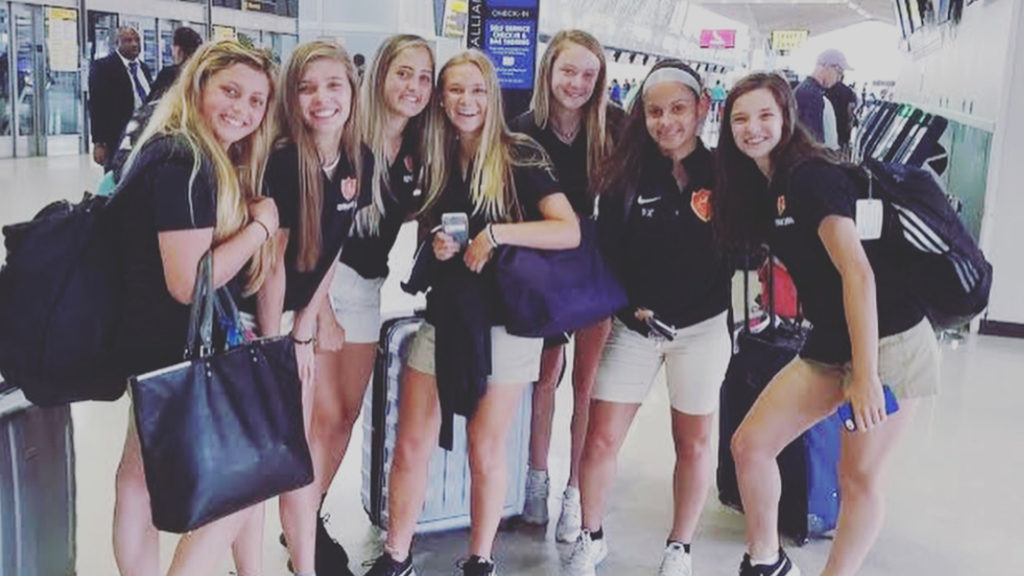 "Ironically, the pandemic helped me in a way. There was nothing going on throughout most of 2020 and athletes weren't playing just as much as I wasn't.
"It wasn't like I was missing any tournaments because there were none.  It definitely slowed everything down and I felt this was the best possible time to go into recovery mode."
"Walking up and down stairs and just walking in general took about 3-5 months to nail.
"After those months, it was time to start progressing into running, weights, agility and jumping in order to prepare me for this upcoming season.
"I am now close to the point where I can think about a comeback, and hopefully I will be better than ever.
Confidence
"My knee feels so much better after this surgery and so does my confidence.  I can proudly say this is almost an issue of the past.
"I've got to give a special thank you to my amazing surgeon who figured out my issue as well as my incredible physical therapist who has stuck with me since my original injury back in 2018.
"My friends and Family have also been overwhelmingly supportive and have helped me a great deal.  I am so thankful for anyone who has helped me persevere through this difficult time."
Samatha is proof that when the going gets tough, the tough literally get going.
And, at least, this enforced lay-off has enabled her to consider her next steps and a dream move to the University of Connecticut and environmental studies.
"I verbally committed to play soccer at UConn on July 16, 2020.  I was just recently accepted into the school and met all academic requirements.  This school has always been a dream school of mine.
"The location is perfect and the school is known to be amazing. I started touring the school and knew automatically this was where I wanted to end up. With their great academic and athletic programs, it was a  no brainer for me.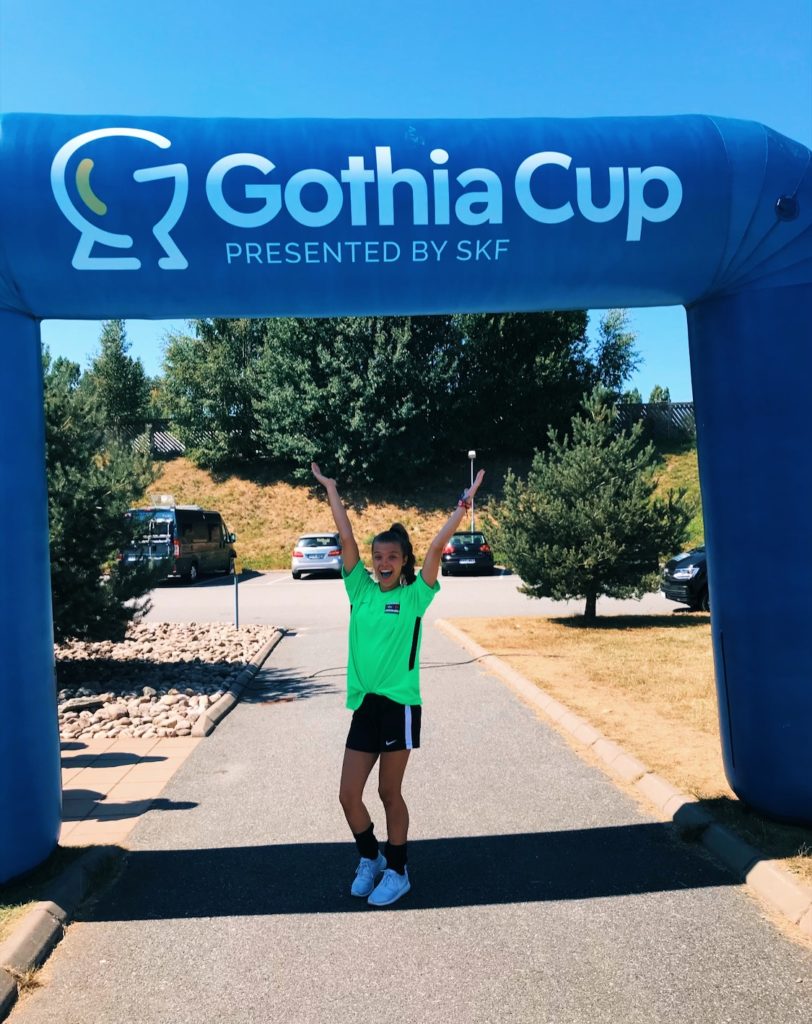 "I plan on majoring in environmental engineering while I am there. Environmental engineers use the principles of engineering, soil science, biology, and chemistry to develop solutions to environmental problems.
"They work to improve recycling, waste disposal, public health, and water and air pollution control.  I have always loved math and I am so interested in learning about new ways to help save the planet.
"As time goes on and global warming is becoming more of a major issue, we need to innovate and change our way of life for the better.  I would love to be involved in this process and help out any way I can."
If anyone can help, it looks like Samatha can. She has proved she is adept to overcoming challenges and turning travesty into triumph.
Goalkeeper
Even her position on the field is thanks to a problem she turned into a positive, as asthma as a youngster prevented her from charing around the field, and instead saw her tryout as a goalkeeper.
She added: "I started playing soccer when I was four-years-old and automatically fell in love.  Eventually I gave up all other sports to play soccer.
"It is a rather funny story of how I started to play GK. I had really bad asthma when I was younger which made running difficult. Whenever I had problems breathing, I would get shoved in goal.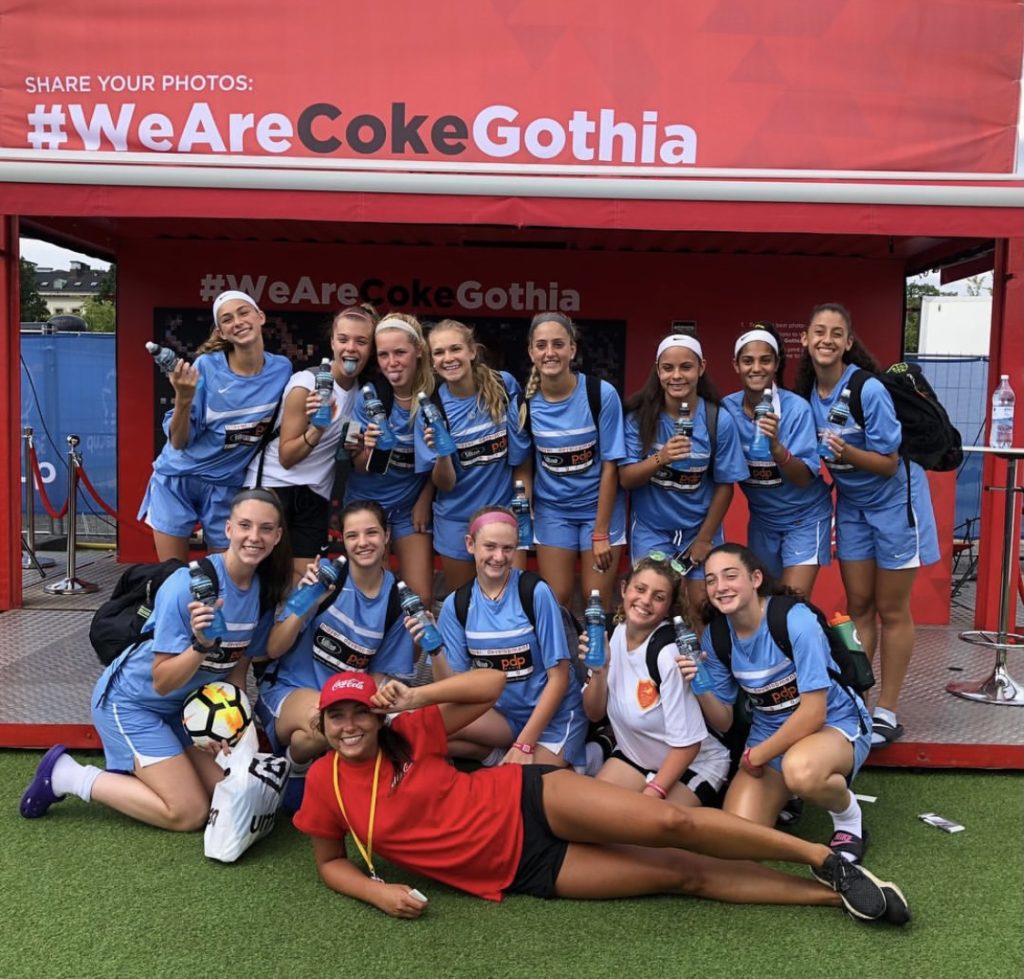 "Any other player on the field would dread being stuck in goal, but I absolutely fell in love with the position.  I loved the pressure during close games, saving the games within the last few minutes, and just standing out from the rest with a rather unique position.
"I started training just for the position with a goalkeeper trainer and I was so fascinated learning about how the position is so much more than just saving goals.  Ever since then, I have been a full time goalkeeper for my team and wouldn't want to play any other position.
"Before NCE, I was playing for a normal club team doing the same basic tournaments every year.  When I was about 12 I wanted to see if I had the talent to take things to the next level.
"I had heard about NCE (PDP at the time) through many people and it was something I was very interested in trying.
"I went to a tryout and was eventually welcomed into the center of excellence program.  I was amazed by how many incredible players I was surrounded by. The talent at each practice was amazing, and I was ecstatic to be a part of it."
Samantha's goalkeeping career may have started accidentally but it turned out to be an inspired move as her talent shone through.
College ID Camp
She has been part of the COE Program since 2016 and has represented NCE Soccer at Select Squad tournaments, the Gothia World Cup in Sweden and our College ID Camp, which played a key role in her recruitment to UConn.
She added: "I kept getting invited to showcase tournaments.  I would go to Massachusetts most of the time and play at the GPS showcase tournament, each year meeting so many incredible teammates and coaches.  The level of play was like nothing I've ever experienced. Each year I went and played, we'd always come out with a first place trophy.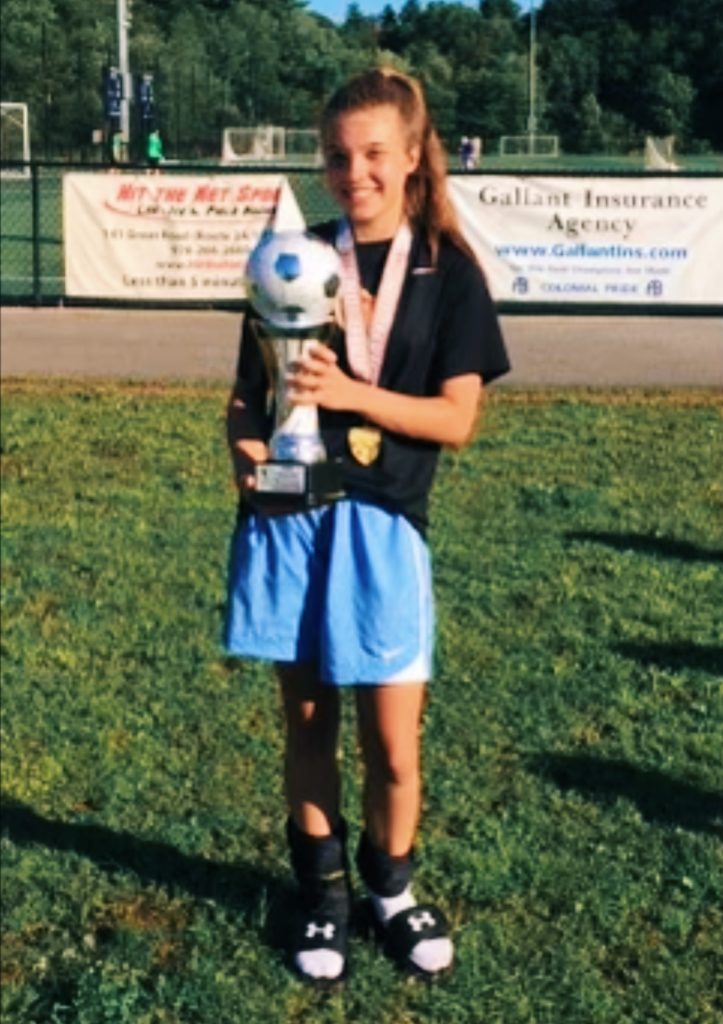 "I eventually got invited to play at the Gothia cup which is an international youth association football tournament held in Gothenburg, Sweden.  It was a once in a lifetime experience.
"We stayed for 10 days, practicing and playing almost every day.  I made so many lifelong friends and learned many lessons on this trip from our amazing coach Lee.  It was amazing being able to play teams from all around the world.  It was truly an unforgettable experience.
"After this trip, I continued down the path of the Center of Excellence program and I attended the College ID Camp at DeSales University which, as a junior in high school, taught me all about the college process.
"It was extremely informational and I used a ton of their tips in order to get recruited by UConn. I was able to meet and be trained by amazing college coaches including Yale, UMass Amherst, And the University of Vermont.
Experience
"NCE has helped me grow as a player, prepared me for my soccer career after highschool, and introduced me to so many incredible people.
"They have staff to help you with the college process, staff to get you in touch with college coaches, and they give you a great amount of experience.  You can really tell how much their staff cares about the future of their players.
"They want us to grow into not only amazing soccer players, but into good people.  The things I've learned and the memories that were created from this program are unforgettable."
Samatha is now on the final push to get match fit and resume her soccer journey and, thanks to Covid, she hasn't missed a kick in anger.
NCE Soccer Technical Director John Curtis, said: "Sam's path to Divison 1 soccer has not been a smooth and easily one. Continually plagued by injury, it's a credit to her determination, effort and steadfast desire, that she's reached this level.
"A consistent performer with the COE, NCE Select Squads and our College ID Camp, Sam has grown into an amazing young lady and we wish her well with this next chapter of her career."

* Follow in Samantha's footsteps and become part of the COE Program. We are hosting tryouts for the Spring Program this April, follow the link  to find your nearest venue.
* For media, interview requests or to discuss marketing opportunities please contact James Fletcher at Onside PR via this link
View Gallery