Four minutes. Four glorious minutes. Four minutes of inspiration. Four minutes reward for a lifetime of hard work. Four minutes that tell you: Never stop believing. Never give up.
Mikaela Howell's Sky Blue FC adventure demonstrates the difference between those that do and those that don't.
For four minutes, she was back living the dream. On as a late substitute for Erica Skroski in Sky Blue FC's final match of the NWSL Fall Series against Chicago Red Stars.
For four minutes, Mikaela was playing professional soccer, in the highest women's league in America, living her dream.
Some may scoff. Why bother for four minutes? Why work so hard in training for four solitary minutes. That's sort of the point. If you feel that way, soccer isn't for you, or rather you aren't for soccer.
Professional
Mikaela Howell is NCE Soccer's Director of Operations. But she always wanted to play professionally. She still hasn't for the record – and those four minutes may not be her last – and, if they, she retires with a 100% first-class pass completion record!
Mikaela has already enjoyed a career at the top of the women's game having played for Arsenal, Fulham, Chelsea, Watford, Birmingham, and Reading, but her spell with Sky Blue FC at the end of this season shows you should never give up on your dreams.
"Life may have thrown me curveballs, and my career may have taken up a large chunk of my life in recent years, but I have continued to play throughout this time," Mikaela explained.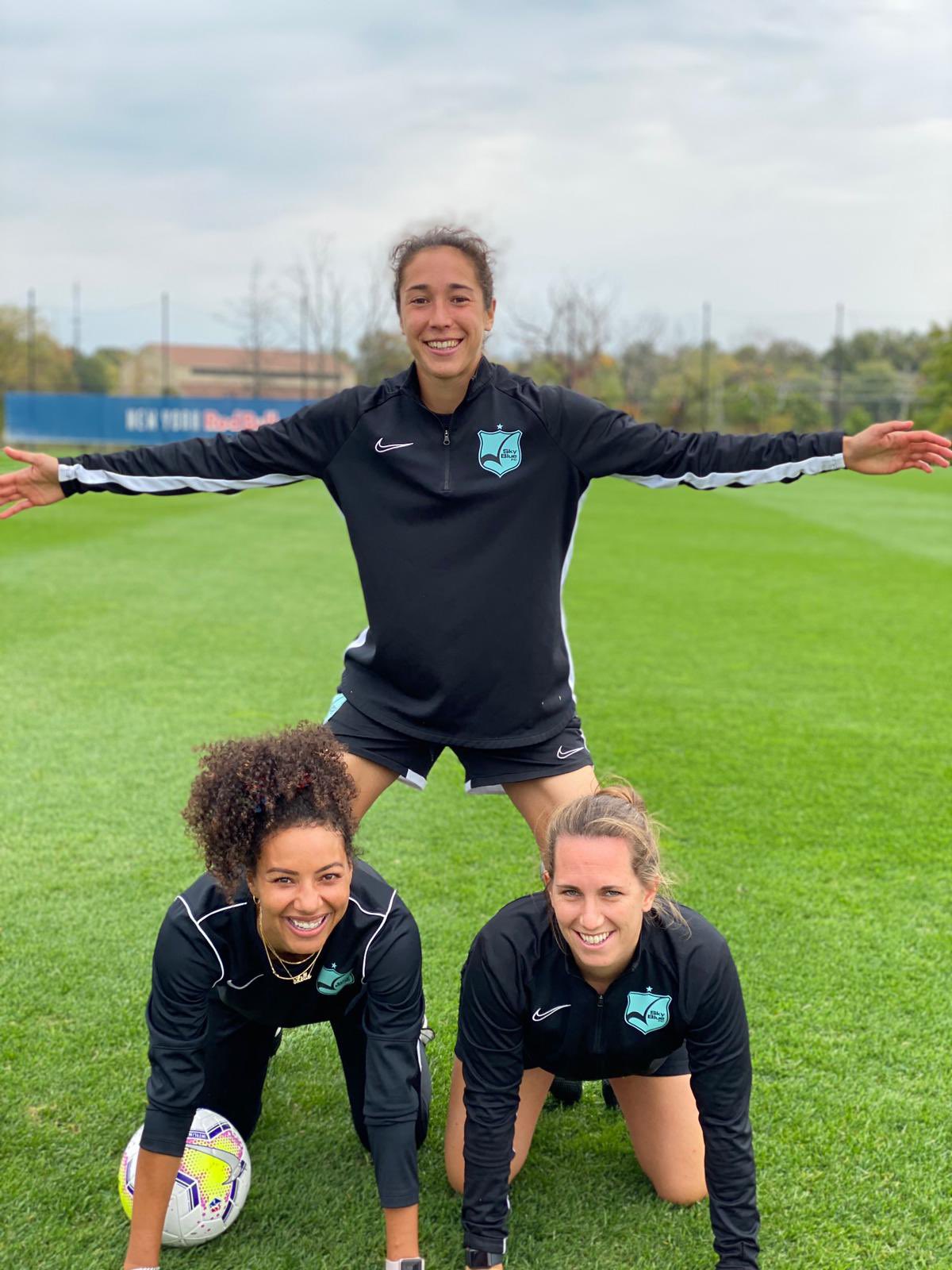 "I am a soccer player at heart and was fortunately ready when this opportunity came along. Never say never.
"I love soccer, it's all I wanted to do and I've always worked hard and kept myself fit and even though I hadn't played since February because of Covid I kept myself in shape through running and HIIT workouts that I was asked to Sky B blue for the final few weeks of the Fall Series.
"I probably only got my chance because they were short of players, but it was an opportunity to play again, and I took my chance and it was great to get back out on the field and have the opportunity to once again train with an elite group of players. The challenge was a highlight in what I know has been a unique year for everyone."
Arsenal FC
Mikaela's soccer career started back in Salisbury, England, at the age of seven. With no girls team in the area, she was forced to join the boys team until a change in FA rules meant that was no longer allowed.
Instead, Mikaela joined Southampton FC at the U10 level before moving to Arsenal. She went onto compete for the Gunners at the U12, U14, U16, and reserve level.
She added: "I was fortunate enough to play in international tournaments in both the USA and Holland. I also traveled with the first team on a couple of occasions in my final year for European competition. I did not make it off the bench in Italy or Sweden but it was a great experience.
"I was fortunate to be part of a number of Arsenal teams who went unbeaten across the course of a season. I was selected by England in the U14 and U16 age groups. I made my international debut in Switzerland for the U16's and went on to play in five games at that level.
"I owe a great deal to Arsenal Football Club. I have played at a couple of clubs since that came close to the standard of professionalism that I witnessed during my time with the Gunners, but none that have replicated what they do.
"My decision to leave after a year in the reserves was to find some first-team experience. I hoped that one day I would return but that did not turn out to be the case."
Mikaela was offered a scholarship to join The FA's National Player Development Center at Loughborough University before joining Fulham LFC and making her debut in the FA Women's Premier League before moving to Chelsea LFC, where she combined her soccer career with her A-Level studies.
Success
She enjoyed brief spells with Watford LFC and Birmingham WFC before a successful period with Reading FC before moving to America to compete in the W-League, which at the time was the summer league that the top players from College in the US played in to stay fit.
She added: "During my time in New York playing in the league, I was offered the opportunity to play at a Junior College in Westchester, Monroe College. I had no NCAA eligibility as a result of my playing experience in England but was allowed to play for two years at a Juco in the NJCAA.
"In my first year at the school, we went all the way to the DIII Junior College National Final. It was a huge achievement for the school who had never progressed this far before. The following year we stepped up to DI and just missed out on a National Tournament berth having lost in the District Final.
"I then transitioned to an assistant coach role at the school that I held for the following 4 seasons. The second of which the team won the Division I Junior College National Championship. During my final season with the team in 2016, I juggled the role with a full-time position at Asphalt Green as the Director of Operations and my Master's degree.
"I graduated with a Master of Business Administration (MBA) in 2017, having completed my undergraduate degree in the same subject in 2015. I left Asphalt Green in the summer of 2019 to join NCE."
Prolific
Mikaela is typically humble in recounting her achievements. During her two years at Monroe, she became the first women's soccer player to earn an NJCAA "All American" title. Not once. Twice.
Aside from her NSCAA All-American final year, she was one of the nation's most prolific players during her years as a student-athlete at Monroe. Her records for most goals, most points earned, and most assists in a single season still stand at the school.
Following her success on the field, Mickela joined the Monroe Mustangs coaching staff in 2013 and led the team to its first NJCAA National Championship in 2014. She went onto help build and direct the women's soccer program, partnering with Monroe's international admissions team; using her expertise to recruit and guide students from Europe, Canada, and Australia.
Since joining NCE Soccer Mikaela has continued playing with the NY Shamrocks and the New York Athletic Club. Her commitment to the sport and competitive nature, led to the opportunity with Sky Blye FC and those magical four minutes.
The future. Who knows?
Despite the challenges, Mikaela has not ruled out the possibility of adding more detail to her already impressive CV. She will continue to work hard and few would bet against her adding to those four minutes in the future.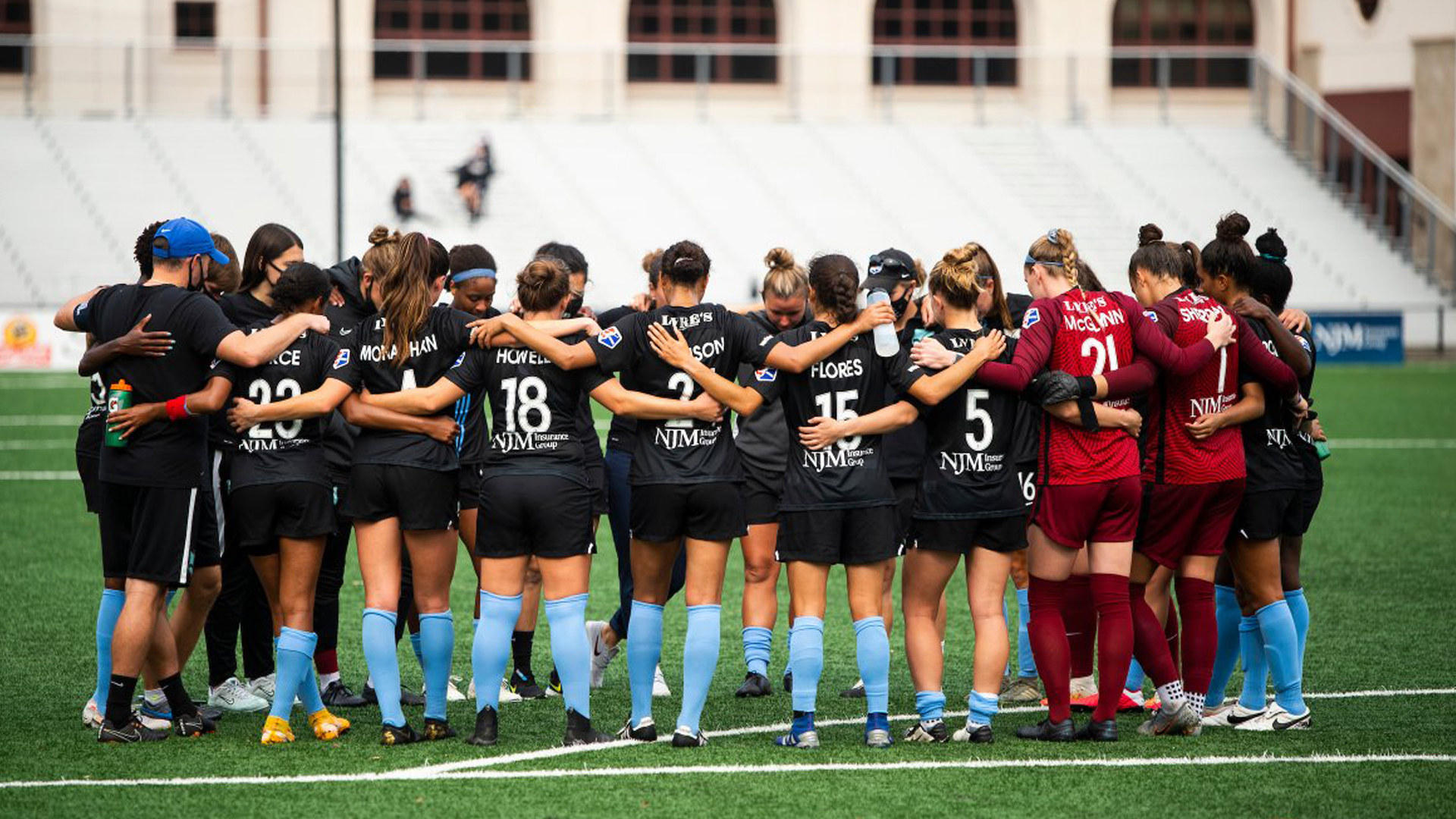 Images courtesy of Sabrina Flores (Twitter) – follow her via this link and Sky Blue FC Twitter account – follow Sky Blue FC via this link