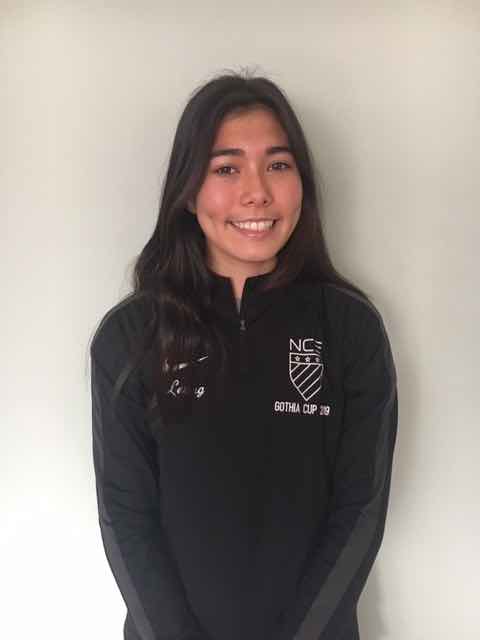 PERSONAL INFORMATION
Name – Murphy Leung
Gender – Female
Sport – Soccer
Nationality – Asian American
Year of Birth – 2004
Birthdate – 08/25/2004
Height – 5'7″
Player 
Name – Murphy Leung
City – NY
State – New York
Country – United States
Email – murphyleung2022@gmail.com
Parent 1 – Maryann Leung
Email – maryannmleung@gmail.com
Tel – 9178800314
Parent 2 – Raymond Leung
Email – rleung66@gmail.com
Tel – 646-221-5267
Position
Outside Mid
Current Club
New York Soccer Club GA
Current League
GA
Coach 
Sam Acheampong
Strengths
High soccer IQ, athletic and coachable.
Athletic Goals
To compete at a high level of soccer while pushing and reaching my full potential.
Surf Cup, San Diego CA – July 25-27 (Representing NCE G2003)
GPS Memorial Day Tournament, MA – May 22-25 (Representing Asphalt Green G2004)
Academic Qualification
High School (Junior)
High School
NYC Lab HS for Collaborative Studies
Year of High School Graduation
2022
GPA High School
4 US GPA
College Study Area
Undecided
SAT
Yet to Complete
ACT
Yet to Complete
NCAA ID
1909697766
Academic 
Awarded the Habits of Lab Learners (HOLL) during her Freshman year. HOLL is awarded each semester to a student (per grade) by the Principal that embodies the core values of the school based on teacher recommendations.
Participate in Student Government, Model UN, School Newspaper, and Lab Ambassador.
Volunteer in the Dancers, Realize, Excellence Arts through Movement (DREAM) project at the National Dance Institute for the past three years and counting.
Led self-love workshop for HIV/AIDS Day at Lab High School
Athletic 
Selected to the Olympic Development Program (ODP) New York East South Team since 2018/2019 season. Murphy was named a Captain for the 2019/2020 season.
Team member of the varsity high school soccer team that participated in the playoffs both years. As a sophomore, Murphy was second on the team in scoring while leading the team in assists (6). During her freshman campaign, Murphy was second on the team in assists (9) while leading all freshmen in scoring on her team. Scored three goals in three playoff games.
Selected by NCE to participate as a member of the NCE Gothia Cup 2004 Team in Summer of 2019. The team reached the round of eight, which was the final 16 teams of the 111 team field in their age group.